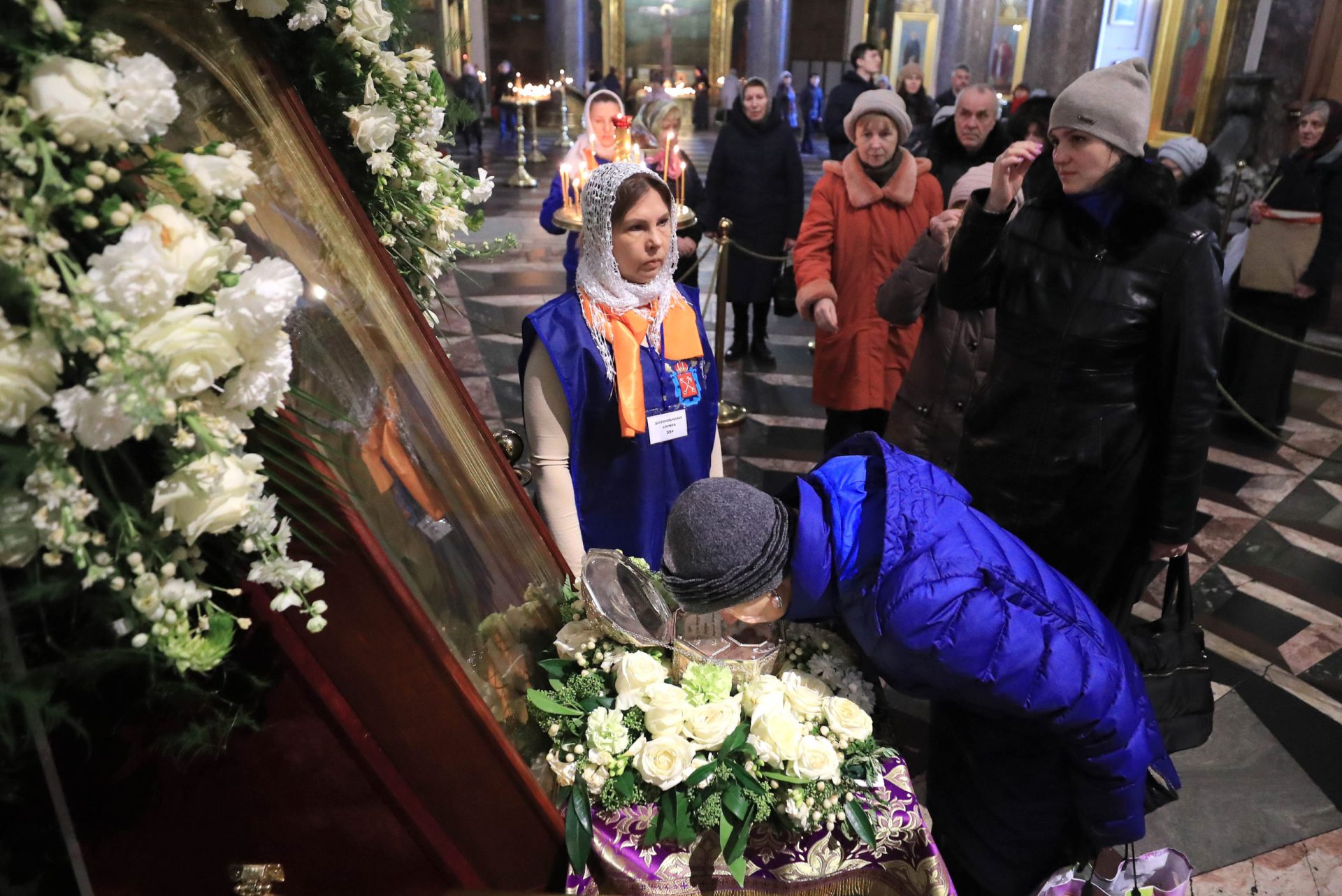 Communion in the time of coronavirus
Controversy over church rites pits medical science against faith across much of the Eastern Orthodox world
Photo by Peter Kovalev\TASS via Getty Images
As the coronavirus pandemic wreaks havoc around the world, Orthodox Christian clerics in a number of countries are ignoring the advice of global health organizations and officials by insisting that it is still safe to sip communion wine from shared spoons.
While religious gatherings have already aided the proliferation of the virus in South Korea and Iran, faith groups around the world are still struggling to come up with cohesive responses to the crisis.
Orthodox churches in countries including Greece, Georgia and Russia, however, have taken a more uniform approach, based upon the belief that sacramental wine transforms into the blood of Christ during the communion rite. Health officials say their actions are making churches and religious services potential vectors for mass transmission.
"We believe that no disease or illness can exist in Holy Communion, which we believe is the body and blood of Christ," Steven Scoutas, spokesperson for the Greek Orthodox Church of Australia told the national broadcaster ABC over the weekend.
Religious institutions around the world have responded with varying degrees of urgency to the coronavirus outbreak. The Roman Catholic Church is still holding masses, but broadly observing the recommendations of national governments on personal hygiene and social distancing. Many mosques across the Middle East and the wider world have cancelled Friday prayers, but others remain open for worship. In the Jewish community, while some synagogues closed for Shabbat, a significant number continued as normal.
In Georgia, one prominent prelate, Archpriest Nikoloz declared, "Wine, which turns into blood after it is poured into the chalice, is a natural antiseptic. A spoon cleansed in wine becomes free of bacteria. Dipping [the spoon] in wine is the same as dipping in alcohol."
This statement clearly conflicts with the advice of bodies such as the World Health Organization. The WHO states that in order to protect against the virus, hand sanitizers must contain at least 60 percent alcohol. The alcohol content of red wine is 20 percent at most.
Health officials and practitioners have widely stated that churches should suspend the use of shared communion spoons, owing to the risk of spreading coronavirus through saliva.
Paata Imnadze, deputy head of the Georgian Center for Disease Control, also said, "[People] should not use a shared spoon or fork anywhere, be it at home or in a restaurant."
He then added, "There is science and then there is faith, I can't get into a philosophical debate on this."
Most Orthodox churches have advised their congregations to heed the recommendations of health authorities on matters of personal hygiene, asked the sick to avoid attending services and used disinfectants to sanitize church buildings. Changing the communion rite, however, appears to be where many draw a line.
One potential solution floated by health officials is the use of disposable spoons and cups for the taking of Holy Communion. In Russia, home to the world's largest Orthodox congregation, Patriarch Kirill responded to criticism of the church's stance on communion by allowing single-use cups and spoons. In Bulgaria, the primate of the Orthodox Church, Patriarch Neofit, said that communion will continue to be offered in the traditional manner.
"The sacred mysteries cannot be a vector of contagion or any disease, they are a cure for physical and mental healing and health," he told Reuters.
In Greece, the spiritual center of Orthodox Christianity, the church also opposed changes to Holy Communion, saying that the sacred rite has been immune to worldly troubles such as pandemics for centuries. In a March 13 epistle, Ecumenical Patriarch of Constantinople Bartholomew I, described the taking of communion as the "antidote to mortality."
Prime Minister Kyriakos Mitsotakis of Greece attempted to convince the church to suspend, or at least modify the communion rite. "Faith often begins, where science ends. But the faith we need now is to manage to overcome the crisis," he said last week. Late on Monday, the Greek government announced that that services in all places of worship would be suspended until March 30.
In deeply religious Georgia, where the church ranks as the single most trusted institution, the government was hesitant to enter into conflict with the Patriarchate. After a protracted public debate and nudging from health officials, on 14 March, the Georgian Church reluctantly allowed parishioners to bring their own cups for communion wine.
The following day, televised footage showed worshippers in the Holy Trinity Cathedral of Tbilisi using plastic cups. However, the patriarchal directive essentially leaves the decision of switching to the safer, modified rite up to individual priests and churchgoers.
Like other Eastern Orthodox churches, the Georgian Church has prescribed prayer and holy water for protection against coronavirus. "Often use holy water for drinking (before meals) and also to sprinkle about your home and office," read a 14 March missive from the Patriarchate.
If global experience is any indication, religious devotion offers little defense against coronavirus. Indonesia's Health Minister Terawan Agus Putranto claimed back in February that prayer had spared his country from contagion. Similarly, the Georgian Church said last month that the patronage of the Virgin Mary had saved the nation from the disease. The number of confirmed coronavirus cases in Indonesia and Georgia now stands at 134 and 33, respectively.
Although much of the debate has centered on the use of shared communion spoons and cups, churchgoers continue to engage in other potentially hazardous behaviors. In Russia and Georgia, worshippers are still queueing to kiss unsanitized icons and crosses, one after the other. On Sunday, for instance, hundreds of worshippers lined up to kiss a relic of John the Baptist at Kazan Cathedral in St Petersburg, before its return to Israel. The relic was simply wiped with a cloth between each person.
Today, a group of elderly women in a Tbilisi church kissed and stroked a number of religious icons as part of their daily routine. When asked if they were worried about contracting or spreading coronavirus, they were dismissive. As to whether they had considered using antiseptic wipes, one replied, "My faith is my antiseptic."
This story has been updated to reflect new positions announced by the Russian Orthodox Church and the government of Greece.
The Big Idea
Age of Nostalgia
Infatuation with a mythologized history has overtaken communities, cultures, entire regions, sending society and identity into a fun-house mirror of nostalgic reflections. This special issue brings you stories of people finding solace in pasts imagined and grieving for futures foreclosed in a time of existential threats.
Read more