In Beirut, taxi app Bolt spreads despair in an already devastated economy
From Durban to London, Bolt drivers have gone on strike to demand better conditions. But in Lebanon, the app operates with impunity, thriving amid chaos
"First it was Uber and Careem, now it's Bolt, tomorrow it will be something else," says the stoic Walid. After he's done with his day job, he puts in several more hours ferrying people to and from the nightclubs and bars of east Beirut, popular with tourists and the Lebanese diaspora in town for the summer.
For the young moonlighting taxi driver, trying to scrape together a living in Lebanon, a country facing economic ruin, Bolt is just the latest in a cycle of apps that promise jobs and opportunities in an otherwise moribund market.
Worth over $6 billion thanks to a flood of venture capital from investors from Europe to China, Bolt, founded in Estonia in 2014, boasts that it is the fastest growing tech company in Europe. Company CEO Marcus Villig put it plainly in a January interview, when he said that the downside of working in developed markets was "more regulations." He contrasted this oversight and enforcement with the looser constraints of the Eastern European, Asian and African markets where Bolt first launched.
In practice this means that in cities like Beirut, Bolt feels free to impose conditions on taxi drivers desperate for work that would be unacceptable and even illegal elsewhere.
In June, the GMB, a general union in the United Kingdom that represents nearly half a million workers across industries, took legal action against Bolt for failing to provide drivers with standard benefits.
"Guaranteed hours, sick pay, pension contributions," said Mick Rix, GMB National Officer, "these aren't privileges to be bestowed when companies feel like it, they are the legal right of all U.K. workers." There is, however, little recourse for Bolt drivers in less lawbound countries, where ridesharing apps are allowed to operate what the GMB describes as an exploitative, "bogus self-employment" model that enables the apps to evade any responsibilities as employers.
In Lebanon, Bolt represents an existential threat to the licensed, syndicated drivers of Beirut's red-plated taxi cabs. Many of these legally authorized drivers simmer with unconcealed resentment against Bolt drivers whom they accuse of flouting the rules and skimping on union fees.
According to Marwan Fayad, head of the national union for taxis, public transport and freight drivers, unlicensed drivers who operate cabs for ridesharing apps cost legal cab drivers up to 80% of their customers. "We looked into the company," says Fayad, referring to Bolt, "and found that it does not have a license to operate under Lebanese law."
But there is little appetite in Lebanon to enforce even existing legislation. It is in exactly this sort of regulatory chaos that Bolt exults in thriving.
Beirut's Bolt drivers are not yet taking to the streets to demand better treatment from the company, unlike their colleagues from Durban to London, where drivers have objected to the working conditions and pay. Just weeks ago, when Bolt drivers in London were striking, a driver told the Socialist Worker that "we need to have a base rate of pay so it's possible to earn enough to live." Another, referring to working over ten hours a day, six days a week, said "Bolt is destroying people's lives."
Protesters in South Africa, in March, included drivers from a range of ridesharing apps similar to Bolt and Uber, all complaining about the impunity with which apps seemed to operate, the exorbitant commissions and costs being passed on to drivers and the lack of any apparent criteria for who qualified as a driver.
Many Beirut-based Bolt drivers complain about the same issues — that the fares set by the app are not commensurate with their costs, given that the prices of imported fuel and replacement car parts are sky high.
Lots of customers want longer trips, says Jihad, a driver working full time for Bolt, and the app's rates don't account for the fuel consumption entailed in ascending the mountainous outskirts of the city. Bolt drivers describe a process of bargaining with the customer after accepting an order to try and agree on a price outside of the app: a risk for the drivers if the bargain doesn't go to plan and the customer cancels, affecting the driver's rating.

On top of that, the cost of mobile data, which drivers use to pick up passenger requests, was also hiked in July to five times its previous rate. Several Bolt drivers told me that they had sent emails to Bolt to request it take action to raise fares, but that no one responded.
"We regularly review our fares in all countries. In Lebanon, fares have increased by 137% since last year," says a Bolt spokesperson.
Uber, the original ride-hailing giant, was comparatively legally compliant when it arrived in Lebanon in 2014. But the leak of tens of thousands of documents has shown that Uber has intentionally exploited legal loopholes and weak law enforcement as a tactic in its expansion strategy. In 2017, an Uber driver, who had a criminal record, raped and murdered a British embassy employee in Beirut, prompting the Lebanese government to describe the service as unsafe.
At the time, Uber spokesman Harry Porter said the company used commercially licensed taxi drivers in Lebanon, and that the government carried out background checks and granted licenses. "Only drivers that have clean background checks and clean judicial records are licensed. The suspect's background check did not show any convictions, or he would not have been licensed," he said.
A much-delayed inquest into her killing began in London last week, revealing embassy staff are now discouraged from using the app.
Increased scrutiny on Uber in Lebanon though doesn't seem to stretch to ensuring that the company provides satisfactory labor conditions. On July 18, Uber drivers began a three-day strike in central Beirut, applying pressure on the company to revise rates in light of unaffordable fuel costs.
Government fuel subsidies once shielded registered drivers from volatility on global markets, but they have now been withdrawn, causing prices to leap 350% year-on-year between 2020 and 2021, resulting in long weeks of fuel shortage over a summer that saw disputes over the remaining dregs at petrol stations spark into violence. Prime Minister Najib Mikati committed to providing new types of government support and funding to the unions in October, but he's yet to come through on the promises.
Any fare-taking taxi driver — as well as the driver of a bus or minivan — is required by Lebanese law to purchase what's known as a "public" number plate, which different drivers said can cost between $7,000 to $10,000. These plates are colored or lettered in red to distinguish them from the private vehicles which dominate the country's roads, in the absence of a robust public transport system.
The number of red plates in operation is supposed to be capped by the government, and though they're expensive to get hold of, they entitle the owners of their vehicles to state-funded social security benefits: with no public transport system, taxi drivers count as a public service provider.

But Bolt Beirut allows drivers to register with a standard driver's license, and to operate private cars or even motorbikes with a normal, white registration plate, something union boss Fayad says is not only illegal but dangerous for drivers and passengers alike.
Lebanon's authorities appear to be overlooking the transgression. "We filed a court case against Bolt," Fayad told me, and though state prosecutors questioned union representatives about the claim, they never called Bolt in for questioning. A Bolt spokesperson confirmed that Bolt had not been contacted by Lebanese authorities. "Bolt is fully compliant with the current transport laws of Lebanon," they said, adding that "we are more than happy to collaborate with authorities to help them get to a solution that would embrace competition and serve the customers."
"The government should enforce the existing laws," argues Fayad, which specifically forbid drivers from taking paying passengers in private cars. The union held demonstrations this summer, calling for authorities to take action against Bolt to prevent it endangering the livelihoods of those driving the 33,000 cars allowed to operate commercially. "But the country is in chaos," said Fayad, "we have no hope that anything will be done."

It's a lost cause to expect anything like government intervention, according to transport systems expert Tammam Nakkash, who in the 1990s was called upon to advise the government on public infrastructure design. It was a moment of optimism and desire for reform after a debilitating 15-year civil war. Nakkash has since consistently advocated for better provision of public transport in the country.
Back in the 1990s, Nakkash says that he recommended reforms to the public transport and taxi system that would have made it fairer for drivers and for passengers. Instead the system is intentionally manipulated by a government so mired in corruption that international actors are unwilling to cooperate with it until they see evidence of serious reform.
Nakkash says that the red-plate system is wide open to exploitation. The plates get passed down like a type of inheritance, he explains, and at election time, they are handed out as favors to secure votes, so suddenly there'll be a proliferation of plates for drivers in a candidate's constituency. There are also thousands of vehicles operating passenger services with forged red plates, he adds. Fayad estimates that there are as many as an additional 30,000 cars operating as taxis with forged red plates.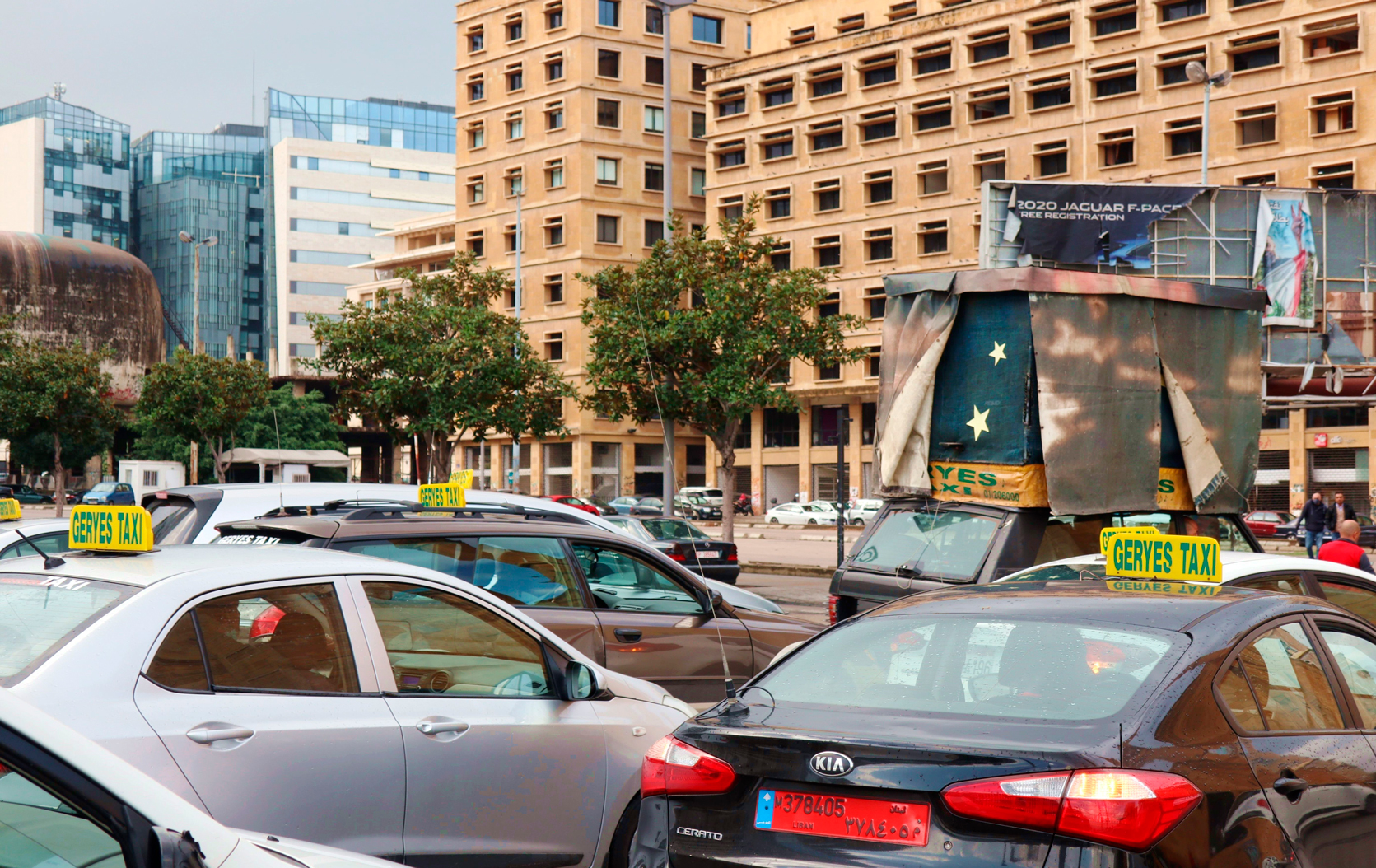 Even the social security benefits that come with operating a vehicle licensed to take commercial fares are increasingly meaningless. State sector pay and benefits remain unadjusted to inflation and the precipitous decline in the value of the lira: the monthly minimum wage was worth around $450 in 2019, and is now worth just $24.

The complications around securing a red license plate — from the high registration costs, to the politicking and law-bending associated with procuring one — act as barriers to entering the supposedly regulated commercial taxi trade. In these conditions, Bolt presents a superficially attractive model to the thousands who have lost their jobs, or found that their salaries are no longer enough to meet their needs, as inflation has soared and Lebanon has slumped into what the World Bank has called one of the world's worst economic crises in over a century.

F.C. was a working architect until his contracts dried up from 2019 as Lebanon went into economic meltdown. F.C., who asked to be referred to only by his initials, decided to become a Bolt driver because it was so easy. "It costs $10,000 to register as a commercial driver and get a red license plate to work for Uber or a normal taxi," he told me. And you have to undergo background checks. By contrast, it took F.C. just six days to sign up and be approved to work as a Bolt driver.

Foreign nationals, such as the thousands of Syrians residing in Lebanon who are unable to obtain official work permits, are also able to work with Bolt. It's another legal transgression that ignites division between Bolt drivers and the national drivers' union.
Darwish Taha, an Uber driver, says that for other taxi drivers in Beirut, "the problem with Bolt is that it amounts to slavery."
If, he adds, "you don't work with Bolt, there's no work, and if you do, it's much worse, as you get paid a rate around 70% less than at any other transportation company." Nakkash, the transport systems expert, says Bolt's clientele appear to be mostly middle and upper middle class young people and should be able to withstand higher fares.
Bolt, though, is in competition with other taxi services and with no prospect of the government holding it to account, and on-the-ground costs that appear to amount to zero, the app has carte blanche to charge fares around 20% lower than its rivals. And with growing unemployment and soaring living costs, Bolt has little problem finding drivers willing to forgo job security and benefits in order to secure a paycheck, however meager.
Last year, a high court decision in the U.K. made Uber's typical business practices — the model for other ridesharing apps like Bolt — effectively untenable. Such apps, the court suggests, should not be allowed to pretend they are merely agents facilitating contracts between passengers and drivers and thereby avoid their responsibilities to workers. Bolt indisputably exploits labor in Lebanon because it can get away with it.
The app is still too new for there to be any kind of organized labor group among Bolt drivers, says F.C., the architect turned taxi driver. He and other drivers told me about a handful of WhatsApp groups, some with as many as 250 participating drivers, that are used to communicate about fare prices, routes, and also to grouse about working conditions.
"But I'm not participating in any of that," he is quick to add. "The app is good enough for now, and I don't want to be thought of as a troublemaker."