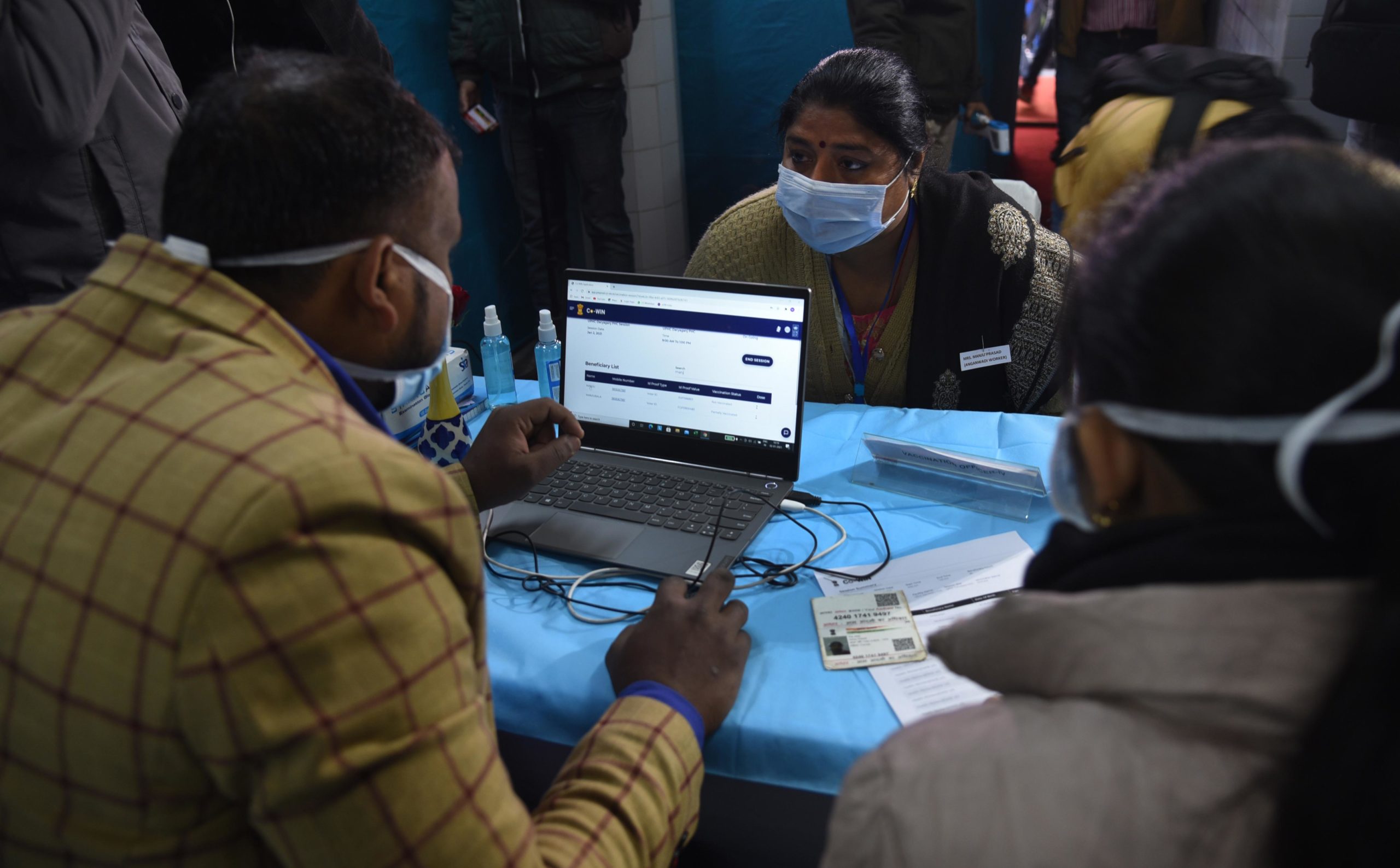 India's vaccine system excludes millions
As India battles a deadly coronavirus wave, a digital portal for booking vaccines comes under fire for excluding those who lack digital knowledge or access to the internet.
As India struggles through a deadly second coronavirus wave, with strained health facilities marked by a severe shortage of beds and supplies of medicines and oxygen, the country is also facing a number of accessibility issues with its online vaccination portal.
Access to Covid-19 vaccinations is heavily dependent on users registering for vaccines through an English language digital portal, CoWin, launched in January. Although authorities allow people over 45 to walk into vaccination stations, the only option for 18-44 year-olds is to register for shots via CoWin.
The push to vaccinate large numbers of people through the portal has excluded millions of Indians who don't have access to the internet or electronic devices. According to a report by the Telecom Regulatory Authority of India from last month, only 34.6 percent of the rural population has access to the internet.
"People who are on the other side of the digital divide are excluded from creating vaccination slots," says Anushka Jain, of Internet Freedom Foundation, a digital rights organization in India.
Jain says the problem of digital exclusion extends to cities as well. "Even people who live in urban areas, there are many people who don't know English, who don't know how to register on this portal and because of that, they are also being excluded from getting access to vaccines."
Ordinary Indians who can access CoWin have spoken about the challenges involved in booking vaccine appointments. Faced with high demand for vaccines, many city residents have traveled to rural areas to get immunized, stoking anger among local populations who are disadvantaged because of a lack of internet access or knowledge about how to navigate the system.
Some tech savvy Indians have managed to hack into the government site's code to book themselves vaccination appointments. But as millions struggle to get online, the vaccine remains out of reach for many. "Not everyone will have access to those tech tools," Jain said.
Like many countries around the world, India has turned to technology to battle the pandemic. It launched a Covid tracing app last year, Aarogya Setu, which received widespread criticism from privacy advocates. In April, the National Health Authority chair suggested the government was planning to incorporate a facial authentication system to vaccination drives, based on Aadhaar, the country's centralized biometric identity program.
Technology experts argue that the drive for a universal digital solution to the pandemic in India can often exclude those who are most vulnerable. "We have a very diverse country, we have a lot of poverty," said Srinivas Kodali, a Hyderabad-based researcher working on data and governance. "And in a population like this where you want to do universal vaccination, technology can be a hindrance to it."
Update: A few hours after the initial publication of this article, India's Health Ministry announced that by the following week CoWin will be available in Hindi and 14 other regional languages.
The Big Idea
Age of Nostalgia
Infatuation with a mythologized history has overtaken communities, cultures, entire regions, sending society and identity into a fun-house mirror of nostalgic reflections. This special issue brings you stories of people finding solace in pasts imagined and grieving for futures foreclosed in a time of existential threats.
Read more