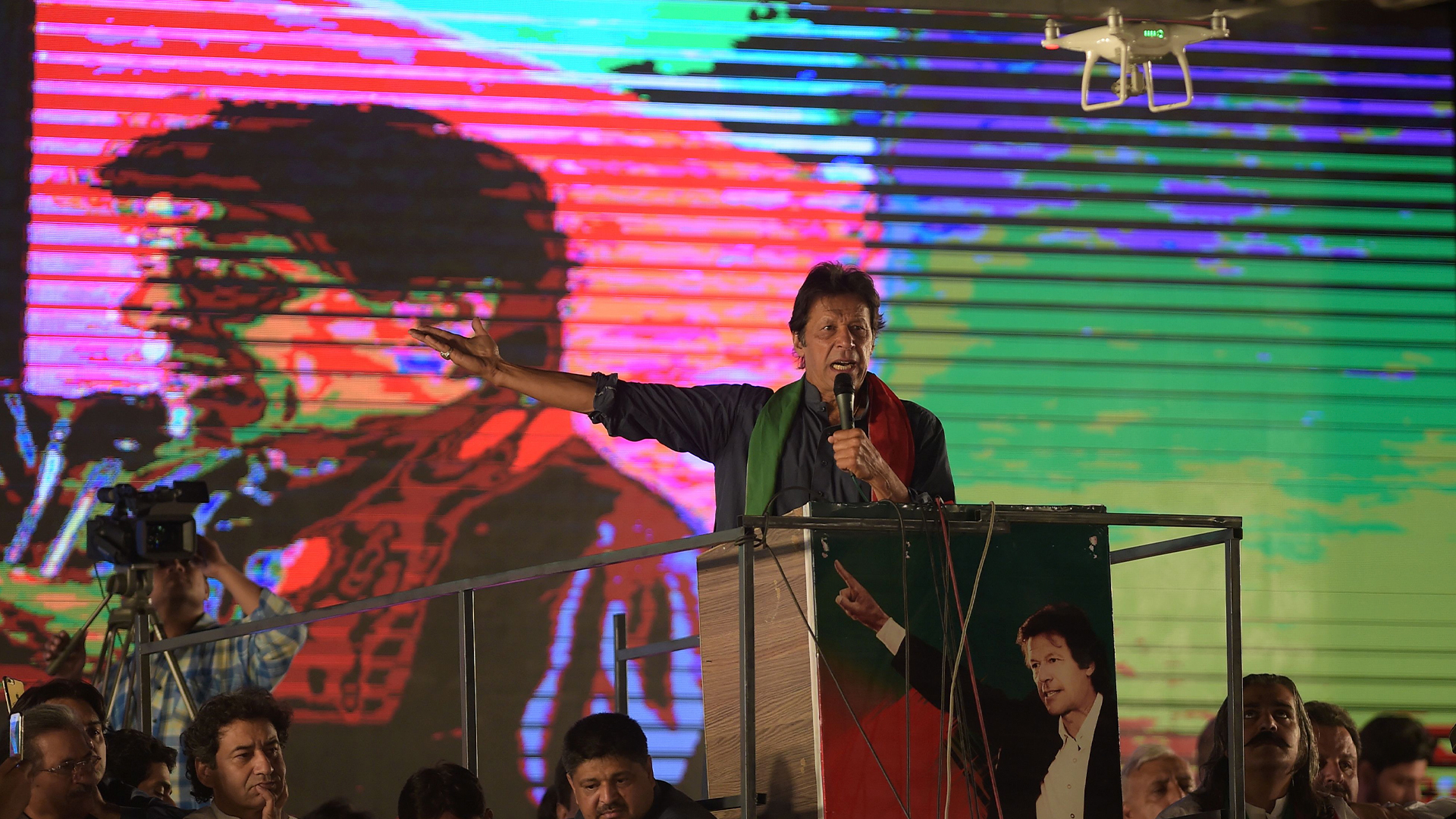 Imran Khan is fighting Pakistan's army with Twitter
The arrest of the former Pakistani prime minister unleashed days of protest and has mired the country in a deep political crisis
"This is the era of social media. You cannot suppress the truth," said former Pakistani Prime Minister Imran Khan in a Twitter Space session attended by more than 200,000 users on May 22. "Will you put millions of people in jail? Are people not seeing what is happening?"
Imran Khan is famous in Pakistan for his savvy use of social media. It was instrumental in shaping his political image in the early 2000s and in building the campaign that brought him to power in August 2018. Throughout his premiership, social media was a key tool for Khan's Pakistan Tehreek-e-Insaf party. But today, with Khan at the center of a conflict between political and military powers in Pakistan, social media too has become a space of bitter contention.
Earlier this month, Khan was arrested on corruption charges by the Pakistan Rangers, a paramilitary force, while he was at the Islamabad High Court for a hearing. His arrest, on May 9, triggered nationwide protests and violent clashes between his supporters and the police resulting in at least eight deaths and dozens of injuries. Khan's supporters had launched an arguably unprecedented attack on the Pakistani army and its institutions. In the city of Lahore, supporters set a mansion belonging to a senior military officer on fire. Since its formation as an independent state in 1947, Pakistan has spent over three decades, at various times, under military rule. Even when civilian governments have been in charge, the military has loomed in the background. Open defiance of the military's hold on Pakistan is exceedingly rare.
In his latest Twitter Space event, Khan urged his supporters, whom he described as his "social media heroes," to continue to stay strong in the face of an ongoing crackdown against him and workers from his political party, thousands of whom have faced arrests, been detained or are on the run. Pakistan, Khan said, is being governed by the "law of the jungle."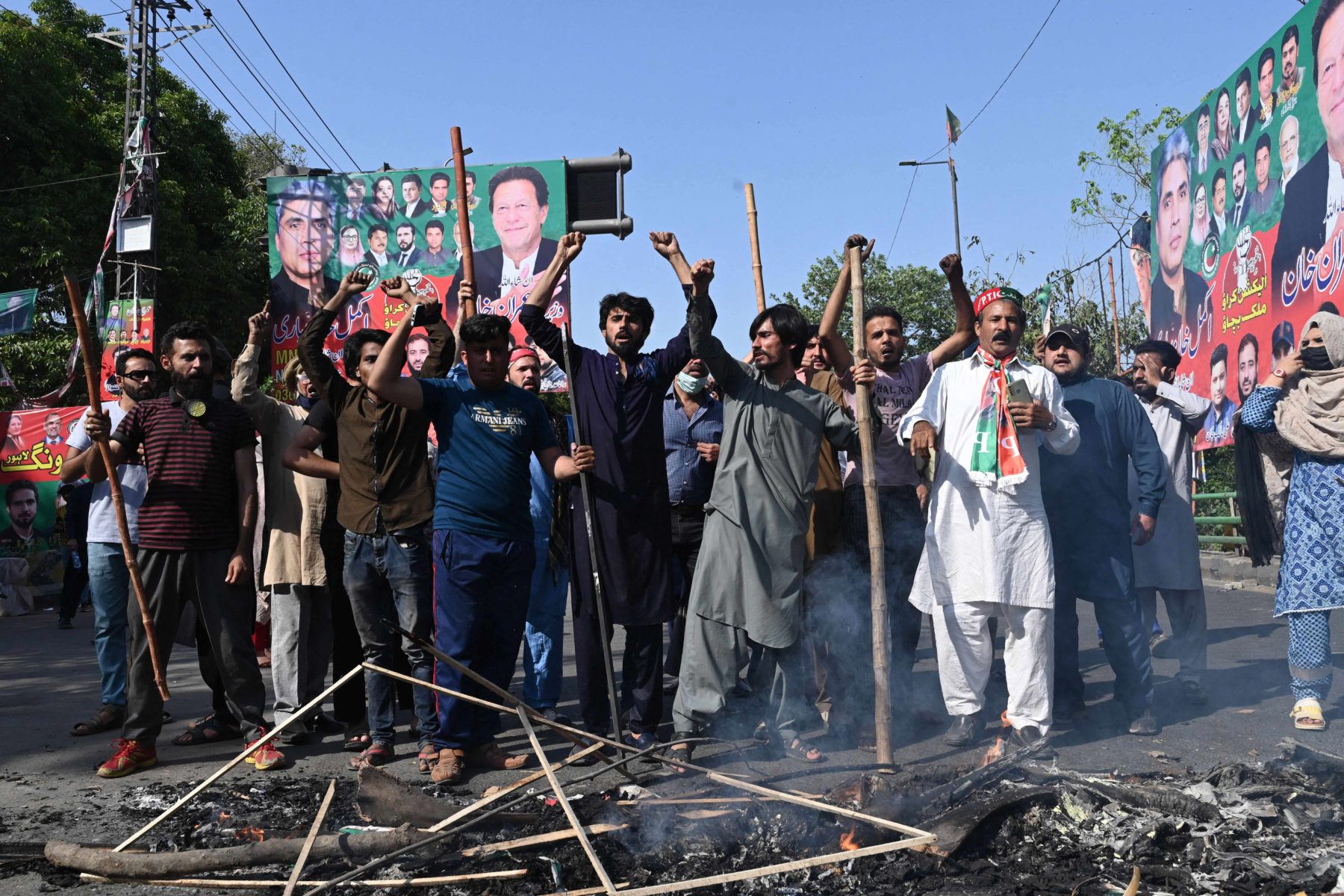 Technology has been central to Khan's emergence as a leading politician. A decade after his PTI party formed in 1996, a group of tech-forward supporters built the party's website — a first for any political party in Pakistan. At the time, PTI was derisively referred to as the "social media party," and its leader was dubbed "Facebook Khan," implying that the party lacked any real influence in a country dominated by the military and by warring political dynasties.
Strategic online campaigning, though, helped Khan's PTI reach young people eager for change and for relief from the corrupt ruling elite. "Tabdeeli," or change, trended on social media platforms across Pakistan. Inspired by Barack Obama's 2008 presidential campaign, the PTI's social media team were brimming with fresh, inventive ideas for how to leverage technology to market Khan. Soon, he was being referred to as Pakistan's "Kaptaan," Urdu for "captain," a pointed reference to his glorious career as a cricket player.
By 2018, Khan's social media machine was credited with delivering the party's first victory in national elections. PTI's digital politics marked a significant shift from the antiquated way in which Pakistan's biggest parties conducted elections, from both the pre-poll targeting of voters to on-the-day mobilization of supporters.
It's not only PTI that benefited from its strong online presence. The military strongly supported Khan. In fact, until Khan was removed from office in 2022, it was hard to distinguish between the online networks of the PTI and the Pakistani military. These digital warriors were easily distinguished by their use of the Pakistani flag to show their patriotism and by the manner in which they organized to promote positive news about Pakistan, highlight criticisms of India and counter Pakistanis they characterized as "traitors" because they dared to dissent from the state's narrative.
Members of Imran Khan's digital media team became participants in national security meetings with military advisers. Digital strategy was a key component of foreign policy discussions.
In a study published in August 2022, researchers found that the interests of PTI supporters and the Pakistani army converged. "Patterns of Twitter retweets and analysis of Facebook data provide important evidence," the researchers wrote, "of a de facto coalition between the networks of the military and PTI." Dissidents, they pointed out, "were largely drowned out by the mainstream political parties and military."
Now, with the PTI in direct opposition to the Pakistani military, conflict between these institutions and their supporters is playing out actively online. When authorities blocked internet access amid protests earlier this month, it was an admission that it could not contain the outrage of PTI supporters.
After Khan's arrest on May 9, the Pakistani government blocked access to broadband services and social media platforms for four days. Though the state regularly applies an internet kill switch to ostensibly quell unrest, this was the longest such shutdown in a country of 128 million internet users. The intent was to contain the outrage and perhaps to silence groups critical of the military's role in Pakistani politics, which it entirely failed to do.
While criticism of the military's role in politics is not unprecedented, the scale of the recent wave of anti-military sentiment sparked by Khan's arrest was extraordinary. And it was generated mostly through social media. After Khan was ousted from office last year, anti-army hashtags began to trend on social media platforms. The growing criticism and anger over the army's role in removing Khan from office culminated in the violence earlier this month. The Pakistani civilian government, led by Prime Minister Shehbaz Sharif, has already declared that protestors who attacked military properties will be tried under army law — draconian legislation that is typically used to try enemies of the state.
The pressure on Khan's supporters and particularly on members of his political party is taking its toll. In a high-profile departure, Khan's former human rights minister Shireen Mazari quit the party on May 23. She had been arrested and then arrested again, even after she had been granted bail, an "ordeal," she said, that "had an impact on my health."
But silencing PTI is particularly challenging due to its global reach. Regardless of whether coverage of Khan's public speeches and rallies are censored on mainstream media in Pakistan, PTI posts hourly updates and testimonials from PTI workers with English subtitles across social media platforms, often with the hashtag #ThisWasNotOnTV.
"The whole world is watching, politics is no longer restricted to streets," said Jibran Ilyas, PTI's social media lead and a cybersecurity expert based in Chicago. When mobile internet networks were down in Pakistan, Ilyas organized an online campaign to request that residents based in protest areas make their Wi-Fis public to help PTI members upload footage on social media and share updates with the rest of the team.
Though, according to Khan, 10,000 party workers and most of the PTI leadership are under arrest or on the run, PTI's digital team is still online. Fearing imminent arrest and speaking from an undisclosed location, a PTI worker told me they didn't sleep for several days after Khan was arrested. "One of our team members was shot in the leg during protests and underwent a six-hour surgery. Even then, they were still posting updates on social media," said another member of the PTI social media team. On TikTok, in the four days between Khan's arrest and bail hearing, the PTI's official account reached over 100 million people and the team put out 164 videos, revealed a recent report.
With its digital support and global reach, can PTI's online coalition be dismantled? "It is possible PTI can sustain its social media mobilization in the face of censorship, calibrated shutdowns and a general crackdown, which may intensify," said Asfandyar Mir, an academic who published the 2022 paper noting the existence of the "de facto coalition" between the army and PTI that led to Khan becoming prime minister.
As for the military, the country is once again papered with pro-army posters. They have also been successful in coercing some PTI leaders to quit the party and pressuring supporters to issue forced apologies online. The Pakistan defense minister revealed that the government is considering banning the PTI because it has "attacked the very basis of the state." And there is evidence that the state is shutting down internet services within a five-kilometer radius of Khan's house in the city of Lahore to make it difficult for him to address his supporters online. "We are in uncharted territory for Pakistani politics and its intersection with digital mobilization," Mir told me.
The future of Khan and his party is in the balance. But whether he, or his party, withstand the pressure, a key question remains unanswered: The people may be fearful of the state, but are they still respectful of its institutions?
The Big Idea
Shifting Borders
Borders are liminal, notional spaces made more unstable by unparalleled migration, geopolitical ambition and the use of technology to transcend and, conversely, reinforce borders. Perhaps the most urgent contemporary question is how we now imagine and conceptualize boundaries. And, as a result, how we think about community. In this special issue are stories of postcolonial maps, of dissidents tracked in places of refuge, of migrants whose bodies become the borderline, and of frontier management outsourced by rich countries to much poorer ones.
Read more