Indian teens track down vital supplies on Twitter as hospitals face collapse
Thousands of Gen Z-ers are working round the clock to connect Covid patients with oxygen, beds and plasma via social media
As India descends into Covid disaster with a record surge in case numbers and deaths, the overwhelming atmosphere is one of chaos. Hospitals are inundated with new patients and vital supplies are running low. Patients and their relatives have resorted to desperate pleas on social media, begging for resources including oxygen, ICU beds and blood plasma.
In response, thousands of Gen-Z Indians have come together on Twitter to help them. "All the infrastructure is basically collapsing at the moment," said Sankul Sonawane, 18, a high school student from the western Indian city of Pune. "It's basically a last gasp of asking for help from strangers on the internet to save their loved ones."
Sonawane described how he and his classmates have been working round the clock for the past two weeks to contact hospitals and suppliers, posting the crowdsourced, verified information online. He spends much of his day on hold to hospital receptions in his home city, asking if they have spare ICU beds. He believes there are tens of thousands of young people like him across the country doing the same work. A search for "Covid Delhi ICU or Plasma" on Twitter brings up a wall of information and offers of assistance from people like Sonawane.
On Friday, India reported a record 332,730 cases, the world's highest one-day tally for the second day in a row. Prime Minister Narendra Modi, who has been criticized for his handling of the pandemic, said the current situation was "like a storm."
Modi was widely condemned by politicians in India this week for addressing vast state election rallies in West Bengal, where he is hoping to win power from the incumbent regional party.
"I see huge crowds of people in every direction… Today, you have shown your power," he said in a jubilant address to a crowd of tens of thousands in Asansol in West Bengal on Saturday. On Twitter, #SuperSpreaderModi has been trending over the past few days as India grapples with the world's fastest-growing Covid-19 caseload.
Much of "desi Twitter," which has long been a platform for lively political discourse in India, has now been taken up by offers of Covid assistance from young Indians, and has become a vital tool to fight the virus. Prior to this week, "ranting" was the main purpose of Twitter for Aditi Parikh, 25, an IT professional from Udaipur. "We used to interact, we used to talk about politics," she said. That all changed a few days ago when she saw a tweet from someone who said they couldn't find any oxygen for their father. "That particular tweet was a triggering point," she said. Parikh is now working with an online team of 70 people to source and verify information about Covid supplies. "I have genuinely never met these people in my life," she said of her team.
Parikh described how they'd made online spreadsheets for collecting information about oxygen supplies, medicine, and ICU beds. The team also built an online bot that retweets verified data. "We can't find many resources for plasma right now, it's getting really difficult," she said.
Parikh said she is concerned about the stress experienced by younger members of her team, some of whom are barely 16. "They are quite young for their age to be doing all these things and taking all this pressure mentally," she said. "The youth is doing what the government should have done."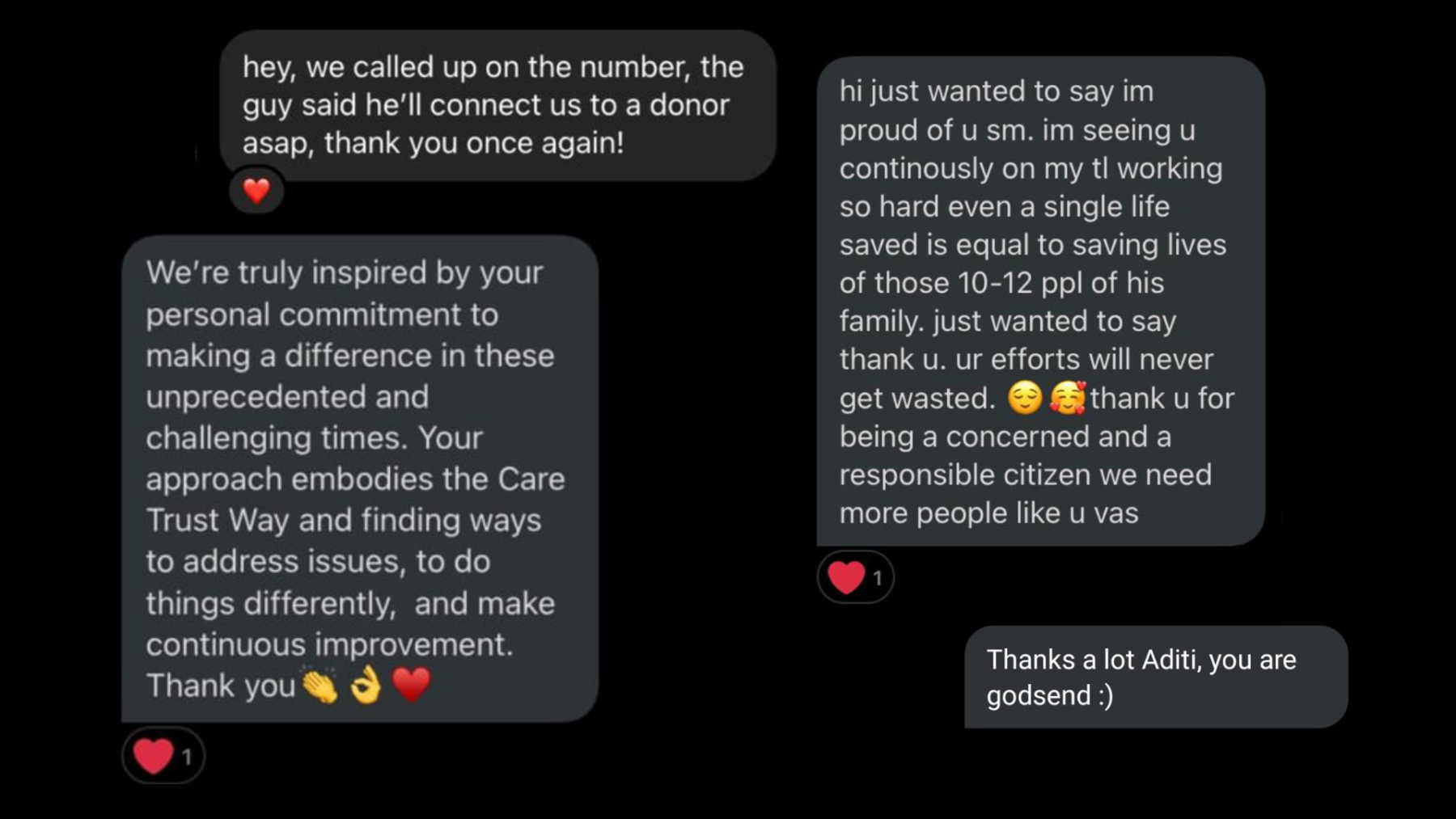 For Akshaya Dixit, 18, a political science student at the University of Delhi, the open source work is a counterpoint to the fake news she's seen online throughout the pandemic. "When someone shares false news on WhatsApp, I get really annoyed," she said.
The teens' efforts are working. They have been inundated with messages from patients and their families, thanking them for helping to find hospital beds, plasma or supplies.
Dixit showed me a message she had just received from someone she helped: "Hi Akshaya," the text said. "We were able to arrange an oxygen cylinder for my grandfather with the lead you shared. You saved his life. God bless you everything :)."
A previous version of this article misspelled Aditi Parikh's last name. It is Parikh, not Barikh. It has since been updated.
The Big Idea
Shifting Borders
Borders are liminal, notional spaces made more unstable by unparalleled migration, geopolitical ambition and the use of technology to transcend and, conversely, reinforce borders. Perhaps the most urgent contemporary question is how we now imagine and conceptualize boundaries. And, as a result, how we think about community. In this special issue are stories of postcolonial maps, of dissidents tracked in places of refuge, of migrants whose bodies become the borderline, and of frontier management outsourced by rich countries to much poorer ones.
Read more