Stakes turn deadly as Iran's government threatens the phone apps aiding protesters
Can technology used to oppress Iranians also be used to liberate them?
Firuzeh Mahmoudi is rubbing her temples. Speaking on a video call from her home in San Francisco, she seems tired, drained. "Things are not getting better, Iran is not doing great," she says.
It's September 23, four days after the Iranian government shut down the internet in the northern Kurdish city of Sanandaj. Not long after Mahmoudi and I spoke, the Iranian government blocked access to Instagram and WhatsApp (estimated to be used by 70% of Iranian adults) and shut down the internet for hours each day so that even basic communication, let alone work, became almost impossible.
The internet disruptions followed several days of nationwide, anti-government protests in response to the death of 22-year-old Mahsa Amini while she was in the custody of Iran's vicious and widely reviled morality police.
At least 76 people have been killed during the protests, human rights groups say, and over 700 arrested. The police said Amini died of a heart attack. But her father insisted she was healthy. Photos that emerged after her death were gut-wrenching: her eyes were purple and swollen. She appeared to have been tortured.
Mahmoudi is the executive director of United For Iran, a non-profit focused on human rights advocacy within the country that has built an application called Gershad, which first came to prominence in 2016, enabling Iranian women to warn each other about morality police in the vicinity.
At the time, United For Iran kept their involvement in building Gershad quiet, but they have been open about the value of cell phone apps and web resources in helping to drive progressive change. One example is Nahoft, an app that enables Android users to encrypt their messages before sending them. (Over 90% of mobile phone users in Iran use the Android operating system.) Gershad has been a pivotal tool in this recent round of protests. Its Twitter account — where the group reposts some of the app's reports on the Morality Police — has exploded, weekly impressions growing from 1,900 to nearly 1.5 million.
The shutting down of Iran's mobile internet, though, has made the app largely unusable. Limited internet access has drastically narrowed who can use the application, leaving many still-active protesters vulnerable, echoing a similar shutdown in 2019 when an order from Supreme Leader Ayatollah Ali Khamenei demanded "Do whatever it takes to stop them." In the two weeks that followed, close to 1,500 people were killed.
For protesters, a popular app like Gershad serves as a rallying cry, a way to keep spirits up and motivate people to come out onto the streets. This sudden freeze in activity has jeopardized that aspect of the app. "The silence leads to people thinking there's nothing else happening. So it kind of takes the wind out of the sails," Mahmoudi says. "So people don't go out on the street as much and it kind of fizzles out. And then they kill us."
When Gershad made its debut in 2016, it spread rapidly. "Within 12 hours, we had to get a new server," Mahmoudi told me. The group had released the app with no advertising, yet it had a user base of 10,000 people within the first 48 hours. That kind of popularity quickly attracted the attention of the Iranian government, which banned Gershad and its APIs (application programming interface, the software that allows apps to talk to each other) within 24 hours of its release.
The ban, intended to render the app useless to those who had downloaded it, was quickly circumvented by the development team — building functions into the interface that worked around the censorship. Even in the app's infancy, its adversarial relationship with Iranian authorities seemed clear. The app was designed to help Iranian citizens retain some control, while the Iranian authorities appear determined to violently repress even the most minor displays of individual agency.
"I wouldn't necessarily say the government is at the forefront of our minds," Fereidoon Bashar, Executive Director of ASL19, a Canadian technology company focused on civil society and who heads Gershad's software development, told me. "For us, it's mostly about how we can make the app more secure, more private, but that means the government is certainly an adversary."
Iran has a history of using technology to limit the freedom of its citizens. Early this month, Iranian officials announced that facial recognition technology would now be used to identify and fine women who weren't adhering to the country's rigid dress code.
Despite the adaptability and flexibility of the Gershad developers, the question for many Iranian developers is whether technology that is largely used to oppress Iranians can also be used to liberate them?
In 2018, for example, in response to Telegram's growing popularity within the country, Iran banned the application and introduced Telegram Gold, which advertised new features and, most importantly, was actually available. The app became a user-data farm for the Iranian government, which quickly collected close to 14 million users' private information.
"If you don't have people familiar with the geopolitical situation on your team, then definitely your tools might be like a weapon in their hands," said Amir Rashidi, director of digital rights at the Texas-based Miaan Group, which provides technical, legal, and research expertise to human rights organizations in Iran and the region.
Bashar, for much of our conversation, seemed barely able to bring himself to speak. Like Mahmoudi, he appeared exhausted and sad. "I've seen better days," he admitted, as soon our call began. For him, his work on Gershad, despite its success and its value to the protests, was no substitute for not being there, for not being out on the streets and actively present.
"Maybe I don't think of it as guilt or maybe I should," he sighed. "It's definitely a feeling that you're on the outside and there are people that are, you know, being violently brutalized and oppressed. It's been hard to watch."
"I don't necessarily see the internet shutdown as something that concerns the app's success," he told me. "The consequences that follow internet shutdowns are faced by actual protesters and people."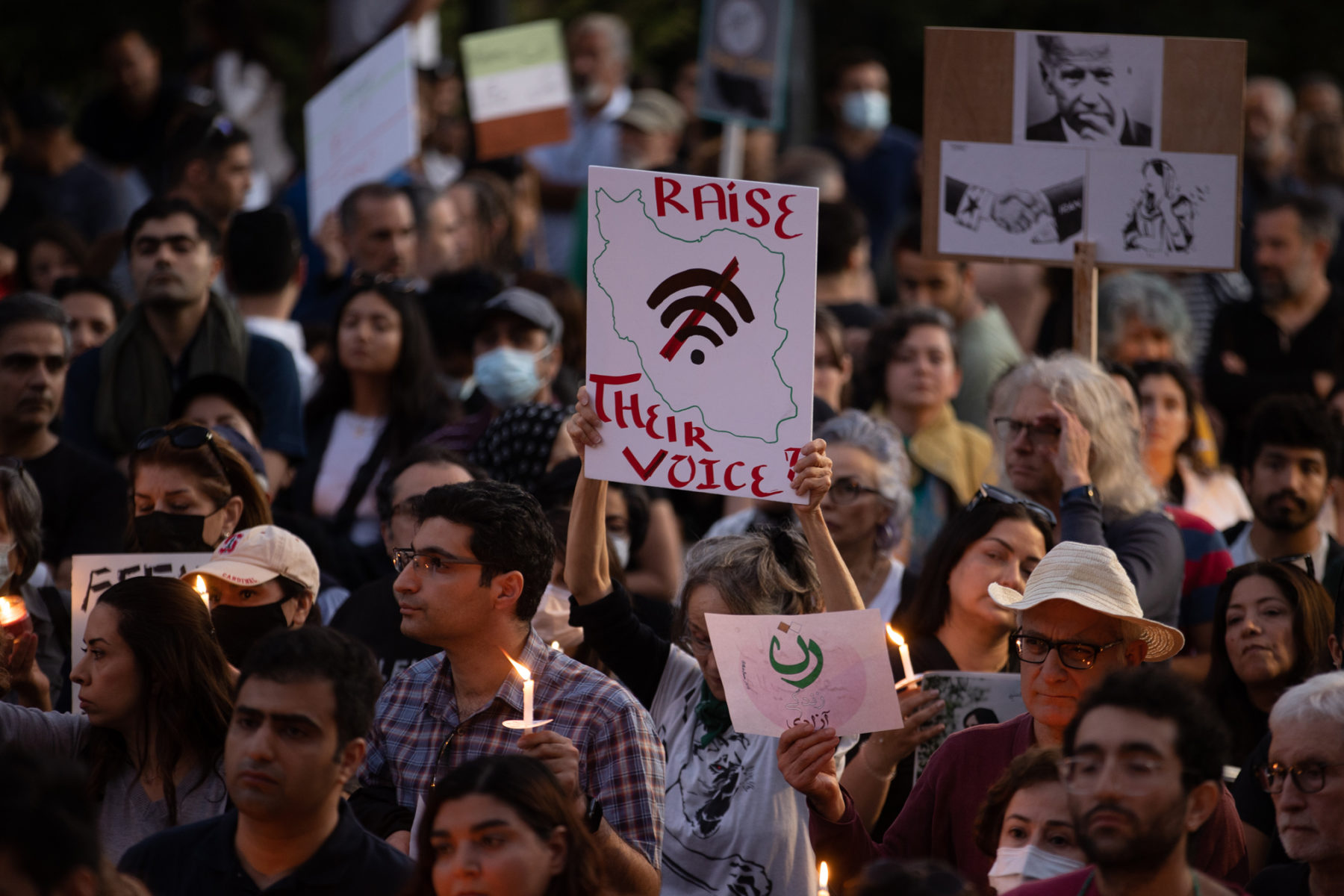 Despite the shutting down of mobile internet services and the effect on daily life, Iranians have kept coming out onto the streets to make their anger heard. Reports emerging from Iran have suggested that the vans of the morality police — large white-and-green patrol vehicles from which officers kept their eyes on Iranian citizens, particularly women — have disappeared entirely.
Rashidi, who told me that the shutting down of the internet in Iran was his "biggest fear," acknowledged that the crowds of people willing to brave police brutality and prison had inspired hope in all those who imagine a less repressive future for Iran. "I mean, we had witnessed police brutality for a long time," he said, "but this one was different. She was so innocent. There was nothing wrong with her dress and that basically fanned the flames of frustration. That's why we're seeing all these protests around the country."
Though experts continue to doubt that these protests will result in the overthrow of the Khamenei regime, the protesters have managed to change the debate. Previous protests had centered around the economy and electoral corruption; now culture and repression are the catalysts.
Mahmoudi told me she has a comment left for Gershad's team saved on her computer. The message helps remind her that technology can still be a force for good: "Gershad is a successful example of channeling hatred and anger to underground tunnels without the need for leadership or the media. Every minute we are recreating the map of our city…together."
The message speaks to Gershad's ultimate philosophy: it's about the user base, it's about collaboration and the lack of hierarchy or singular control, and it's about access and agency.
"I really like that," Mahmoudi said, smiling.