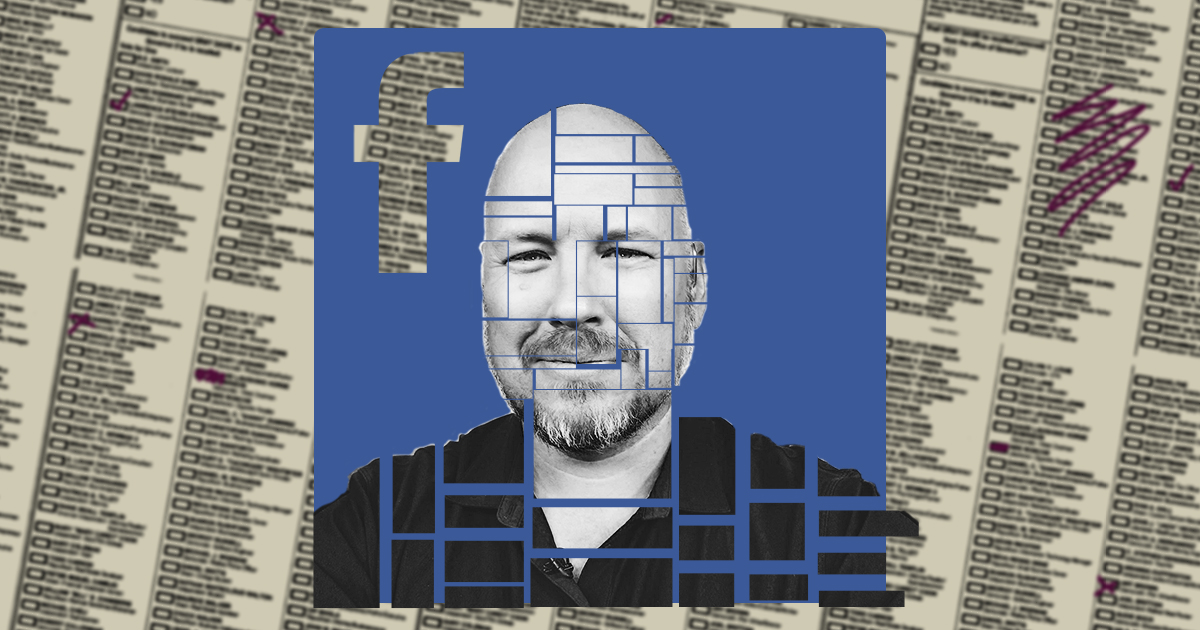 "I want to use the governor's race to continue to talk about Facebook."
The news has been awash with stories about Facebook recently, but there's one that I've enjoyed following the most.

Adriel Hampton is a liberal activist from San Francisco. He made national headlines back in 2009 for being the first congressional candidate to announce his run on Twitter, a company that at the time Politico described as a "trendy social networking site".

Hampton lost the race then and it's pretty likely he'll lose the election he's just entered: California's gubernatorial election in 2022. But he seems to be ok with that.

His campaign is focused on a central goal: "I want to use the governor's race to continue to talk about Facebook," he told me when we spoke on the phone.

Hampton wants to see Facebook reverse its policy on allowing politicians to run ads with false messages on the site. Or at least bring some more attention to the company's controversial rule. So on October 28 he registered for the gubernatorial race to further test Facebook's policy. It's earned him another online "first" — Hampton is the only politician or candidate in the U.S. that is ineligible to run false ads on the site.

"This person has made clear he registered as a candidate to get around our policies, so his content, including ads, will continue to be eligible for third-party fact-checking," wrote a Facebook spokesperson to Recode.

When I spoke with Hampton he was about 50% gleeful in describing Facebook's one-man exception for his run and 50% earnest about his cause:

"For me this is really high stakes," Hampton said. "I'm treating it like a joke because that's a certain way to get yourself into the narrative. But, the pivot is to talk about how serious it is."

"I feel like that's the most important thing I could do politically right now to ensure fair elections in 2020," he continued.
Hampton says a major motivation for his campaign is how he's seen climate change denialism spread on social media platforms, through conservative news outlets and in statements made by President Trump.

"That threatens the lives of my family," he said. "The last time the media really had a huge effect in bolstering the government's lies was the Iraq war. And at the time, two of my brothers were in the service and I was just totally blown away. And it really radicalized me."

Since his last run a decade ago, he's worked several jobs: as the political editor for the San Francisco Examiner, a social media consultant to progressive campaigns and as an investigator for the San Francisco city attorney's office.

Hampton is critical of the business connections of California Governor Gavin Newsom and other former businessmen turned politicians: "They're kind of like golden retrievers for the corporations. I want to be more like a pit bull for the people."

While 2022 is still a long way off, Hampton's goal for now is to try to find more loopholes in Facebook's policies and to get more people registering to run for office in order to run false ads: "I think that's what you have to do to win an activist battle against a large corporation. You have to make it terribly embarrassing."

Facebook's Supreme Court

I also asked Hampton what he thinks about another recent policy announcement from Facebook. By the end of the year, the company will create an Oversight Board made up of 40 part-time members tasked with reviewing policy decisions submitted by Facebook. According to the company, the board will act independently, although it will be funded by a trust paid for by Facebook.

Writing in The New York Times, Kara Swisher enthusiastically embraced the move, even saying that she'd like to apply "to be judge and jury over Mark Zuckerberg" in an opinion piece headlined: "Facebook Finally Has a Good Idea."

Hampton wasn't quite as keen for a spot on a Facebook-funded supreme court. "No, I'm interested in getting elected to make such a board accountable to the people and not to Facebook," he said. "We need independent oversight for Facebook that is elected by the people or is accountable directly to elected officials."

He's not the only person who is skeptical about the board. Dr. Jennifer Cobbe, who coordinates the Trust and Technology Initiative at Cambridge University, said she would also decline such an offer. "I wouldn't join it if Facebook offered me all the money in the world," she said. "I think generally this proposal is another attempt by Facebook to centralize as much power as possible in the hands of Facebook."

Whiplash

Talking to Hampton, Cobbe, or other people in the tech field makes me think of all the various family members or friends who have closed their Facebook profiles, or at least deleted the app from their phones. It really does feel like we're in the middle of a "watershed" moment as described by Hampton.

But here are some numbers I can't get out of my head:

Facebook added 39 million monthly active users during its second quarter this year
Twitter added 5 million daily users in the same quarter
As of last year, over 25% of American households own a smart speaker like Alexa. (I wonder what that number will that number look like after the holidays)
72% of Americans use some form of social media, according to the Pew Research Center, a number that keeps climbing
These numbers come from (another) opinion piece from the Times: "There is No Tech Backlash". When I searched to find the piece again to double check the figures, I stumbled on this column in The Verge telling us that not only is the tech backlash real, it's also "accelerating." The following article it in Google search had a different take: "The backlash to the tech backlash."

Other great Coda stories

Russia is building a facial recognition system that, according to some, may even be bigger than China's 200 million camera system.

In Lebanon, WhatsApp is a major tool for fear and intimidation targeting protestors. Emily Lewis looks at how unverifiable rumors spread on the messaging app are impacting Beirut's unprecedented mass demonstrations.

Most of the coverage about China's social credit system paints the system as Orwellian. Rui Zhong takes a deeper look at the rise of the schemes.