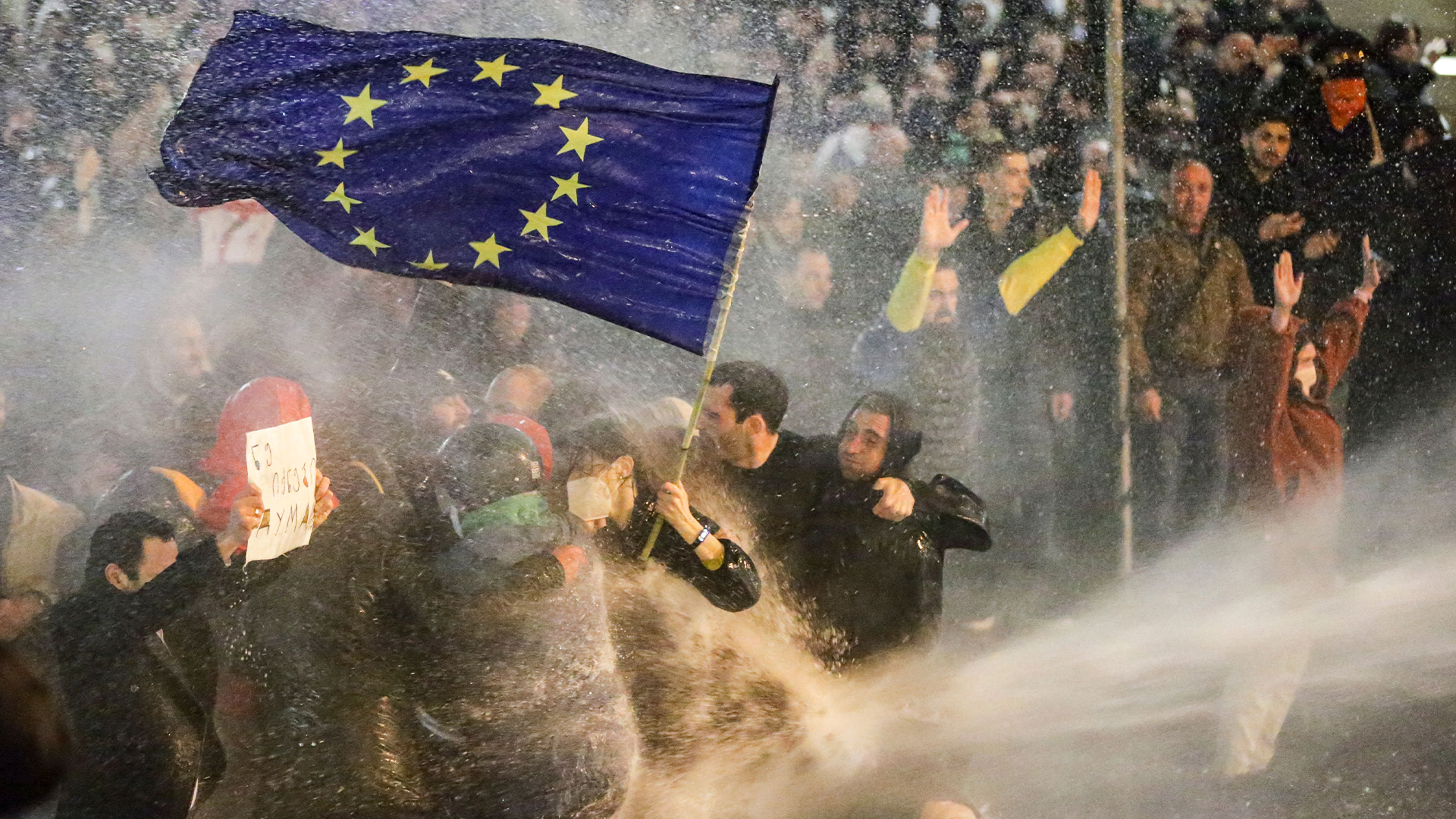 People power pushes back 'Putin's law' in Georgia
Protests forced the Georgian government to withdraw draft legislation limiting 'foreign influence' on civil society and the media. But the retreat might only be temporary
Last week, Tbilisi's streets descended into anarchy. Thick gray plumes of tear gas twisted toward the sky outside the parliament building on the main thoroughfare of Rustaveli Avenue. Riot police blasted water from cannons and pepper spray at crowds tens of thousands strong, as windows were smashed, bottles and bricks thrown and cars overturned and torched.
The protests erupted on March 7 after the ruling Georgian Dream party began pushing through a controversial draft law that, if successful, would have required independent media and civil society organizations receiving more than 20% of their funding from abroad to register as "agents of foreign influence." By March 9, Georgia's government had backed down. Some 130 people arrested during the protests were promptly released, and on March 10 an emergency parliamentary sitting was hastily arranged to kill the bill.
For outside observers, Georgian Dream's spectacular U-turn may have signaled the end of an outwardly bewildering episode in the country's politics. In reality, the story is likely far from over.
Dubbed "Putin's Law" by demonstrators in Georgia, the governing party's foreign agents bill echoed the measures used to crush dissent in Moscow after they were introduced in 2012. "It's the trajectory of such laws that makes them frightening," said Hubertus Jahn, a professor of Russian history at the University of Cambridge. "The impact [in Russia] has been massive. No NGO is operative [and] once these organizations are closed, an open civil society is no longer possible." Since Russia's invasion of Ukraine began, the Kremlin has weaponized restrictions against those deemed "foreign agents" such that virtually all opposition voices have now been jailed, driven underground or forced abroad.
"[Georgian Dream] has implemented hate and the inability to accept differences of opinion," Gia Pailodze, a 66-year-old filmmaker, told me at the demonstration in Tbilisi last week. "It's the same psychology you see at work in Russia." Many Western commentators saw the protests as evidence that while the Georgian government has Russian sympathies, the Georgian people believe their future lies with Europe.
Russia for its part denied the protests in Georgia have anything to do with Russia, claiming, as Georgian Dream does, that the draft bill was based on a United States law stemming from the 1930s that requires lobbyists and advocates for foreign governments, organizations and individuals to disclose their related activities and compensation to the U.S. Department of Justice.
After the bill was withdrawn, Vyacheslav Volodin, the chairman of the State Duma, Russia's lower house of parliament, noted on Telegram that "Georgia lost the chance of sovereignty." He claimed the street protests in Georgia were a product of Washington's "soft power" rather than organic popular anger.
Russian President Vladimir Putin's press secretary, Dmitry Peskov, also blamed the United States. He said that Salome Zourabichvili, the president of Georgia who expressed support for the protesters, was "addressing Georgians from America." Zourabichvili was on a visit to New York to attend a United Nations summit. Peskov, referring to the U.S., said "someone's visible hand is trying to add an anti-Russian element." He also referred to "provocations" and the Kremlin's "great concern."
Others were less diplomatic.
The Twitter account for "Russia's MFA in Crimea," Russia's self-proclaimed Ministry of Foreign Affairs in the annexed region that is flagged as a Russian government organization, threatened protesters who were calling for the resignation of the Georgian government. "We recommend," read the tweet, "to recall a similar situation in Ukraine in 2014 and what it finally led to!" Since 2008, Russia has consolidated its control over the Georgian territories of South Ossetia and Abkhazia in the Caucasus, which constitute more than 20% of Georgian land. According to some reports, the protests over the draft bill led to security forces in the occupied areas conducting military exercises. As an example of saber rattling, this was comfortably topped by the RT editor-in-chief, Margarita Simonyan, who called for a nuclear strike on Georgia.
In the weeks leading up to the protests in Georgia, critics had pointed out that the draft law — titled "Law on Transparency of Foreign Influence" — represented only the latest evidence of a growing authoritarian slide in a nation once held up, in the words of one former U.S. diplomat, as "a beacon of democracy in an ocean of autocracy." A state security leak in 2021, for instance, appeared to have revealed mass surveillance of voices critical of the administration. And prominent journalist Nika Gvaramia, a critic of the government, was handed a prison sentence last year on charges that his supporters, human rights groups like Amnesty International and even the U.S. embassy in Tbilisi have said appear more motivated by a vendetta than justice.
But to truly understand how a country still subject to the Russian occupation got to the point of trying to implement an analogue of the Russian law, it's important to grasp the fraught geopolitics at play. When Georgian Dream assumed office in 2012, it was on a mandate to preserve peace and stability after the disastrous 2008 war with Russia. In pursuing that mandate, Georgia has long sought to tread an exceptionally fine line between deepening its ties with historic allies in the West and avoiding any provocation of the Putin regime.
This delicate balancing act became significantly more difficult, arguably impossible, with the full-scale invasion of Ukraine last year, as Western nations called on Georgia to join sanctions against Russia and provide material support to Ukrainian forces. Georgian Dream rejected those calls, instead launching unprecedented verbal attacks against the United States and the European Union. The Georgian administration's relationship with the Putin regime, by contrast, has only grown warmer. Russian Foreign Minister Sergey Lavrov has even praised Georgian Dream for not becoming "another irritant" to the Kremlin with their decision to remain largely neutral on the conflict.
In 2022, $2.5 billion worth of business with Russian companies turned Russia into Georgia's second-largest trading partner after Turkey, in turn raising international concern that Georgia may be acting as a conduit for sanctions evasion. Talks remain ongoing about the prospect of resuming direct flights between Moscow and Tbilisi for the first time in over three years.
But roughly 85% of Georgia's population is in favor of joining the EU. After war broke out in Ukraine, the EU undertook to fast-track Georgia, Ukraine and Moldova's applications for candidacy status — but while Ukraine and Moldova were waved through in June, Georgia's bid was deferred because of an apparent lack of willingness to implement necessary reforms.
Amid the doubling-down on anti-Western rhetoric that has followed, the foreign agents bill was received as a blatant attempt on the part of Georgian Dream to sabotage the country's remaining prospects for integration with the EU. Not least given that the draft law was in fact first tabled by People's Power, a vehemently anti-U.S., anti-EU party faction, and that its provisions actively contravened the European Charter on Human Rights, to which Georgia is a signatory.
"We want a European democracy and the new law is against that path," said Giorgi Zhvania, a 35-year-old IT manager who was at the protests in Tbilisi. This, he said, "will divide Georgia. It's Russian politics: divide and conquer." Among the demands the EU is making of Georgia, say experts, is "deoligarchization," a meaningful effort to counter the influence of vested interests over Georgian politics and public life.
It's an open secret that Georgian Dream's billionaire founder Bidzina Ivanishvili, by far the country's wealthiest businessman, remains the party's gray eminence though he formally left politics — not for the first time — in 2021. Since the outbreak of the war in Ukraine, members of the European Parliament have repeatedly called for him to face sanctions for his long-standing links to powerful Russian business interests, leaving no illusions about what is meant by "deoligarchization." But, said Julie George, a professor of political science at City University New York, "by definition, Georgian Dream cannot abandon Ivanishvili." And so, she added, "the bid to enter the EU — not for the EU, or the Georgian people, but for Georgian Dream — ended last year."
Last week's protests may have been successful in achieving their immediate goal, but the government's U-turn was not without some notable qualifications. The vast majority of ruling party MPs conspicuously failed to turn up and vote the foreign agents law down on March 10, instead leaving the process of withdrawing it to be largely carried out by the woefully fragmented parliamentary opposition.
Referring to domestic and international coverage of events, Georgian Dream said that a "machine of lies was able to present the bill in a negative light and mislead a certain part of the public." The party said it would be making efforts in the near future to clarify "what the bill was for and why it was important."
Indeed, party chairman Irakli Kobakhidze has since been quick to lavish praise upon the draft law's authors for helping expose NGOs and independent media as subversive "LGBT propagandists" and opponents of the Georgian Orthodox Church, bent on dragging Georgia into the war in Ukraine and returning to power the widely-despised former government of imprisoned opposition figure Mikheil Saakashvili. According to Britain's Sky News, which got in touch with Saakashvili through his lawyer, the former president says he has been poisoned and is "in bed all the time" and in "excruciating pain." He warned Georgians to be wary of "the vengeful mood of the oligarchs' regime."
It's difficult to forecast what the wider implications may be should Georgian Dream choose to continue on its current trajectory. The message of the protests, say some analysts, is an embrace of the EU and the West. And Georgia is due to hold elections in 2024 with its new constitutionally-mandated proportional representation electoral system, intended to make all votes contribute to the final results.
"After the collapse of the Soviet Union, Georgia established not a perfect democracy," said Stephen Jones, the head of Harvard University's Georgian Studies Program, "but one that to a degree protected citizens' rights and allowed some sort of public space for discussion." Further democratic backsliding, he told me, means that will go, "and that's a tragedy for Georgians."
The Big Idea
Shifting Borders
Borders are liminal, notional spaces made more unstable by unparalleled migration, geopolitical ambition and the use of technology to transcend and, conversely, reinforce borders. Perhaps the most urgent contemporary question is how we now imagine and conceptualize boundaries. And, as a result, how we think about community. In this special issue are stories of postcolonial maps, of dissidents tracked in places of refuge, of migrants whose bodies become the borderline, and of frontier management outsourced by rich countries to much poorer ones.
Read more