Invasion of Ukraine pushes Georgia to reexamine its fraught history with Moscow
Russian involvement in Georgia's 1990s wars in a breakaway region triggers a reassessment of buried trauma
This week, Georgia is celebrating the 104th anniversary of its independence from the Russian Empire — a brief moment of optimism that was cut short when Soviet Russia occupied again in 1921.
To mark the occasion, European Union flags are flying above all government buildings in the capital Tbilisi — the Georgian government, although criticized for its meek response to the Russian invasion of Ukraine, did apply for EU membership two years ahead of schedule — and the city spent much of the week preparing for annual festivities.
But away from all the usual fanfare, a small, privately organized exhibition in one of Tbilisi's hip venues reflected the lack of historic reckoning that makes Georgia's independence ever so fragile.
The idea for the exhibition was hatched after a group of Ukrainian journalists contacted their colleagues at Tabula magazine in Tbilisi. The Ukrainians asked them for evidence of atrocities committed by Russians in the early 1990s during the internecine conflict in the breakaway regions of Abkhazia and South Ossetia, when Georgian troops and paramilitaries, Abkhaz forces, local civilians, as well as fighters from the Russian Federation fought a brutal war strafed by massive human rights abuses on all sides.
"It took the massacre in Bucha for us to dig into our own past," says Tamara Chergoleishvili, founder of Tabula and the organizer of the exhibition called "Before Bucha there was Abkhazia." "I was shocked by what we found, but even more so by how little we know and understand."
Chergoleishvili discovered that in 1994, Georgia had set up a national investigative commission to look into whether atrocities committed against the Georgians amounted to a genocide. The commission interviewed nearly 25,000 victims of the war and identified 800 people, including members of the Russian military, who participated in human rights violations in Abkhazia. Tabula obtained and shared with me a summary of the findings that detail many of the horrific atrocities that took place. In 1999, the Georgian prosecutors office, using the commission's report, launched an investigation into the war and sent the report's summary to the UN in Geneva. But nothing came out of either.
Several people featured in the exhibition testify to what happened in 1993 in a village called Akhaldaba, where 300 ethnic-Georgian residents were held hostage in a local school. Militiamen separated men from women and children. Many of the men have never been seen since, while women and girls were tortured and raped.
"I felt ashamed. These people, the refugees from that war, still live among us, with enormous trauma of what they have been through, and yet, we never acknowledge it, never ask them whether they are okay," Chergoleishvili said.
The war in Georgia's Black Sea province of Abkhazia flared up in the wake of the Soviet collapse: ethnic Abkhaz did not want to be part of an independent Georgia, while the province's predominantly Georgian population did. In villages like Akhalba, situated in the Abkhazia region but inhabited mostly by ethnic Georgians, this brought violent confrontations of the worst kind.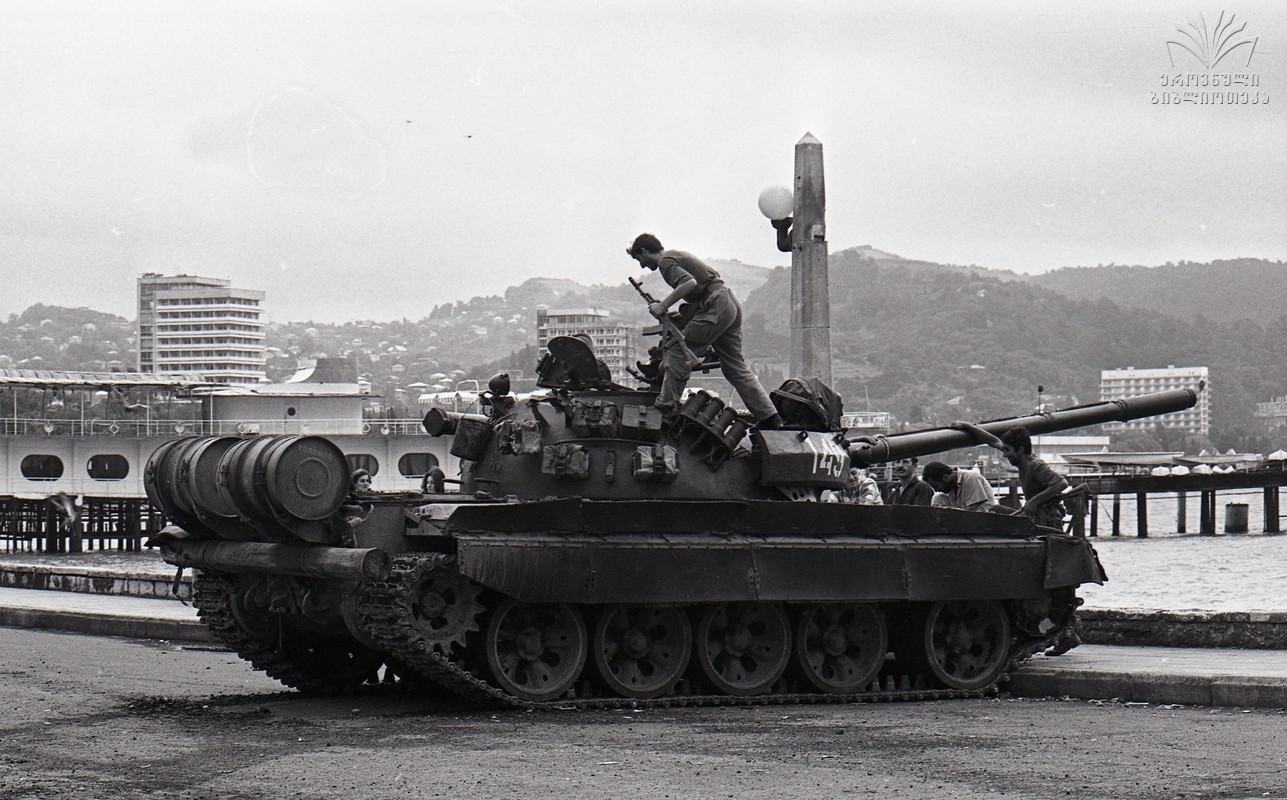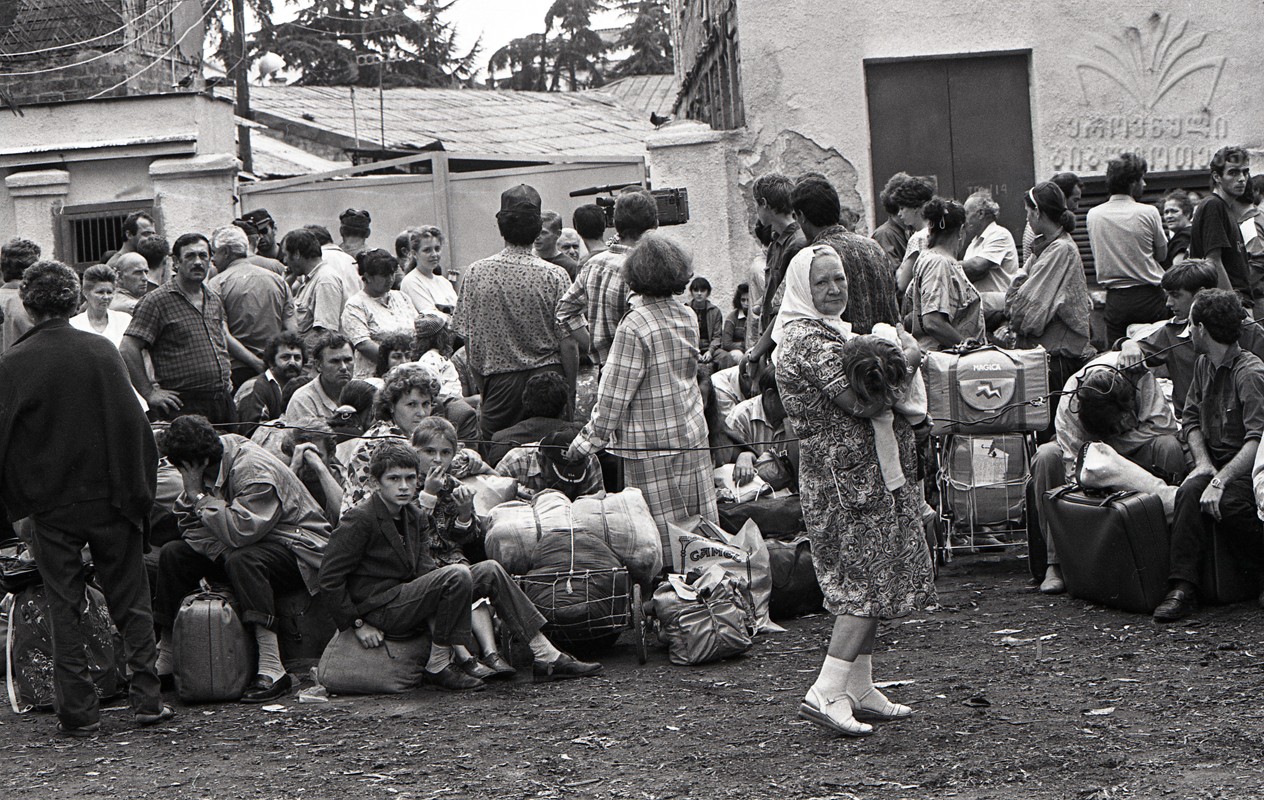 Moscow promoted this rivalry, fanned the flames of ethnic tensions and — once the fighting began — provided weapons, military personnel and propaganda support to the Abkhaz side.
In years to come, the Kremlin's role in Abkhazia would become a blueprint for Russia's approach to conflicts from Moldova's Transnistria to Nagorno-Karabakh, South Ossetia and Donbas in Ukraine. "Remember the little green men in Crimea?" asks Malkhaz Pataraia, a refugee still living in Tbilisi who co-founded "Abkhaz Council," an umbrella platform for many organizations that represent victims of the war. "I have met them in Abkhazia."
The "little green men" were Russian soldiers Vladimir Putin sent to Crimea without insignia so that he could unofficially establish (and lie about) Russian military presence in the peninsula. Moscow has always denied their soldiers fought in that war, but unlike Ukraine, Russian disinformation about Abkhazia went unchecked and unchallenged for years.
By the time most international organizations arrived in Abkhazia at the end of 1993, Georgian forces and nearly 250,000 Georgian residents had been driven out and nearly 10,000 people had been killed on both sides. Numerous UN fact-finding missions and international investigations like this one by Human Rights Watch all came to similar conclusions: horrible atrocities were committed by both sides, including bombardment of civilian targets by the Russian air force. In subsequent years, the ethnic cleansing and massacres of Georgians were officially recognized by Organization for Security and Cooperation in Europe conventions during the Budapest, Lisbon and Istanbul summits.
But unlike the war in Ukraine, which has been meticulously documented and full of compelling human stories delivered straight to our feeds, the narrative around Abkhazia is still weaved with the mind-numbing language of international organization reports.
The geopolitical mood was also radically different. Until very recently, Western policies towards Russia were underpinned by a belief in a possibility of a democratic, Western-friendly Kremlin. Reluctance to undermine that possibility meant that slagging off Moscow was frowned upon.
"No one wanted to hear about things Russians were doing to us," said Pataraia, the refugee from Abkhazia. But his definition of "nobody" includes Georgians — both the government and citizens. While it is today a widely accepted truism that Georgians have not been able to face the terrible atrocities that their side committed in Abkhazia, the war in Ukraine suggests that Georgians also have been unable to face their own trauma.
Pataraia believes that inertia and Russia both played a role in ensuring that stories of suffering and questions of responsibility remained buried. And today, it is clear how this lack of historic reckoning backfired and played into the Kremlin's hand. Sweeping the stories of victims under a proverbial carpet and locking memories into the furthest corners of consciousness created a vacuum, an ambiguity that the Kremlin masterfully exploited.
For both Abkhaz and Georgians, the conflict became a wound that oozed instability, crime and violence. As politicians failed, survivors suffered. Many of their stories had been collected but never properly told.
Venera Mishveliani, a Georgian refugee from Akhaldaba, told Tabula that some of those who held her hostage in the school were Russian. In a 2009 documentary called "Russian Lessons" filmmaker Andrey Nekrasov featured both victims from the school and a Russian who claims to have been there.
In the film, Naira Kalandia, a doctor, describes being stopped by "blonde men" speaking Russian "with no accent" who emptied their magazine into her 17-year-old son. She was taken hostage and held, for nine days, along with others, in a building of a local kindergarten. "They used an electrical wire to hang me upside down from the ceiling in a library room, and underneath they burned children's books," she tells the camera. The scenes she describes are horrific: one day, she says, soldiers forced her to swallow an eye removed from one of the corpses. Another, she was forced to watch how militia threw hostages into a deep well.
"We were mostly Russian and Armenian, maybe 20% of us in the unit were Abkhaz," says a man who describes himself as a Russian soldier, who volunteered to join a unit of "ground troops" because he wanted to "help the small Abkhaz nation." He says he was quickly disillusioned.
"Seeing people thrown into a well was really unpleasant," he says "I did not like it. I did not like how naked girls, ages 12, 15 would be brought to our base."
Akhaldaba is next to a town where I spent much of my childhood. My grandmother was among 250,000 Georgian refugees who eventually fled the war in Abkhazia. To her very last days, she talked about her dreams of returning to her house by the sea, or visiting my grandfather's grave in the hills above it. But we never spoke about the horrors that took place in villages we both considered home. There was an awareness of them, but never a conversation — not in my family and not in the larger society. "Everyone deals with trauma differently, we buried it," Chergoleishvili said.
This burial, Pataraia told me, brought the horrors of the war back in 2008, when Russia invaded Georgia, slicing away more territory both in Abkhazia and South Ossetia.
Georgia has pushed for justice for the victims of the 2008 war, filing and winning a case in the International Criminal Court. They also fought and won a case in Strasbourg Court of Human Rights over forcible deportations of Georgians from Moscow in 2006. But the search for justice for the victims of the Abkhazia war has not even begun.
Could the war in Ukraine jumpstart the process? Pataraia's organization is campaigning for the Georgian parliament to adopt a declaration deeming abuses against Georgians in Abkhazia a "genocide" just like Ukrainians have done. He also wants the prosecutors office to resume an investigation into the war crimes committed in Abkhazia and then, eventually to push for international justice.
"We owe it to the victims," he says.