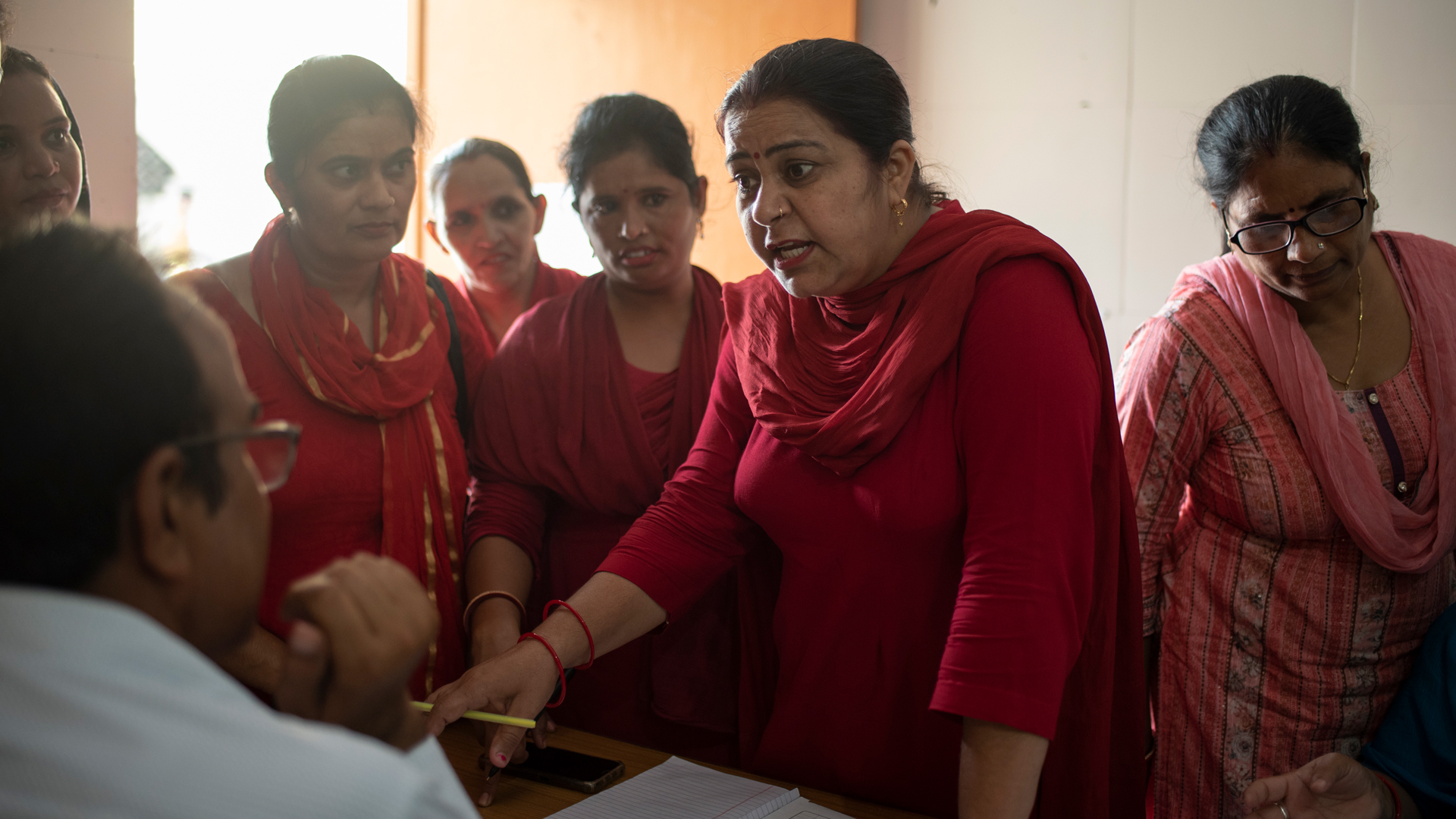 How healthcare workers in India fought a surveillance regime and won
The Indian government has become notorious for using technology to monitor and track blue collar employees
On May 29, Sarbjeet, an accredited social health activist (ASHA) in the northern Indian state of Haryana, was called to her local primary health center in the district of Kaithal for what she assumed was a regular monthly meeting. But at the meeting, her managers asked Sarbjeet and her fellow workers to install an app that tracked their every move.
Created by a private company, Advantal Technologies in Madhya Pradesh, the Shield 360 app is intended to monitor and update daily work targets for ASHA workers, but the app also tracks the movements of the ASHAs in real time via GPS and monitors their use of other apps and the internet. Shield 360 further allows health department officials to link the app with the computer systems in the government-run rural healthcare facilities and remotely add, delete or update any information or mobile applications on these work phones.
"We all installed it because at that time we did not know anything about the app," recalls Sarbjeet, 40, a secretary with an ASHA workers union in Haryana which has 22,000 members. "My friend noticed that the location was automatically getting switched on and every detail of her movement was showing up," says Sarbjeet. "It felt like giving the remote control of our phone in their hands."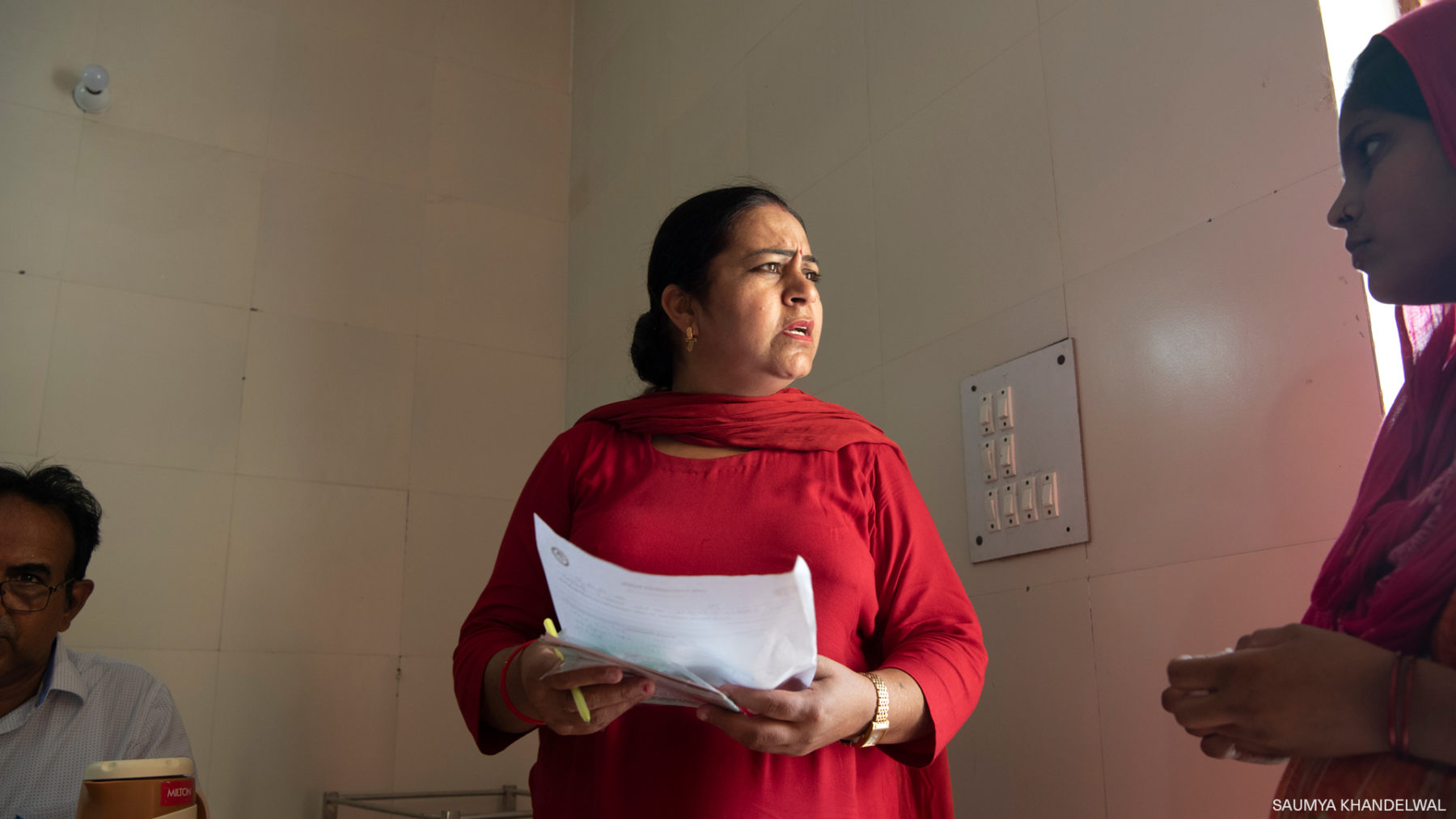 Sarbjeet, who asked not to use her second name, has been an ASHA for a decade. She was among 600 out of more than 900 female workers from Kaithal to have installed the app without being informed of its tracking capabilities. Some 11,000 ASHAs — or half of the workforce in Haryana — were also called to their local primary health centers for meetings in May and left with Shield 360 on their phones.
In the last few years, the Indian government has become notorious for using technology to monitor and track the behavior of low-income workers, including healthcare staff, sanitation and rural childcare workers. In March 2020, sanitation workers in the city of Panchkula were asked to wear smartwatches equipped with cameras and microphones so supervisors could hear and watch them work. The wristbands, which ensured the workers stayed within their assigned areas, have also been rolled out to other cities including Chandigarh and Nagpur.
Last month, the Ministry of Women & Child Development made it mandatory for rural childcare workers across India to download an app named Poshan Tracker, which enables the real time monitoring of food welfare to newborns and their mothers. The government threatened to deduct the pay of the rural childcare workers if they refused to download the app — some have protested against this mandate.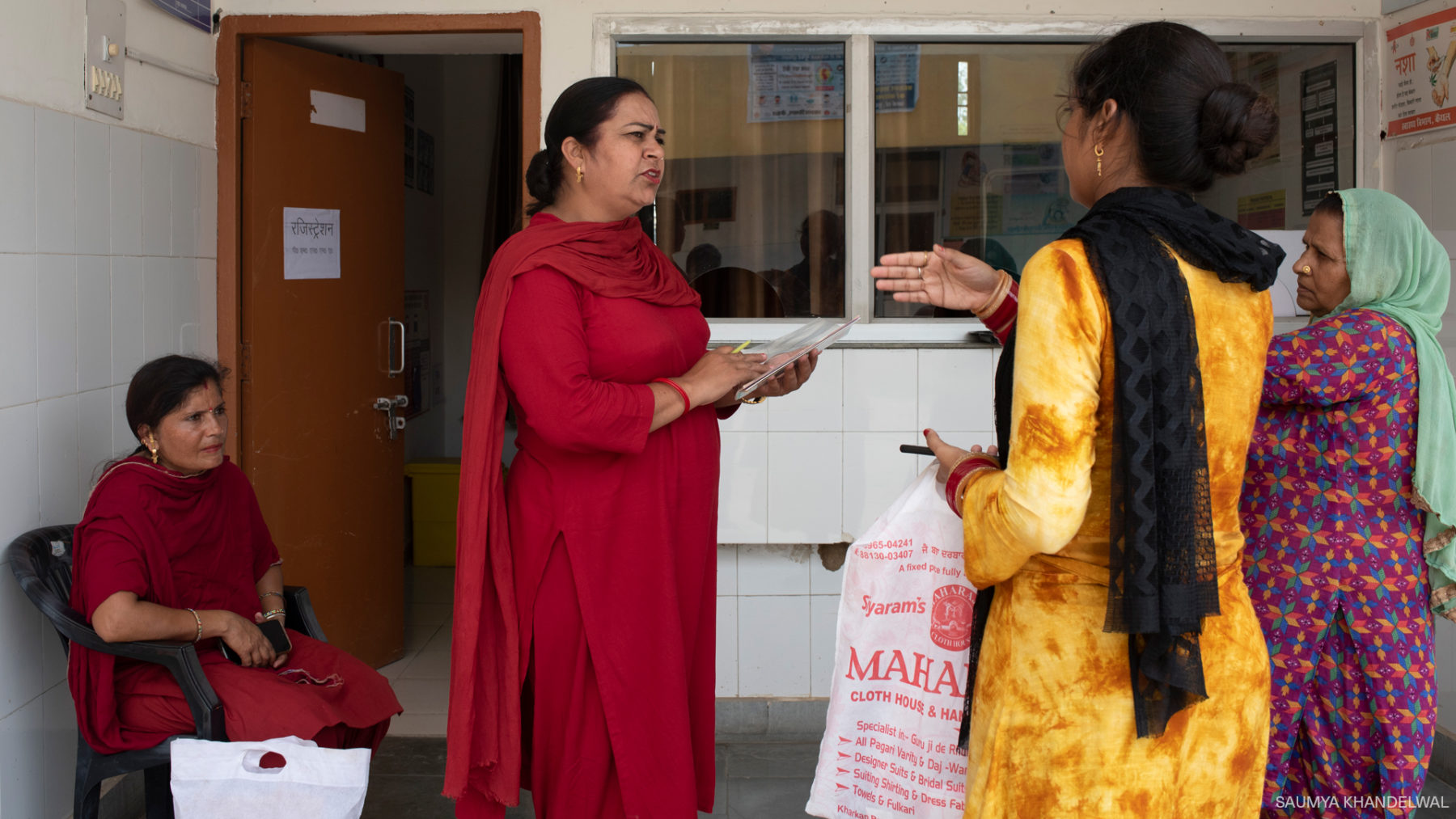 India's 900,000 ASHAs are the engines who keep the country's chaotic rural healthcare system functioning smoothly. They live and work in the local communities they serve and are trusted by populations who are sometimes hostile to outsiders. The coronavirus pandemic, which has officially led to more than 400,000 deaths in India, has brought into sharp focus the extraordinary role of ASHAs, who operate at a grassroots level as intermediaries between the government and locals: from setting up vaccination camps and planning home visits for Covid patients to debunking misinformation about the coronavirus. ASHAs in Haryana are typically paid $55 a month with incentivized payments for additional work.
Digital rights activists in India believe that low income workers like ASHAs are being put in a situation where they feel pressure to consent to monitoring software being installed on their devices. "It's just concentrating power in ways that are really problematic especially because these technologies are being introduced into relationships that already have a huge power differential," says Vidushi Marda, a senior program officer at human rights organization ARTICLE 19, where she leads research on the impact of machine learning on human rights. "There isn't even an illusion of choice. It's almost like if they want to make money and put food on the table, they have to be subject to surveillance."
Mobilization and protest
It all began with a demand for smartphones. In April 2020, ASHAs across several states were asked to go door to door and conduct surveys to compile a list of individuals who might be at high risk from Covid-19. The ASHAs were asked to collect the information using an app, rather than keeping their usual manual records. Unable to afford a smartphone, they began demanding the government give them smartphones for work; many even borrowed or purchased second hand devices.
"They moved all our work online and none of us had the devices for it," recalls Surekha, another ASHA and the general secretary of ASHA workers union in Haryana. "Once the government made smartphones available to us, we started working online, doing Covid surveys. They created apps for us and we downloaded them."
ASHAs in states such as Himachal Pradesh were given smartphones a few months later. In Haryana, however, almost a year went by and in May 2021 the government handed out smartphones to all 22,000 ASHAs in the state.
The healthcare workers initially used the apps Asha Survekshan and ASHAPay to upload Covid-19 surveys and receive their monthly salaries, but next came Shield 360, which thousands of ASHAs across Haryana were forced to install. "This app was blocking other apps, including YouTube and Facebook on our phone, which we didn't mind. But then the authorities told us that they will be able to make updates on our phone and also delete anything," said Surekha.
Alarmed about remote access to the app, Surekha consulted a few local IT professionals to understand what the ASHAs were getting into. The tech experts told her in no uncertain terms that Shield 360 was a "surveillance" app that would track their every movement.
As news of the Shield 360 spread, some ASHAs posted comments to a YouTube video complaining about their cameras not working, while many others discussed offline how apps like Facebook were being auto-blocked once Shield 360 was installed.
This angered Surekha who, along with other union leaders, approached her line managers expressing their concerns about the app. They were informed the app would not violate their privacy and that the ASHAs were obligated to retain it on their work phones. Managers made threats, too. "They said that if ASHAs don't download the app then we would have to return the phones — which basically meant we wouldn't be able to work," says Sarbjeet. "They were also asking for names of the workers who were refusing to have the app on their phone, saying they can face serious repercussions."
Ashish Thakral, director of sales at Advantal Technologies says that the Shield 360 app, which will be rolled out to other government smartphones, ensures that these devices aren't misused and helps improve efficiency. "You're not supposed to use government devices for WhatsApp and Telegram," said Thakral. "That's why this app has been installed — so that the devices are used for the purpose they were given."
The authorities do not deny that Shield 360 gives managers remote access to the phones. "The idea of this app is to track the work of Asha workers," Chand Singh Madaan, the state coordinator for the National Health Mission, told the Times of India. "These phones were meant for official use. It will help us monitor that workers are not misusing it. Also, it will help us track technical issues they face and update their app or add new features."
Unconvinced by the response from managers, Surekha and others decided to take matters into their own hands in the beginning of June. Messages started pouring into multiple ASHA WhatsApp groups about a planned protest. Surekha posted details about the protest to a group with 55 state-level union leaders and followed it up with a virtual call on Google Meet. Word about the protest soon got around to other ASHA WhatsApp groups.
The mobilization culminated in a one-day protest on June 25 — almost a month after Sarbjeet had first installed the app. The multi-location sit down was held by over 15,000 ASHAs across 22 districts in Haryana. Sarbjeet remembers gathering at a park along with 500 of her fellow ASHAs, dressed in their red uniforms and walking for 30 minutes to reach the office of the chief medical officer where they sat down while holding their smartphones up and demanded the authorities take them back.
The sit down worked — managers are no longer demanding the ASHAs keep Shield 360 on their phones and have paused any further installations.
"Our protest was just for a day but it was successful," says Sarbjeet. "ASHAs were so angry because it felt like there was a question mark on our privacy and almost all of them were present to show their indignance."
Yet even though the authorities in Haryana haven't returned to force more ASHAs to install Shield 360, the problem seems to be far from over. Sarbjeet says that when she recently checked with her district coordinator, she was told the app on her phone continued to show as "active" in computer systems even after it had been uninstalled from her device. "We are all in discussions right now on how to handle this issue," says Sarbjeet.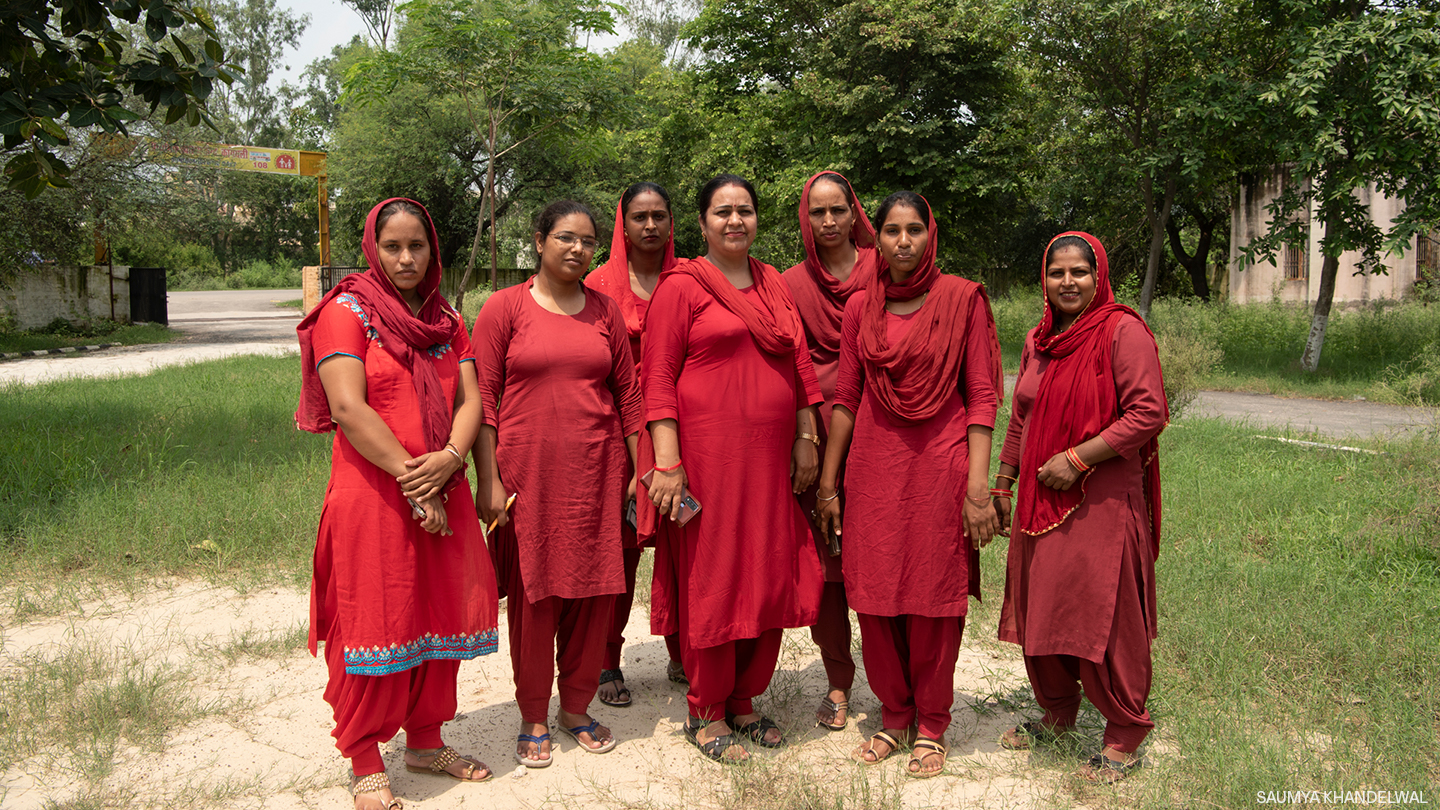 This story was supported by the Pulitzer Center
The Big Idea
Shifting Borders
Borders are liminal, notional spaces made more unstable by unparalleled migration, geopolitical ambition and the use of technology to transcend and, conversely, reinforce borders. Perhaps the most urgent contemporary question is how we now imagine and conceptualize boundaries. And, as a result, how we think about community. In this special issue are stories of postcolonial maps, of dissidents tracked in places of refuge, of migrants whose bodies become the borderline, and of frontier management outsourced by rich countries to much poorer ones.
Read more