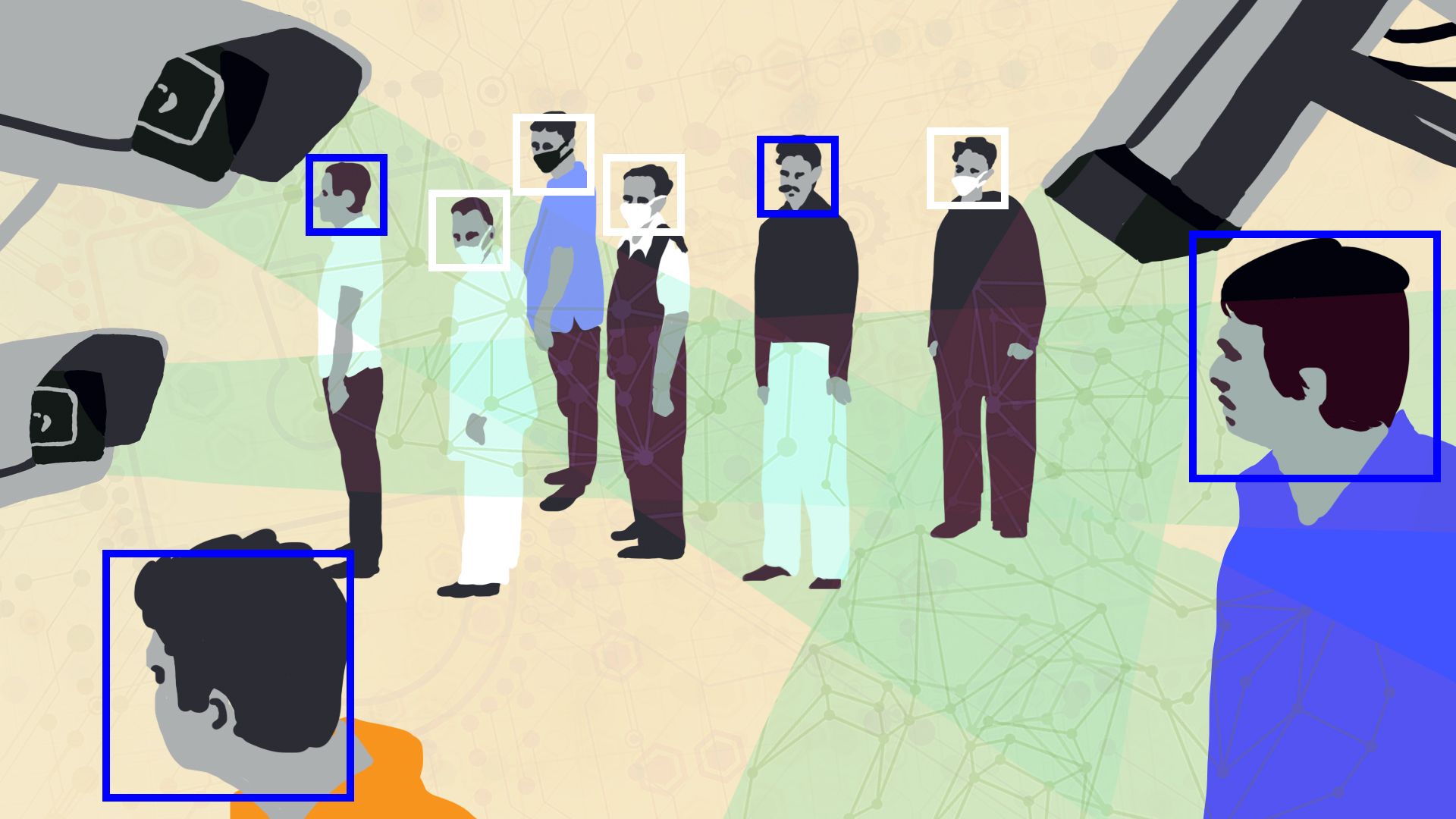 Life in India's digital dystopia
Hyderabad's IT industry brought jobs and growth to the city. Critics now say the same technology is being used to watch the moves of every citizen
In July, Imran received in the mail a traffic violation ticket from his local police department. He had been issued a fine equivalent to $13. The letter showed an image of him riding his motorbike without a helmet, captured by a CCTV camera at one of Hyderabad's many intersections.
The penalty, however, was not for his lack of headgear. Residents of the southern Telangana state capital are receiving citations for a new kind of offense: failure to wear a mask.
"I was worried when I received the ticket," said Imran, an Urdu and Arabic teacher, with a monthly income of $120. "We are in a pandemic, with difficulties in making money, and to top that I now have to pay $13."
Hyderabad is one of India's main technology hubs. In recent years, the sector has brought jobs and revenue pouring in. However, there is a flipside to this. The same innovations that have made the city's name are now being used to watch its residents' every move.
Imran, who asked to be referred to under a pseudonym for fear of reprisals from the authorities, was photographed by one of more than 500,000 cameras in Hyderabad. That number makes it, by some distance, India's most-surveilled city. By way of comparison, New Delhi has just over 5,000 cameras. As a whole, the nation's capital covers more than twice the area of Hyderabad, is home to three times as many people, yet has just 1% of its surveillance capability.
As a response to the global coronavirus outbreak, the state government of Telangana issued an order in May that made face coverings mandatory in public places. Many of Hyderabad's cameras have been fitted with artificial intelligence systems to identify people who do not abide by this ruling. Those, like Imran, who are caught disobeying the law are fined. On the day the order was issued, local police tweeted about the new technology. The post included an image of a group of people waiting outside a store, a digital red box highlighting those identified as not wearing masks.
As of early July, some 15,000 "mask violators," as they are referred to by police, have been fined. Many were caught using CCTV.
Once a camera spots an individual driving without a face mask, it sends an image and an alert to the command and control center at police headquarters in Hyderabad. The image is then broadcast to patrolling officers who attempt to track down the offender, using vehicle registration information to issue a citation. Violators are also sent penalties by post or text message. In other cases, cameras spot unidentified pedestrians without masks and police are sent out to find them.
Authorities in Hyderabad claim these methods have helped keep members of the public safe during the pandemic. As of July 27, Telangana has confirmed more than 80,000 coronavirus cases and 637 deaths, ranking seventh in India.
"It is about adaptability of technology. We have the platform of CCTV cameras and now we are implementing new uses to it," said Deputy Superintendent Srinath Reddy of the Telangana Police information technology unit. He has also said that the city's surveillance system, which averages out at one CCTV camera for every 20 residents, has ensured that 95% of the city's residents wear masks when they step out of their homes.
A digital testing ground
Hyderabad's technology boom began two decades ago. International giants such as Microsoft and Qualcomm have their biggest non-U.S. campuses in the city. Facebook, Intel, Apple and others have also established development centers there. What started in one ten story building named Cyber Towers back in 1998 is now a vibrant economy, spread out over a 250-acre space known as the Hyderabad Information Technology and Engineering Consultancy City (HITEC).
For years, the city has sold itself as a high tech metropolis, creating innovative solutions for the rest of the world. However, for some, its priorities now appear to be leaning towards the comprehensive monitoring of its own residents.
"Over the years, the arc has shifted to Hyderabad becoming a center of deployment of technologies towards control of behavior, cataloguing and pervasive gathering of personal data," said Apar Gupta, executive director of the Internet Freedom Foundation.
Digital rights activists and lawyers say that Hyderabad and the wider state of Telangana have also become test beds for surveillance technology that is later deployed elsewhere in India. In 2015, Hyderabad piloted the use of automatic number plate recognition systems. Since then, this technology has been implemented in other cities, including Chennai and Kolkata. Last year, Hyderabad airport became the first in the country to pilot facial recognition for passengers. It has since been introduced at other airports in the country, including Bengaluru.
More recently, the state also used drones built by one of Hyderabad's oldest IT firms, Cyient, to enforce Covid-19 lockdown measures.
The use of surveillance technology in Hyderabad can be traced back to 2013. After Islamist militant bombings were carried out in the city in 2007 and 2013, then director general of police Dinesh Reddy announced that around 5,000 cameras would be installed around the city. In just seven years, their presence has increased 100-fold.
Since then, Telangana Rashtra Samithi, the center-right political party that currently presides over Hyderabad and the wider state of Telangana, has brought technology into every aspect of governance, from law enforcement to welfare programs.
The city's police force has also expanded its monitoring of residents. One of the most controversial ways this manifests itself is in the random stopping of "suspects" by law enforcement officers and the on-the-spot collection of photographs and fingerprints using a custom-made app.
There is no better symbol of Hyderabad's expanding law enforcement capabilities than the futuristic 20-story "command and control" center now under construction in the prosperous neighborhood of Banjara Hills. The $40 million facility is scheduled to open at the end of the year. On February 14, a tweet by the Telangana state government said that it would be able to process footage from 100,000 cameras per minute.
"From the time a person steps out to the time they return home, there's a possibility that they'll be caught on 50 cameras," it read, adding that "every inch of the state" would be covered.
Living with surveillance
One evening before the Covid-19 pandemic brought a strict lockdown to Hyderabad, Ahmed, 27, was having dinner with a friend at a restaurant on the outskirts of the city. While waiting for an Uber to arrive after their meal, both men were taken aside by three police officers. Using a tablet computer, one took photographs of them, then scanned their fingerprints with another portable device.
"There was little room for resistance," said Ahmed, who also asked to be referred to under a pseudonym. He added that he felt obliged to agree to the procedure. It took about 15 minutes for the system to check a national database of known offenders and return a negative search result. In the meantime, he stood waiting, wondering what crime he was suspected of.
The app used to photograph Ahmed and his friend is named TSCOP. Designed for Telangana State Police by the Hyderabad-based tech firm WinC IT, it was launched in January 2018. TSCOP is connected to India's national Crime and Criminal Tracking Network & Systems — a database containing the records and 5.3 million images and addresses of known offenders. It also geotags the residence of anyone with a criminal record.
"I felt a bit humiliated as to why I was being targeted," said Ahmed. "I asked the cops why they were clicking my pictures and they said they had to check on 50-100 people every day — whoever looked suspicious to them."
In response to enquiries for this article, Deputy Superintendent Reddy from Telangana Police said photographs collected during stops, which do not return a positive match, are deleted. "We do not capture and save any unmatched data," he said. "The software doesn't have that option."
Aside from these basic privacy concerns, local experts have questioned the overall efficacy of facial recognition technology.
"The problem with facial recognition is that it is inscrutable and may be built upon unscientific assumptions. The nature of the technology involved in modern facial recognition systems also makes it difficult to effectively govern or audit," said Divij Joshi, a Bengaluru-based tech policy fellow at the software company Mozilla.
Joshi cited concerns about the accuracy of such systems in countries around the world, including the U.K. and the U.S. Earlier this year, the European Commission revealed it is considering a ban on the use of facial recognition in public areas for up to five years owing to evidence of inherent racial biases in its programming. Last December, a U.S study found that the majority of commercial systems falsely identified African-American and Asian facial features up to 100 times more frequently than caucasian ones.
"This is a system which is broken, which has been proven by countries across the world using it. Facial recognition exacerbates the biases that already exist in police databases," said Joshi.
Police in Telangana, however, say that its implementation has led to a 40% reduction in the state's crime rate since 2014 and that 99% of suspects are now apprehended within 24 hours of the crimes they are thought to have committed.
Besides having access to the Crime and Criminal Tracking Network & Systems, Hyderabad City Police also has a database with photographs of every one of the state's 30 million residents — an initiative which began with the stated aims of boosting security, tackling crime and providing welfare to those in need.
The Integrated People Information Hub, launched in 2017, is unprecedented in India and comprises data including criminal and tax records, voter identification, passports and driving licenses. It also contains details of names, aliases, relatives, addresses and information from Aadhaar, India's controversial biometric identification system. Police have described it as "a 360-degree view of every citizen."
Early adoption
While the Hyderabad City Police's command and control center nears completion, operations are currently located in a congested, commercial area known as Basheer Bagh. Inside a nondescript, five-floor building, employees monitor footage from the city's vast network of CCTV cameras. The work is divided among units dedicated to facial recognition, image enhancement, traffic violations and crime. Each team is manned by up to 15 people, working shifts to watch multiple screens around the clock.
Police officials are keen to highlight the benefits of the efforts, offering proof in the form of statistics, saying that cameras have helped reduce traffic congestion by 10-15% since 2017.
And it appears that where Hyderabad leads, the rest of India is set to follow. In March, the nation's government announced plans to build what it is referring to as the Automated Facial Recognition System — the largest initiative of its kind in the world. According to the National Crime Records Bureau, the AFRS will be able to match images extracted from sources including video footage to a database of criminals. The AFRS also allows new images to be added to the database, including newspaper photographs and police sketches of suspects and pictures of scars and tattoos.
"Hyderabad is the surveillance capital of the country because of bureaucracy which promotes it, citing innovation, and a lack of robust civil society which has normalized the current surveillance culture," said digital rights activist Srinivas Kodali.
Earlier this year, police in Delhi used facial recognition software to identify people who were demonstrating against the government's controversial Citizenship Amendment Act. Declining to give details of arrests, Deputy Commissioner Rajan Bhagat at Delhi's Crime Records Office said worries about facial recognition were unwarranted. "We don't have any protesters' data, nor do we plan to store it," he said.
In Telangana, the government piloted facial recognition to identify voters during January's local elections. Photographs of individuals were taken at polling booths and matched against voter ID cards or other official identification.
While some of these measures have certain benefits, many Hyderabadis say that they constitute an unacceptable intrusion into the lives of law-abiding people. They also worry about their implications for democracy and society at large.
"We are having to resign ourselves to being watched by thousands of CCTV cameras," local human rights activist S Q Masood told me. "Oddly, I'm more fearful than secure every time I see a camera."