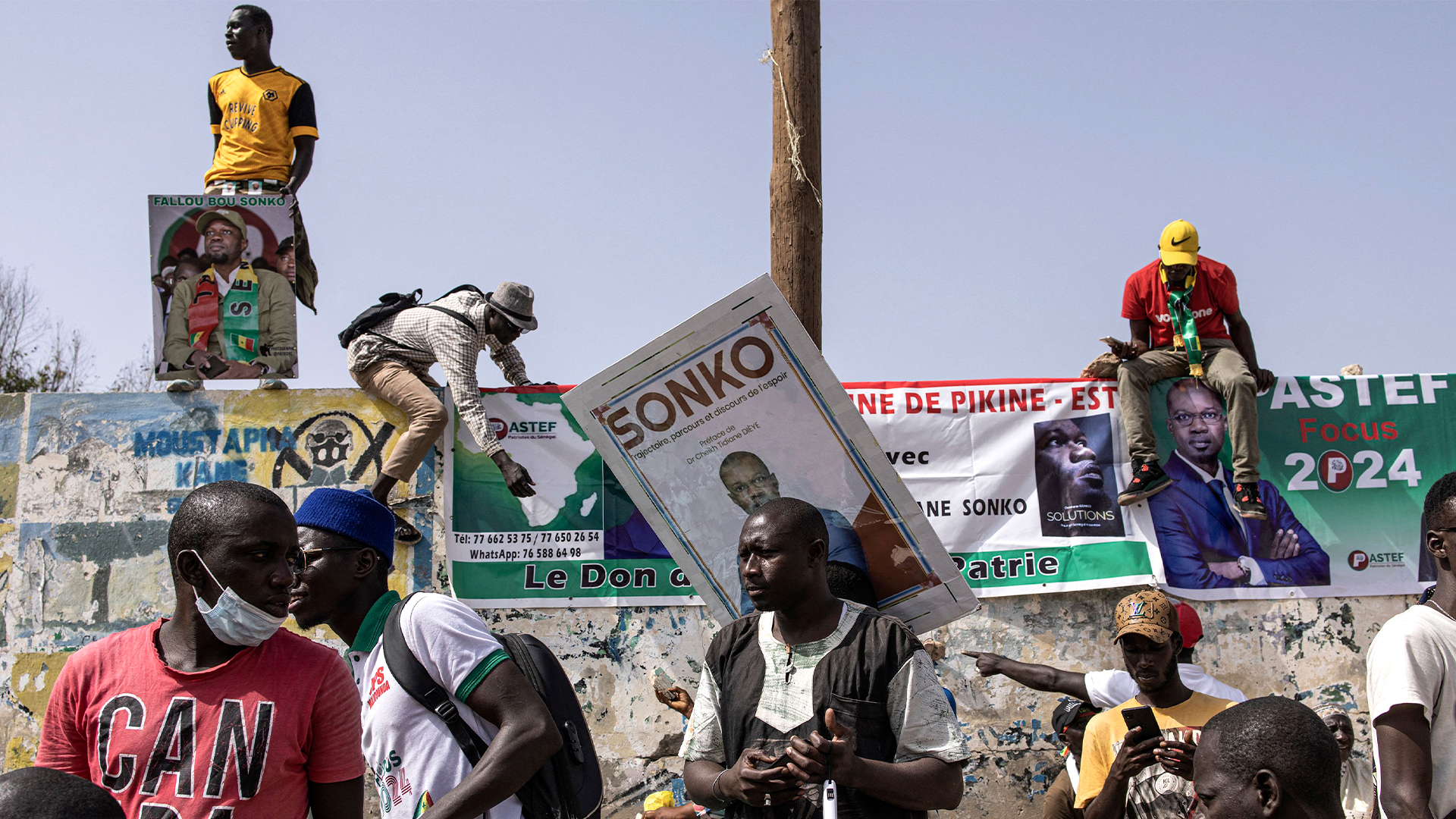 Senegal is stifling its democracy in the dark
By shutting down the internet and jailing the opposition, the Senegalese government turns to the authoritarian playbook to suppress protests
On July 31, after jailing opposition leader Ousmane Sonko and dissolving the political party that he leads, Senegal's government ordered a nationwide mobile internet shutdown. The communications ministry said the shutdown was meant to curb "hateful messages."
The authorities had made a similar decision in June after a Senegalese court handed Sonko a two-year prison sentence in absentia, a decision his supporters believed was a politically motivated attempt to prevent Sonko from running for president in 2024. At least 16 people died when Sonko's supporters and Senegalese police clashed on the streets of the capital Dakar. The subsequent July protests left at least two people dead.
Last week, Sonko was hospitalized after going on a hunger strike to protest his arrest.
"We fear the government," Mohammed Diouf, a Dakar school teacher told me. "The government does not want the world to know what is happening in our country." He said the internet shutdown left him unable to communicate with other protesters. "There is brutal oppression, and many young demonstrators have been killed and injured. The security forces use live fire, that is the situation," said Diouf, who opted to use a pseudonym out of fear of reprisal.
On August 2, the day before Diouf and I spoke, the Senegalese government announced an indefinite ban on TikTok, the app that young people have been using to document violent encounters between demonstrators and the security apparatus.
Fueling public anger is a widely held fear that Senegalese President Macky Sall, currently serving his second term in office, may try to run for president again in 2024. In 2016, a public referendum on presidential term limits reset the period a president can stay in power to a maximum of two five-year terms. Sall, who had, at the time, begun serving his second term, argued that the constitutional amendment "reset the clock to zero," making him eligible to run again.
In an address to the nation after the June protests, Sall vowed he would not run for a third term. But experts say he is to blame for the ambiguity that has fueled unrest.
"This problem has to be put at the feet of Macky Sall. For a long time, he made the potential of him running for a third time ambiguous," said Ibrahim Anoba, an African affairs analyst and a fellow at the Center for African Prosperity. "You can imagine what the populace will feel," Anoba told me. "More so, if the president becomes intolerant of opposition leaders."
Current political anxieties have been compounded by the economic downturn resulting from the Covid-19 pandemic and the food shortages triggered by Russia's war in Ukraine. Senegal's poverty rate was 36.3% in 2022, according to the World Bank, and the economy has also been hampered by rising debt..
The future looked much brighter in 2014, when newly discovered oil reserves appeared to set the stage for Senegal to become a major oil producer. But this oil, too, is now a source of public anxiety: Senegalese citizens fear that Sall will cede these riches to European companies.
Protesters, galvanized by Sonko amid concerns that Sall might indeed pursue a third term, worried that Sall, a geological engineer before he became president, wanted to preside over the anticipated oil boom. It tipped public discontent into violent unrest, particularly among the country's youth, who decried massive corruption, the overbearing influence of France and the slowdown of the economy.
"We are fighting that the country retains the sovereignty of its wealth and natural resources which the government wants to sell off to oil firms. And for that, we will go until the end because it is our future that is at stake," Diouf, the Dakar school teacher, told me. It is to Sonko that voters like Diouf look to reform Senegal's system.
Sonko's PASTEF party started in 2014 as a fringe party composed of political newcomers. Sonko, a young former tax inspector had shot to national recognition when he became a whistleblower in 2016, exposing the use of offshore tax havens by foreign companies to avoid paying taxes in Senegal. He became a member of the national assembly in 2017 and ran for president in 2019, trailing third behind Sall and Idrissa Seck Rewmi.
His criticism of Sall and his larger-than-life internet presence have endeared Sonko to young voters. He rapidly became the main threat to the ruling party. And it is that threat, say Sonko's supporters, that is driving the criminal charges Sonko now faces, including rape (for which he was acquitted), formenting insurrection, creating political unrest, terrorism and theft.
State measures to control protests led by Sonko supporters have been violent and draconian. The internet shutdowns also pose a threat to Senegal's already floundering economy. In the first quarter of 2023, Senegal's unemployment rate stood at 21.5%, and Net Blocks estimates that each day without access to mobile internet costs the country nearly $8 million.
Financial and cryptocurrency trades, as well as ride hailing and e-commerce businesses, are all seeing losses due to the network shutdowns. "With the restriction of the internet that is becoming recurrent these days, we no longer have the opportunity to sell or buy USDT," said Mady Dia, referring to Tether, a cryptocurrency "stablecoin" pegged to the U.S. dollar. "That is an abysmal shortfall," Dia, who works with a cryptocurrency exchange, told me.
Dia and Diouf both said they'd withdrawn money when the protests began, expecting that the banks would likely close and that financial services would be crippled were the authorities to impose an internet shutdown.
The political situation, Dia said, and the internet shutdowns have left him contemplating options for leaving Senegal altogether.
"Many young people are ready to abandon their country if Sall remains in power in 2024," he told me. In the past decade, thousands of young Senegalese have sought to move to Europe in search of better fortunes, often on small boats. These perilous journeys have claimed hundreds of lives. Last month, at least 15 people drowned after a boat carrying migrants and refugees capsized off the coast of Dakar.
In a West Africa beset by political instability – the most recent example being the coup in Niger – Senegal has been cited as a model of democracy. That reputation is starting to wear off.
"This is really bad for the region itself," said Anoba, the analyst at the Center for African Prosperity. "As you know, Macky Sall is one of the leading figures in West Africa, and right now [as] we are trying to quench the fires of coups that are changing the political terrain, this is the last thing we want."
Threats against Senegalese media represent another sign of democratic backsliding in the country. In June, a television channel offering live coverage of the protests was suspended for 30 days. And Papa Ale Niang, a journalist with the prominent daily newspaper Dakarmatin, was charged on August 1, like Sonko, with "inciting insurrection."
Internet shutdowns are also a sign of faltering democratic values. "Cutting off the internet is tantamount to denying the right to information, which is a constitutional principle, not to mention international laws," said Emmanuel Diokh, the Senegal lead at Internet Sans Frontières, an international organization that defends access to the internet.
Since 2017, internet shutdowns have become an increasingly common tactic of information and social control in Africa. Cameroon's long-serving president, Paul Biya, imposed an internet ban in the English-speaking region of the country in 2017 that lasted three months. In 2019, Zimbabwean President Emmerson Mnangagwa also imposed an internet shutdown in response to protests. Governments in Ethiopia, Eritrea and Equatorial Guinea have also imposed strict internet regulations in the past five years.
All of these countries have used the same rationale: The actions were intended to curb hate speech or to avoid the breakdown of order. Sall has shown one thing to the Senegalese people — the internet is not safe from government control. Instead of curbing hate speech, shutting down the internet is a sign that he is prepared to use any means necessary to decimate the opposition before the elections in February. Still, protesters like Diouf say they will not relent.
The Big Idea
Shifting Borders
Borders are liminal, notional spaces made more unstable by unparalleled migration, geopolitical ambition and the use of technology to transcend and, conversely, reinforce borders. Perhaps the most urgent contemporary question is how we now imagine and conceptualize boundaries. And, as a result, how we think about community. In this special issue are stories of postcolonial maps, of dissidents tracked in places of refuge, of migrants whose bodies become the borderline, and of frontier management outsourced by rich countries to much poorer ones.
Read more