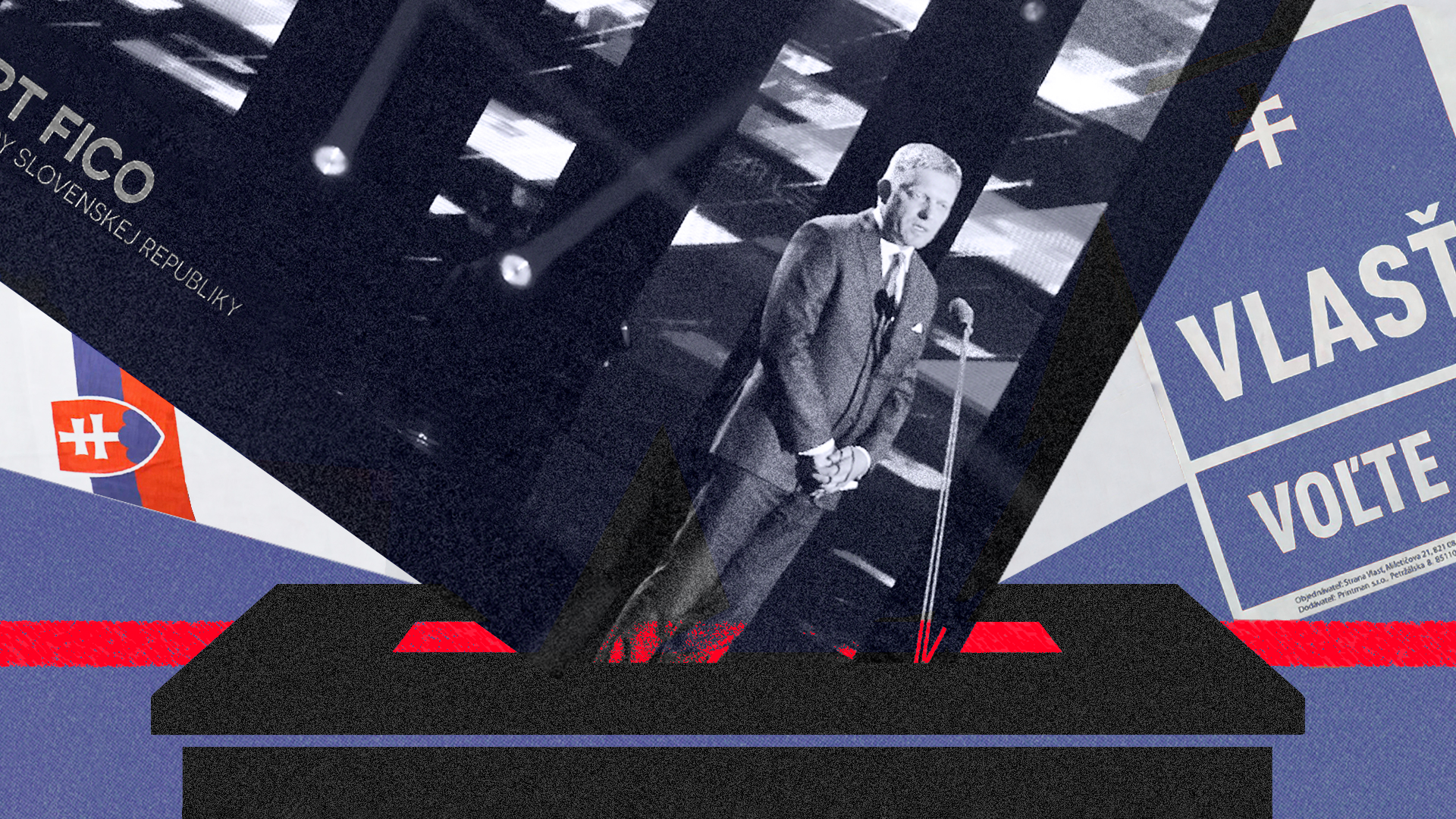 A hard line Slovak nationalist plots his return to power
A Viktor Orban wannabe is making headway in the polls, but progressives think there's still hope for democracy
Few men in central Europe have tried harder to hang onto their job over the last few months than Slovakia's interim Prime Minister Eduard Heger. In September 2022, the 46-year-old and his conservative Ordinary People and Independent Personalities Party (OĽaNO) lost their majority in parliament after their junior coalition partner, the Freedom and Solidarity Party, threw in the towel over disagreements relating to the controversial former finance minister and OĽaNO leader, Igor Matovic. This departure led the way for the opposition to bring a vote of no confidence against the minority government in December, which Heger fought but narrowly lost.
Then the new year came, bringing with it Heger's determination to cobble together a new parliamentary majority to see out his party's four-year term. However, after going cap in hand to all possible partners, Heger conceded defeat on January 17 and said he would begin discussions about early elections this fall.
For Robert Fico, the former prime minister and one of Slovakia's leading populists, a return to the ballot box couldn't wait. Fico, who resigned from office in 2018 following the murder of investigative journalist Jan Kuciak, has said multiculturalism "is a fiction" and called for Slovakia to cease all aid to Ukraine. Now buoyed by growing support in the polls, Fico's Smer party initiated a referendum on January 22 that would have cleared the way for early elections by amending the country's constitution. Despite these efforts the plebiscite failed to meet the 50% turnout needed to validate the results.
Now Slovakia, a small country roughly the size of West Virginia, is holding its breath. With elections likely to be held on September 30, 2023, the race for power is expected to be rife with disinformation and old-fashioned scare tactics. The shadow of populism also looms. Fico's Smer party is second in the polls to HLAS–SD, a social democratic party founded in 2020 by former members of Smer.
There is also a lot at stake. Slovakia is facing a cost-of-living crisis and its health care is in disrepair. The country is also on the frontline of Russian disinformation in Europe and its 5.4 million residents share a border with Ukraine. To better understand the mood in Slovakia and why the country might take another populist turn, I spoke to Juliana Sokolova, a Slovak philosopher and writer based in the eastern city of Kosice. Her key message: Slovakia's descent is not guaranteed. This conversation has been edited for length and clarity.
There has been a lot of political turmoil in Slovakia recently, but what is the general mood in the country?
At the moment, the political situation and the general atmosphere influence each other. To me, it feels like an intermediary period because we're waiting for what's going to happen. Of course, we know that there are people ready to vote because they are swayed by populist narratives but that is not something which surrounds me daily. There are also people who resist these narratives and have other views, so I wouldn't say it's completely bleak. It's truly difficult to generalize at the moment because the situation is different depending on where you work or where you live.
If you look at the polls in Slovakia, there is support for populist narratives. Why is that the case?
Populism anywhere is successful because populists test issues and use ones that will resonate with people by arousing strong emotions, so it doesn't arise randomly. It's calculated and it's the same in Slovakia. Of course, the issues are country-specific, but the mechanisms are the same. When I was growing up, the main nationalist and populist issue was around Slovak-Hungarian relations, they tried to create this idea of Slovak nationality away from the Hungarian minority and their language. Today, this topic no longer resonates, so they turned to the language of suspicion in relation to the LGBT community. They use the words "ideology," or "agenda," or "platform," to create the idea that there is a scheme which is a threat to people.
The LGBT topic is one that has been pushed and massaged in Slovakia. It's also a narrative across Russian disinformation media. It's a mix of these factors, along with algorithmic targeting through the creation of sensationalist headlines, that have made the issue what it is. If you look back, 10 to 15 years ago people in Slovakia weren't saying LGBT was their main issue. It's to an extent a created feeling.
Slovakia's southern neighbor, Hungary, has become isolated on the world stage due to its position on Ukraine. Its Prime Minister Viktor Orban is also looking for friends. Could early Slovak elections help in this regard?
I do think Orban is waiting to see what is going to happen with Putin's imperialist project and how it will impact the future of his own [illiberal] project. Fico dreams of being an Orban, that was always his ambition, but he wasn't able to entrench himself in the same way Orban did in Hungary. Slovaks were also able to check Fico more than Hungarians were able to check Orban. But, yes, Fico is the same cut of populist with the same ambition.
That said, Fico's return to frontline politics is not a done thing. What is more likely in early elections is that the party that separated from Fico, HLAS, will make it. Now, that party is full of former Smer people who have tried to situate themselves on a more traditional spectrum, but we must remain suspicious of them. They have the ability to bend their views depending on possible power-sharing agreements.
Slovakia is subject to a lot of Russian disinformation. Does this highly charged language and information pollution affect your work?
As a writer, you are very sensitive to the context in which you write, and even though it's not always a conscious dialogue, it can affect your work. When the language of politics is stale and removed from life, you can feel the need to balance it out by using words that are fresh and strong. It's also very useful to think about how we can describe the life we are living with different words. We often use clichéd or standardized sentences that block our thinking. A good example of this is the word "bubble," as in social bubble. It has such a fixed meaning. So, we need other sentence structures and words that open new ways of speaking, and then maybe thinking.
It's also socially important to try and see how very manipulative and highly charged language can be neutralized or converted into something else. When it comes to Russian disinformation in Slovakia we have a big problem with the quality of education. I think our education system is not strong on fostering critical analysis of the media. This is very important.
Given everything happening in Slovakia, a war next door, a contentious election coming up, disinformation swirling around, how do you see the country going forward?
It's difficult because I'm not feeling gloomy, I cannot explain why. Of course, when you name all these things, our situation might not look great. But I do think that Slovak society is varied enough, that there are deeply entrenched progressive and educated groups and individuals operating throughout the country that can sustain us. The main thing for me is seeing what I can do to ensure that parties that employ controversial rhetoric have the least influence in the future government, that is a key priority. But I don't have a sense that this country is heading to a dark place.
The Big Idea
Shifting Borders
Borders are liminal, notional spaces made more unstable by unparalleled migration, geopolitical ambition and the use of technology to transcend and, conversely, reinforce borders. Perhaps the most urgent contemporary question is how we now imagine and conceptualize boundaries. And, as a result, how we think about community. In this special issue are stories of postcolonial maps, of dissidents tracked in places of refuge, of migrants whose bodies become the borderline, and of frontier management outsourced by rich countries to much poorer ones.
Read more