Trump: making Russia great Again
How did Russian media cover the U.S. inauguration?
"When Donald Trump thanked the people of the world in his inaugural speech, Vladimir Putin must have thought to himself, 'You are welcome,'"said Dmitry Kiselyov, as he recapped Trump's inauguration on Russia's flagship show "Vesti Nedeli."
In a country where journalists have little or no access to politicians, Kiselyov's weekly show is a must-watch for Russians trying to understand what Vladimir Putin is thinking. Clueless outsiders are encouraged to use the show as a barometer of the Kremlin's mood. This Sunday, the mood was good as Kiselyov, the host and a sanctioned individual by the EU, spent two hours explaining to millions across Russia why Trump's ascent is Moscow's gain and its enemies' loss.
For years Kiselyov has led Russian state-controlled media's effort to spell out to Russians the failures of Western democracies and extol Putin's accomplishments. More recently, his focus has been narrowed to rooting for Trump's victory and debunking western "media lies" against the new U.S. president.
Jubilation wasn't limited to Kiselyov's show. There was an air of celebration to Russian television's inauguration coverage. On Rossiya 24's live coverage, Alexei Pushkov, head of parliament's Foreign Affairs Committee, said that Russia has "won the information war" both globally and on U.S. soil as it successfully tapped into the discontent of millions of Americans.
As another news outlet put it, the ill-wishers faded just as the helicopter carrying Barack Obama away from the White House "vanished into the gloomy skies" over Washington, D.C. A line from Trump's speech that he won't "seek to impose our way of life on anyone" was later looped in the Russian news.
According to Russian TV, Trump's authentic masculinity is part of the reason why Trump and Putin click. Trump is "muzhik," said Kiselyov, using the world for a "real man" in Russian, before noticing that the new White House website no longer has a dedicated LGBTQ rights page.
Kiselyov then contrasted the "real man" Trump to U.S. Senator John McCain, whom he described as "senile" and "old." The show had sent a correspondent to Vietnam to find the "real reasons" for what they described as McCain's "hatred" for Russia. The report, which featured Vietnamese war veterans extolling the Soviet Union and singing Soviet army songs, accused McCain of fabricating stories of his torture and concluded that his hatred for all things Russian dates to when his plane was shot down by the Soviet-backed North Vietnamese.
The next segment on the show was a long compliment to Melania Trump and her choice of inauguration dress. Towards the end, Kiselyov brought up her predecessor: "On inauguration day Michelle, in her short-sleeved dress, next to Melania, looked like her why-is-she-here housekeeper who has just taken off her white apron. Or do you have some other associations from these two outfits?"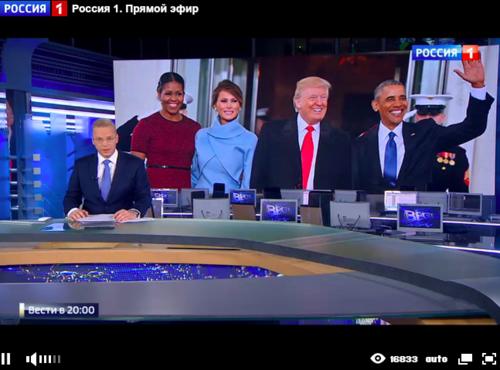 Kiselyov, like other Russian commentators, also ripped on CNN for its report on how the chain of command would be passed down in the event of Trump's death. The Russian TV networks described the report as an unabashed incitement to assassinate Trump.
There was a warning, too, in Russian media's coverage of the Women's March. Building on their experience of revolution in Ukraine, Kiselyov warned, the protesters "are preparing Maidan against Trump." These people, he said, unleashed the full rage of intelligence agencies, media, Hollywood and "resentful women" against the new president.
To be sure, it pains Kiselyov to see the U.S. so divided. "In Russia, we know what a national divide means," he said. In the past century, "year [19]17 became fatal for Russia. Hopefully, in this century [20]17 will not became fateful for the United States."
But Kiselyov puts his faith in Trump. His show ultimately depicted Trump triumphing over foes and dancing to Frank Sinatra's 'My Way' on inauguration night. The choice of the song, Kiselyov said approvingly, is a sign that, no matter what, Trump "will stick to his way."
The Big Idea
Shifting Borders
Borders are liminal, notional spaces made more unstable by unparalleled migration, geopolitical ambition and the use of technology to transcend and, conversely, reinforce borders. Perhaps the most urgent contemporary question is how we now imagine and conceptualize boundaries. And, as a result, how we think about community. In this special issue are stories of postcolonial maps, of dissidents tracked in places of refuge, of migrants whose bodies become the borderline, and of frontier management outsourced by rich countries to much poorer ones.
Read more