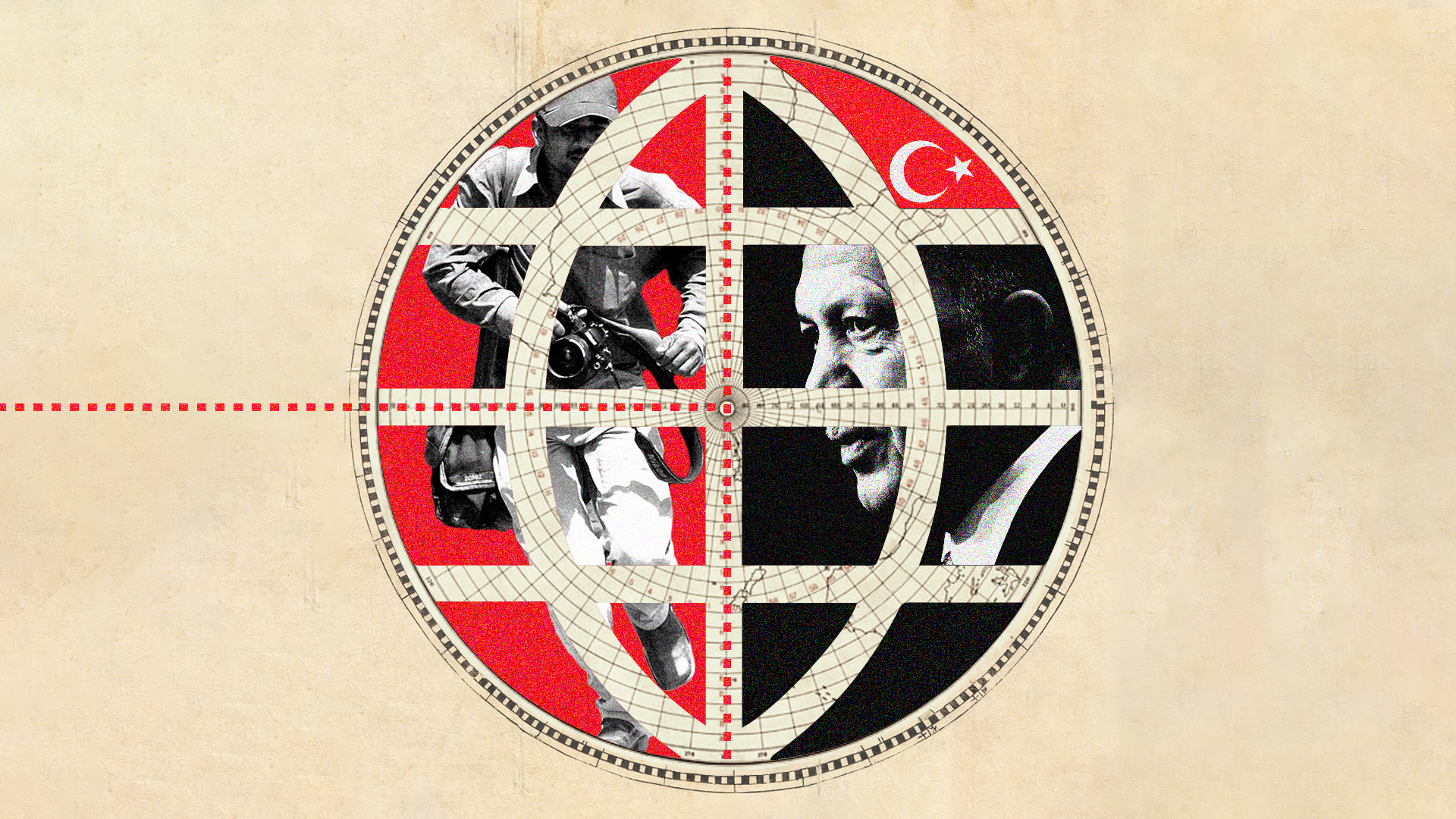 Turkey uses journalists to silence critics in exile
Using the language of press freedom, Erdogan has weaponized the media to intimidate Turkish dissidents abroad
Early in the morning on May 17, the German police raided the homes of two Turkish journalists and took them into custody. Ismail Erel and Cemil Albay — who work for Sabah, a pro-government Turkish daily headquartered in Istanbul — were released after a few hours, but their arrests provoked strong condemnation in Turkey. Turkish President Recep Tayyip Erdogan, in the midst of a tight presidential race, told an interviewer that "what was done in Germany was a violation of the freedom of the press."
The Big Idea: Shifting Borders
Borders are liminal, notional spaces made more unstable by unparalleled migration, geopolitical ambition and the use of technology to transcend and, conversely, reinforce borders. Perhaps the most urgent contemporary question is how we now imagine and conceptualize boundaries. And, as a result, how we think about community.
In this special issue are stories of postcolonial maps, of dissidents tracked in places of refuge, of migrants whose bodies become the borderline, and of frontier management outsourced by rich countries to much poorer ones.
The European Centre for Media Freedom also came out in support of the Sabah journalists, condemning the detention and demanding that press freedom be upheld. But Turkey itself is a leading jailer of journalists, ranked 165th out of 180 countries in the 2023 World Press Freedom Index published by Reporters Without Borders. And, according to German prosecutors, Erel and Albay were under investigation for the "dangerous" dissemination of other journalists' personal data.
German authorities have legitimate concerns about the safety of Turkish journalists living in exile. In July 2021, Erk Acarer, a Turkish columnist, was beaten up outside his home in Berlin. Later that month, German authorities began investigating Turkish nationalist organized crime groups operating in Europe after the police found a hit list of 55 journalists and activists who had fled Turkey.
In September 2022, Sabah published information that revealed the location of Cevheri Guven's home. It appears likely — though it has not been confirmed by German officials — that this was the reason for the arrests of Erel and Albay. Guven himself had been arrested in Turkey in 2015 and sentenced to over 22 years in prison. He was the editor of a news magazine that had published a cover criticizing Erdogan. Out on bail before his trial, Guven wrote that he gave his "life savings" to a smuggler to get him and his family out of Turkey. He now lives in Germany.
The ability of states such as Germany and Sweden to protect refugees, whether they are fleeing Turkey, China, Russia or Iran, has waned, as authoritarian leaders have become more brazen in using technology to stalk, bully, assault, kidnap and even kill dissidents. The Turkish state's appetite for targeting critical voices abroad, especially those of journalists, has been growing for some time. As Erdogan's government clamped down on media freedom at home, it has co-opted journalists working at government-friendly news outlets into becoming tools of cross-border repression. This has allowed the state to reach outside Turkey's borders to intimidate journalists and dissidents who have sought refuge in Western Europe and North America.
Since last year, Sabah has revealed details about the locations of several Turkish journalists in exile. In October 2022, it published the address and photographs of exiled journalist Abdullah Bozkurt. The report included details about where he shopped. This was just a month after I met Bozkurt at a cafe in the Swedish capital, Stockholm, where he now lives. Bozkurt told me that he is constantly harassed online by pro-government trolls and because of the large Turkish immigrant population in Sweden, many of whom are Erdogan supporters, has been forced into isolation. It has had, he said, an adverse impact on his children's quality of life.
Two years before Bozkurt's personal information was leaked, in June 2020, Cem Kukuc, a presenter on the Turkish channel TGRT Haber, said of Bozkurt and other critical journalists: "Where they live is known, including their addresses abroad. Let's see what happens if several of them get exterminated." Just three months after that broadcast, Bozkurt was attacked in Stockholm by unidentified men who dragged him to the ground and kicked him for several minutes. "I think this attack was targeted," Bozkurt told the Committee to Protect Journalists, "and is part of an intimidation campaign against exiled Turkish journalists with the clear message that we should stop speaking up against the Turkish government." Bozkurt deleted his address and vehicle and contact information from the Swedish government's registration system after the 2020 attack, but both Sabah and A Haber, another pro-government media outlet, still published his address last year.
Sabah and A Haber are both owned by the sprawling Turkuvaz Media Group. It is "one of the monopolistic hubs for pro-government outlets," said Zeyno Ustun, an assistant professor of sociology and digital media and film at St. Lawrence University in the U.S. The group's chief executive is Serhat Albayrak, the brother of a former government minister, Berat Albarak, who is also Erdogan's son-in-law.
Turkuvaz says that its newspapers have a collective readership of 1.6 million. In April, a month before Turkey's tense general election, in which Erdogan managed to secure his third term as president, Turkuvaz's channel ATV was the most watched in the country.
A few days before the second round of the presidential election, in late May, I met Orhan Sali, the head of news at the English-language broadcaster A News and the head of the foreign news desk at A Haber. To enter Turkuvaz's tall, glass-paneled headquarters on the outskirts of Istanbul, I had to pass through three security barriers. An assistant took me to Sali's spacious office on the third floor. Sali, who was born in Greece, is small with an incongruously graying beard on his round, youthful face. He wore a crisp, white shirt. On a shelf near Sali's desk sit a couple of awards, including at least one for "independent journalism," he told me.
In the same breath, Sali also said, "We are pro-Erdogan, we are not hiding it." He acknowledged that there is a risk in publishing the names of journalists critical of the Turkish government but said it was not unusual. "If you read the British tabloid newspapers," he told me, "you will find tons of pictures, tons of addresses."
This is not entirely accurate, according to Richard Danbury, who teaches journalism at the City University in London. "It is not true," he told me, "that even tabloids as a matter of course publish people's addresses and photos of people's houses, particularly if they have been at risk of being attacked."
But Sali was unconcerned. He approached a panel of screens covering the wall. Some of these channels, he said, are hardline and totally supportive of Kemal Kilicdaroglu, the main opposition candidate in Turkey's recent election. "All of them," he told me, "are terrorists."
In the lead up to the presidential election, Turkuvaz outlets such as A News and A Haber gave Kilicdaroglu little to no coverage. Erdogan, meanwhile, received extensive coverage, according to Reporters Without Borders. One pro-government channel, TRT Haber, gave Erdogan 32 hours of airtime compared to just 30 minutes for Kilicdaroglu.
Sali, who seems to have a penchant for deflecting criticism of Turkuvaz's journalism by comparing it to that of the British press, told me he sees no problem with this lack of balance. "The BBC," he said, "is supporting the ruler. Who is the ruler? The king. You cannot say anything against the king, can you?"
At least seven journalists who have had their addresses published by Turkuvaz outlets are alleged by Erdogan's government to be followers of the Islamic cleric Fetullah Gulen, who is suspected of having orchestrated a failed coup against Erdogan in 2016. Since the coup attempt, Erdogan's government has imprisoned hundreds of critics they refer to as "FETO terrorists," a derogatory reference to Gulen supporters. Cevheri Guven — the editor whose address in Germany was published in Sabah in September 2022 — is often described in pro-government media as the Joseph Goebbels of FETO, a reference to the Nazi propagandist.
"The 2016 coup had a major effect on the media landscape in Turkey," said Joseph Fitsanakis, a professor of intelligence and security studies at Coastal Carolina University. "At that point," he told me, "Erdogan made a conscious decision, a consistent effort to pretty much wipe out any non-AKP voices from the mainstream media landscape." The AKP, or the Justice and Development Party, was co-founded by Erdogan in 2001.
In October 2022, the Turkish parliament passed sweeping legislation curtailing free speech, including implementing a vaguely worded law that effectively leaves anyone accused of spreading false information about Turkey's domestic and foreign security facing three years in prison.
Before Erdogan's rise to power, Turkey did not enjoy total media freedom, said Ustun, the media professor at St. Lawrence University. But, she told me, during his 21 years in politics, "there has been a gradual demise of the media freedom landscape." Following the widespread protests in 2013, referred to as the Gezi Park protests, and the 2016 coup attempt, "efforts to control the mainstream media as well as the internet have intensified," she added. The overwhelming majority of mainstream media outlets are now under the control of Erdogan and his allies.
Henri Barkey, a professor at Lehigh University and an adjunct senior fellow at the Council for Foreign Relations, told me that Erdogan has "muscled the press financially" by channeling advertising revenues to pro-government outlets such as those owned by the Turkuvaz Media Group. Erdogan, Barky says, has also weaponized the law. "They use the judicial system to punish the opposition press for whatever reason," he told me. "You look left and you were meant to look right, and in Turkey today that is enough."
The media has, for years now, been used as a tool of transnational repression, says Fitsanakis. In 2020, for instance, the U.K. expelled three Chinese spies who had been posing as journalists. But, Fitsanakis adds, since Russia invaded Ukraine in February 2022, intelligence services in Europe and North America, fueled by a heightened awareness of the threat emanating from Moscow, have been collaborating more closely to remove Russian spies from within their borders.
The actions of other diplomatic missions too are being more closely monitored. Turkey, one of the most prolific perpetrators of transnational repression, according to Freedom House, has found itself a target of Western surveillance, making it harder for the state to place intelligence operatives inside embassies. In lieu of this traditional avenue for embedding intelligence sources in foreign countries, Fitsanakis believes, governments are turning in greater numbers toward friendly journalists. "It's the perfect cover," Fitsanakis told me. "You have access to influential people, and you get to ask a lot of questions without seeming strange."
Erdogan's re-election, experts fear, could mean he will further clamp down on democratic freedoms. Barkey believes there will be a brain drain as more intellectuals and critics leave Turkey for more congenial shores. But the evidence suggests that an emboldened Erdogan can still reach them.
"We might see a lot more emphasis on silencing any kind of opposition to Erdogan in the coming years," Fitsanakis told me. "And because much of the opposition to Erdogan is now coming from Turks abroad, that fight is going to transfer to European soil."
The Big Idea
Shifting Borders
Borders are liminal, notional spaces made more unstable by unparalleled migration, geopolitical ambition and the use of technology to transcend and, conversely, reinforce borders. Perhaps the most urgent contemporary question is how we now imagine and conceptualize boundaries. And, as a result, how we think about community. In this special issue are stories of postcolonial maps, of dissidents tracked in places of refuge, of migrants whose bodies become the borderline, and of frontier management outsourced by rich countries to much poorer ones.
Read more