How the global anti-LGBTQ movement found a home in Turkey
An international anti-LGBTQ movement is making headway in Turkey, where the government is presenting homosexuality and transgenderism as an imposition of Western imperialism
Kursat Mican scrolled through pictures on his phone as I sat across from him at a large wooden desk. He showed me one photo: a painting of a man in a blue dress. He scrolled on, then paused and held up the phone again. This one is of two lesbians, he told me.
We were meeting at offices owned by the Yesevi Alperenler Association, a nationalist Islamist organization run by Mican, who also leads a coalition of conservative Turkish nongovernmental organizations. Dressed in a blue suit and shirt, Mican fidgeted with his pen as we talked. The 41-year-old was affable, but was eager to get to his next task.
"There was a belly dancer in front of a mosque, there were naked statues where you can see their body details, and symbols of satanism," Mican told me. He was describing the works featured in an exhibition at ArtIstanbul Feshane, a cultural center in Istanbul's Eyup neighborhood. In Mican's view, the show was disrespectful of Islam and Turkey, and an attempt at spreading LGBTQ "propaganda." "The owners of the artwork and the organizer of the exhibition will be punished," he said.
Titled "Starting from the Middle," the exhibition featured a diverse set of works by 300 artists and was organized by the Istanbul Metropolitan Municipality, whose president is Istanbul Mayor Ekrem Imamoglu, a member of the CHP, the secular left-wing party that represents Turkey's main opposition party. Pieces included photographs of the Gezi Park protests in 2013 against the government's creeping authoritarianism; a video that explores a massacre of Alevi Kurds by the Turkish army in the 1930s; and a text accompanying an installation that talks about the artist's struggles as an LGBTQ person in Turkey.
Although the show had support from CHP-aligned public officials, other elements in Istanbul's city government saw it differently. Last month, prosecutors in Istanbul launched an investigation into the organizers of the exhibition, which ended of its own volition in late September, on allegations of "fomenting enmity and hatred among the public or insulting them" under Article 216 of the Turkish Penal Code. The law has frequently been used to criminalize blasphemy or retaliate against critics of President Recep Tayyip Erdogan.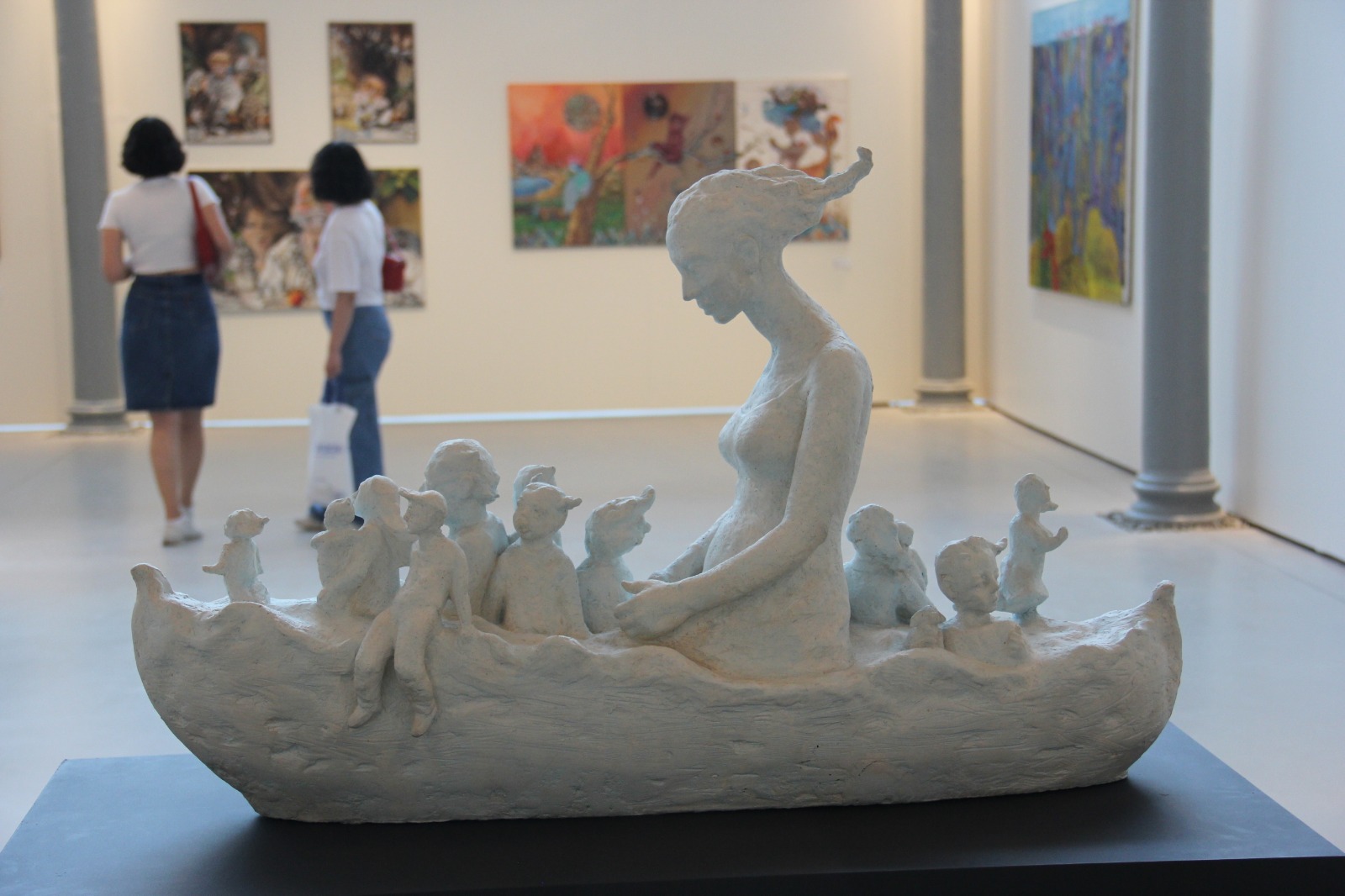 But the case against the art show didn't exactly start with Turkish authorities. A few days after the opening, a headline in the state-aligned newspaper Sabah read: "Istanbul Metropolitan Municipality supports LGBT perversion! Outraged exhibition in Feshane: It should be closed immediately."
The next day, Mican led a group protest outside the exhibition with people chanting, "We don't want perversion in our neighborhood." ArtIstanbul Feshane is situated in the Eyup neighborhood of Istanbul, a symbolic area to Muslims in Turkey as it is home to the burial site of Abu Ayyub al-Ansari, a close companion of the Prophet Muhammad.
In early July, after they attended one of Mican's speeches about the event, a group of men tried to break through a line of police officers in an effort to vandalize the space. Mican says he did not encourage the violence, but also said that if the exhibition had not been held in such a religious area, the reaction would have been more muted.
"The police struggled to hold the people when I was reading the statement, they had to get 10 times more security," Mican said. "If they hadn't done it in the Eyup neighborhood we wouldn't see that much reaction, so many people wouldn't even know about it. I didn't encourage the people to do that, but the people were angry and they gave a reaction."
And now prosecutors have launched their investigation, following a criminal complaint against the exhibition, filed by Mican's organization.
None of this came as a shock to the show's curators or to the artists involved. "Every time we want to open an exhibition, especially in a conservative area, we open it with the fear of being attacked," said Okyanus Cagri Camci, a transgender woman and interdisciplinary artist whose work was featured in the show.
For artists like Camci, the prosecution's investigation is part of an increasingly familiar pattern, in which criticism from conservative groups and the state-aligned media are followed by legal repercussions.
Figures like Mican appear to have increased their influence on prominent political leaders in Turkey, drawing them down a more conservative path than they walked in the past. Grappling with a steep economic downturn and public frustration with the government's slow response to the devastating earthquakes that hit southeast Turkey in February, Erdogan and his allies have seized the opportunity to make the LGBTQ community a scapegoat, using similar language to a burgeoning global anti-LGBTQ rights movement.
This newer shade of Erdogan and his AKP party was on full display during presidential and parliamentary elections in May, when Erdogan ramped up attacks on the LGBTQ community to rally support among his right-wing and religiously conservative base. "The family institution of this nation is strong, there will be no LGBT people in this nation," said Erdogan at a rally in April. Erdogan and his allies are also seeking to turn rhetoric into legislative changes, starting with an amendment to the constitution that would define marriage as solely between a man and woman.
Suleyman Soylu, deputy leader of the AKP and a former interior minister, made the erroneous claim to a group of NGOs in April that the LGBTQ community "also includes the marriage of animals and humans." He accused the community of being under the control of Europe and the U.S., who "want a single type of human model where they follow a single universal religion, are genderless, and no one is in the family structure." The tone and messaging in these speeches echoed the language of a swelling global movement that claims Western liberals are staging an assault on traditional family structures by imposing homosexuality and transgenderism on societies across the world. This movement has anchors in Russia, Hungary and the U.S. and is gaining a foothold in countries around the world, including, it seems, in Turkey. Mican confirmed to me that his organization has connections with groups in Russia, Hungary and Serbia — another place where LGBTQ people are facing increased hostility.
It wasn't always like this under Erdogan, who has been president of Turkey since 2014, and served as prime minister for more than a decade prior to that. Mican lamented that as recently as two years ago, Erdogan was unwilling to talk about LGBTQ issues in the same way as he is now.
Kubra Uzun, a singer and DJ who is non-binary, has observed the same evolution, albeit from a different vantage point. Life under Erdogan was not always as bad as it is now, they said. But Uzun told me that in recent years, they've felt increasingly unsafe. "If I'm not playing or if I'm not having anything outside to do, like if I'm not shopping, I don't go out anymore," they said. "I mostly stay at home and read and listen to music."
When we met at their home in late September, there was a small group of friends sitting in their kitchen. One was a trans woman who Uzun was hosting after she fled her home city in part because she feared for her safety. The community refers to Uzun as a mother, but they do not like being called that. "I am non-binary and mothering feels binary to me," they told me.
Lying on the sofa and puffing on a cigarette, Uzun recounted a "golden period" in Turkey in the early 2000s, when there were fewer restrictions.
"It was like you were in London clubbing," they said. "You can walk freely, you can wear whatever you want." But those times are long gone.
Although the tides began to turn following an economic recession in 2009, it was after the Gezi Park protests of 2013 that people like Uzun saw a real shift. At that time, what began as a vocal rejection of plans to build a shopping mall in a public park in Istanbul's central Taksim Square ultimately drew hundreds of thousands of Turkish people to take a public stand against what they saw as the AKP's erosion of secularism in Turkey and the dismantling of key democratic institutions, namely press freedom. It became a seminal moment in deepening the divide between liberal secular Turks and Islamist conservative supporters of Erdogan.
Three years later, Turkey witnessed a failed coup attempt that was carried out by military personnel, but which Erdogan has long insisted was orchestrated by the U.S.-based Islamic cleric Fethullah Gulen. In the ensuing period, Erdogan launched a major clampdown on Turkish society, imprisoning thousands of critics of the government that he and his allies accused of being stooges of the West seeking to undermine Turkey. By 2020, nearly 100,000 people had been jailed pending trial for alleged links to the Gulen movement. From Kurds to followers of Gulen and now, increasingly, gay and trans people, Erdogan has framed a variety of groups as enemies of the state, allowing him to cast out critics while boosting his popularity among his political base. He has passed sweeping legislative and constitutional changes that curtail freedom of expression, cementing his hold on power.
Along the way, Mican and other leading conservative figures have pushed politicians to harden their stance on the issue. Prior to Istanbul's Pride march in 2016, Mican told state officials he and his organization would intervene if the event went ahead. Mican was later fined for making threatening remarks, but the march was also banned by the Istanbul governor's office after they cited security concerns and the need to protect public order.
For the ninth consecutive year, the Istanbul pride march was banned in June, with the AKP governor of Istanbul saying it posed a threat to family institutions. Police clad in riot gear detained 113 people who marched despite the restrictions.
The more Erdogan focuses on homosexuality and transgenderism, the more other parties have started putting anti-LGBTQ policies into their agendas. Mican himself underlined this point in our conversation. The Vatan Party, a nationalist secular party that has supported Erdogan, in the past used protection from the threat of terrorism as a central tenet of its platform. Now it has shifted to the so-called threat of the "LGBTQ agenda."
Even the CHP and other opposition parties thus far have remained quiet on discrimination against the LGBTQ community, particularly around the election period, said Suay Ergin-Boulougouris, a program officer at Article 19, an international organization that promotes freedom of expression. When I asked Uzun about whether they would have felt better if the CHP had won instead of Erdogan, they responded, "Same shit, different color."
Uzun fears that Turkey is turning into Russia, where the state frequently equates homosexuality with pedophilia and has passed a series of anti-LGBTQ laws over the past decade. Erdogan further solidified his position on gay and trans rights on the global stage in 2021, when he pulled Turkey out of the Istanbul Convention, an international treaty opposing violence against women, after religious conservative groups criticized the law, arguing that it was degrading family values and wrongly advocating for the rights of the LGBTQ community. The convention has come under attack from leaders in several Eastern European countries, who argue that the document's definition of gender is a way to dismantle traditional distinctions between men and women and a way to "normalize" homosexuality.
Another state that has notably hit the brakes on accession to the convention is Hungary. The government of Prime Minister Viktor Orbán has also tried to push through a ban on the use of materials seen as promoting homosexuality and gender change at schools. The law is currently being challenged before the Court of Justice of the European Union, which interprets EU laws to make sure they are applied equally in every EU member state.
Populist leaders have positioned the family as something sacrosanct and used the idea that it is being destroyed by Western liberals as a way into power, said Wendy Via, president of the U.S.-based Global Project Against Hate and Extremism.
Right-wing leaders in the U.S. and Europe have framed LGBTQ rights as an agenda, personifying the concept as an enemy entity that is taking over. But Via argues the real entity that is taking over is a vast, well-resourced network of organizations with anti-LGBTQ and anti-woman agendas.
In Turkey, that network consists of dozens of conservative NGOs, who on September 17 held a large rally called the "Big Family Gathering" in the Eminonu area of Istanbul, for which Mican was one of the key organizers.
At the gathering, conservatively dressed mothers and their children held signs that read "Stop Pedophilia" and milled about while speaker after speaker decried Western imperialism before a crowd estimated by organizers to number in the thousands. Part way through the rally, Alexander Dugin, the far-right Russian political philosopher with close ties to Russian President Vladimir Putin, appeared on a large screen and gave the crowd a speech about the need to fight global liberalism. It is "the fight of all normal people," he told the crowd, "to save the normal relations between sexes, to save the family, to save the dignity of the human being."
At the end of the rally, sitting on a park bench as people bustled around us clearing away equipment, I spoke to two men in their 20s, Kayahan Cetin and Yunus Emre Ozgun. They lead Turkiye Genclik Birligi, a youth organization closely associated with the pro-Russia Vatan Party. Cetin spoke in Turkish and Ozgun helped interpret into English, sometimes chiming in himself.
The pair were proud to note their connections with Dugin and Putin's United Russia party. Cetin and his group are associated with Vatan, but they also identify as Kemalists, a secular ideology that seeks to follow the principles of the Turkish Republic's founder Kemal Ataturk. This means they may not always see eye to eye with the Islamist right who dominate the anti-LGBTQ movement in Turkey. But they share the common belief that LGBTQ rights present an existential threat to Turkish society and that they are an agenda being imposed by the West.
Cetin is trying to push legislation that would crack down on what they call "LGBTQ propaganda and institutions" and pointed to similar laws on the books in Russia, Hungary and China. Cetin says he has no problem with people's individual "choice" to be gay, but wants parliament to place restrictions on organizations who are using their platforms to support LGBTQ rights through the media, including streaming platforms such as Netflix and Disney Plus. These kinds of cultural interventions are already underway — Turkey's Radio and Television Supreme Council in July fined Netflix, Disney+, Amazon Prime Video and Mubi among other streaming platforms, accusing them of depicting homosexual relationships that are "contrary to social and cultural values and the Turkish family structure."
With local elections in March 2024, the LGBTQ community fears Erdogan's attacks on them will be amplified further. The government is seeking to implement laws that will ban content seen to promote LGBTQ identities in schools, a blow to younger gay and transgender people already struggling in the current environment. Last month the national education minister, Yusuf Tekin, said that authorities must fight homosexuality and that a new optional course called "The Family in Turkish Society" had been added to the school curriculum.
Two days after our first meeting, I met Uzun again at a club in the heart of Istanbul's tourist district. There was a power cut soon after I arrived. When the lights came back on again, Uzun was quick to get back on the dancefloor. The room filled with a red glow as queer Istanbulites danced freely, the jubilant scene in stark contrast to the seismic shifts occurring beyond the walls beaded in sweat.
At the end of the night I had to wait my turn to say goodbye to Uzun. I asked them one final question about why Istanbul's queer scene seemed to be thriving despite all the restrictions and threats against it. Uzun shouted over the music, "Text me your question." They texted me their response the next morning: "RESISTANCE."
But this isn't the whole story. It is hard to resist when you fear being attacked on any street corner. Uzun told me that over the course of the past year, more than 50 of their friends had left Turkey. And they may be next. If their visa application is accepted, Uzun will leave for London.
The Big Idea
Shifting Borders
Borders are liminal, notional spaces made more unstable by unparalleled migration, geopolitical ambition and the use of technology to transcend and, conversely, reinforce borders. Perhaps the most urgent contemporary question is how we now imagine and conceptualize boundaries. And, as a result, how we think about community. In this special issue are stories of postcolonial maps, of dissidents tracked in places of refuge, of migrants whose bodies become the borderline, and of frontier management outsourced by rich countries to much poorer ones.
Read more