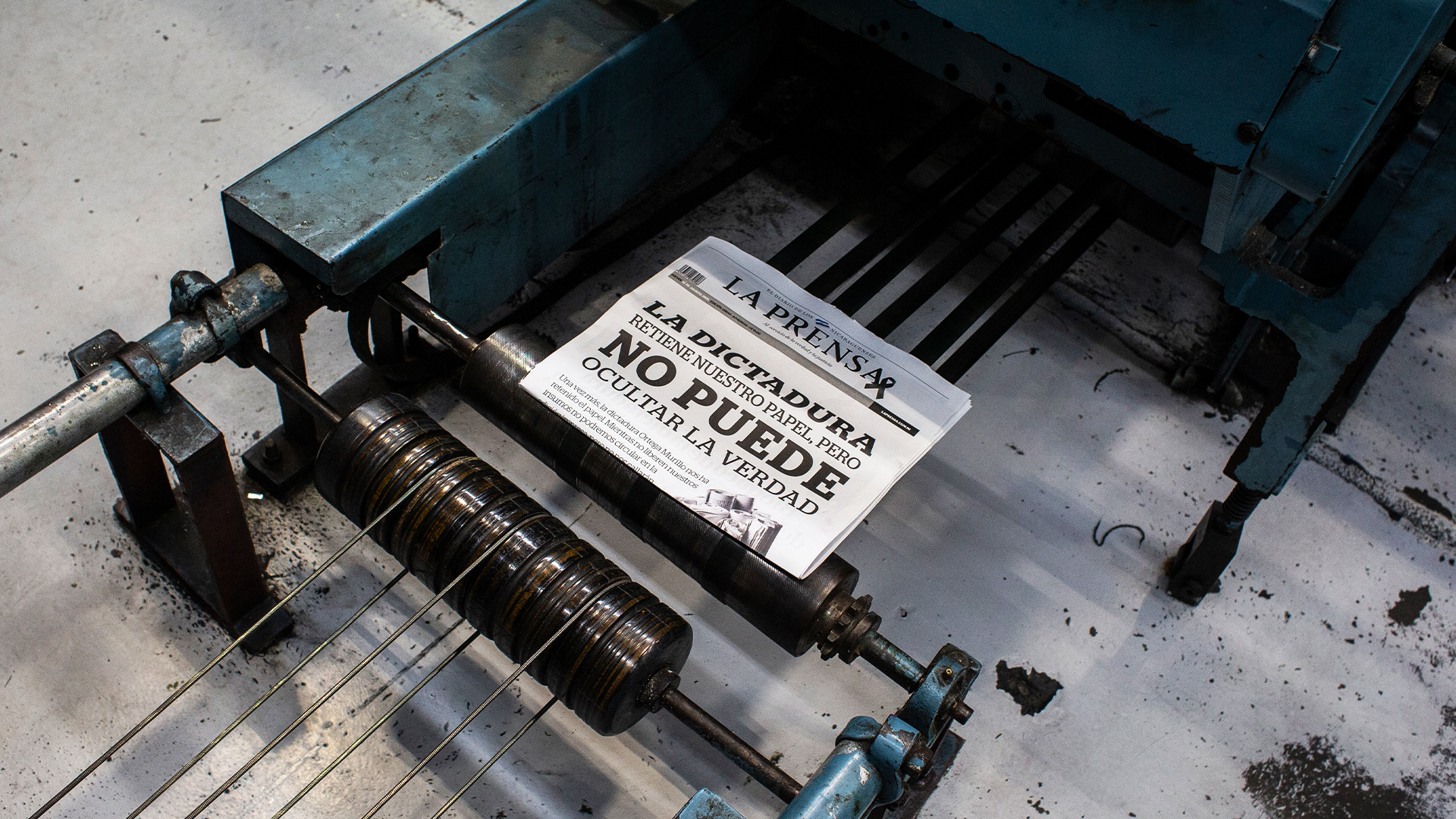 In Nicaragua, there are no more newspapers
Journalists are either in jail or in exile, as Daniel Ortega sets about destroying the country's independent media. And the rest of Central America is following in line.
"La dictadura no puede ocultar la verdad," read the last words of a defiant frontpage headline last year in La Prensa, the near century-old Nicaraguan daily, one of Central America's most venerable newspapers. The dictatorship can't hide the truth!
Denied supplies of paper and ink, that headline, on the morning of August 12, 2021, was the last time La Prensa appeared in print. Daniel Ortega, Nicaragua's president since 2007, had, since violent protests in 2018, been tightening his already vice-like grip on the country's throat, squeezing the life out of its once voluble press. La Prensa might be going out of print, the headline asserted, but it was still in business.
As La Prensa prepared to go digital, their newsroom was seized by police. Renata Holmann texted her father, Juan Lorenzo Holmann, the newspaper's publisher, to say she was proud of him and his efforts to keep the paper running. "Don't worry," Holmann texted his daughter back, "I will be okay."
On August 14, 2021, in the early hours of the morning, Holmann was detained. He was held in pretrial detention until March, when behind closed doors he was convicted of money laundering and sentenced to nine years in prison. His cousins, Cristiana Chamorro Barrios and Pedro Joaquin Chamorro, both on La Prensa's board, were also imprisoned by judges that week for money laundering and the misappropriation of funds.
"Not even Orwell could have dreamed up a country like this," the former president of PEN Nicaragua told the Los Angeles Times. There are well over a hundred Nicaraguan journalists currently in exile and a couple hundred more who are being held as political prisoners.
Just three weeks ago, Ortega's wife and Nicaragua's vice president Rosario Murillo announced that La Prensa's offices, including its printing presses, would be converted into a "cultural and polytechnic center" offering courses and workshops. In July, La Prensa announced that after two of its drivers were arrested, what was left of the staff, including photographers, reporters and editors, would be fleeing the country.
The options before them were stark: jail, harassment, or voluntary exile. Hundreds of staff members, including journalists, across Nicaragua have taken the same decision.
Nicaragua ranked 160 out of 180 in this year's freedom of press index. According to the Inter American Press Association (IAPA), Nicaragua and Venezuela are the two countries with the highest rate of censorship in the Americas. Carlos Jornet, president of the IAPA's Committee on Freedom of the Press and Information, said that the arrest and sentencing of La Prensa's Holmann, is "totally illegal and shows the desperation of the Ortega-Murillo regime to confront anyone who dares to dissent."
Many La Prensa journalists have taken refuge in Costa Rica, from where the paper has continued to produce a digital edition, stories from which are clandestinely spread in Nicaragua — samizdat delivered via WhatsApp.
Freedom of the press in Nicaragua has been deteriorating steadily under Ortega. But the catalyst for ihis most concerted effort to rid the country entirely of independent media was a wave of protests that began in April 2018 over social security reforms that effectively raised taxes while reducing benefits. At its peak, hundreds of thousands of Nicaraguans took to streets in various cities in marches organized by Catholic churches calling for Ortega to step down.
By September 2018, Ortega declared protests of any kind to be illegal. And by February 2019, thousands had already been arrested and over 300 Nicaraguans killed by their own security forces. Since 2018, Ortega and his wife Murillo have presided over the closure of dozens of news outlets, jailing journalists, activists, politicians, rival presidential candidates and even priests.
As recently as last month, on August 19, an influential Catholic bishop was placed under house arrest and eight of his colleagues were jailed. Among the shutting down of television and radio stations, many are affiliated to the Catholic Church. Religious processions have been barred. Even the Vatican's envoy was told to leave the country.
By cracking down on the church, Ortega is sending a clear message to Nicaraguans: no dissent, no criticism, no disagreement will be brooked.
Eduardo Enriquez, La Prensa's editor-in-chief now in exile in the United States, told me that the newspaper evacuated everyone they could by road from the Nicaraguan capital Managua in June and July. "There is no one who works for La Prensa left in Nicaragua," he said, "because it is too dangerous for such a person to remain." La Prensa's journalists have instead recreated their newsroom in Costa Rica.
But even in Costa Rica — where many Nicaraguan journalists have fled and where, according to the United Nations, about 200 Nicaraguans per day were applying for asylum — it appears journalists are no longer welcome. Just last month, the country's president, Rodrigo Chaves Robles, who only took office in May, described the country's media as "rats."
One of his first acts upon being sworn in was to declare a national emergency in response to a ransomware attack by Russian hackers. Costa Rica, Robles said, was at war with the hackers. In a private meeting during the emergency period, Robles's chief of staff is alleged to have described the press as the "enemy" and instructed press officers to limit access to information. "Don't see it as censorship," the chief of staff supposedly said, "but as extreme discipline."
Much of Central America is currently engaged in combat with the independent press in the region. In Guatemala, Jose Ruben Zamora, the director of an investigative newspaper that exposes corruption was arrested on July 29; and in a move straight from Daniel Ortega's playbook, the Guatemalan government claimed Zamora was being arrested for money laundering not his journalism. In Honduras and El Salvador too, journalists are being more frequently attacked, even killed, and find themselves fighting legislation by governments intent on curtailing the right to report and share information freely.
It is as if Ortega's campaign against the press in Nicaragua has opened the floodgates for leaders in the rest of the region. In Mexico, for instance, 14 journalists have been killed already this year, making it the "world's deadliest country for the media for the fourth year running in 2022, ahead of countries at war such as Ukraine (with eight media deaths) and Yemen (with three)."
A particularly invidious tactic employed by several governments including Nicaragua's is punishing the spread of supposedly fake news. Two years ago, Ortega's government passed the "Special Cybercrimes Law" which punished "those who promote or distribute false or misleading information that causes alarm, terror, or unease in the public" with a two to four-year prison sentence. A further year or so was added if the information "incites hatred or violence, or puts at risk economic stability, public health, national sovereignty or law and order."
Of course, what is classified as false or misleading information is defined by Ortega and his government.
"For the government," says Guillermo Medrano, who worked for years for the Violeta Barrios de Chamorro Foundation, "fake news can mean an expert talking about public policy." The Foundation was one of over a thousand civil service organizations that Ortega has shut down over the last year. Medrano continues, as an independent, to monitor the Nicaraguan media. He told me that Ortega's behavior was in keeping with his Sandinista roots. Ortega, filled with revolutionary fervor, served as Nicaragua's president between 1985 and 1990. "This same Sandinista government," Medrano says, "has always been allergic to and intolerant of criticism. It has always been an enemy of the press."
Violeta Barrios de Chamorro was Nicaragua's first, and thus far only, woman to become president. She led Nicaragua from 1990 to 1997. Her husband Pedro Joaquin Chamorro Cardenal inherited La Prensa, though his murder in 1978 thrust his widow into the national spotlight. La Prensa by then had already developed a reputation as a fearless critic of the Somoza dictatorship, about forty years in which Nicaragua was controlled by Anastasio Somoza Garcia and his two sons.
Pedro Joaquin Chamorro Cardenal's assassination can be said to have been the match that lit the flame of the Sandinista revolt. Violeta, Cardenal's widow, and Daniel Ortega were allies, forced together by the need to overthrow the Somozas. Once Ortega was in power though, Violeta became an implacable rival.
Her murdered husband had been the scion of a grand Nicaraguan family. There have been six Nicaraguan presidents who have come from the Chamorro family, who were also the founders of La Prensa. Juan Lorenzo Holmann is just the latest Chamorro to be both at the helm of La Prensa and in prison because the family is at the helm of La Prensa.
"Nicaragua is a big jail," says Victoria Cardenas, whose husband Juan Sebastian Chamorro was one of seven politicians planning to run against Ortega for president in 2021 who were arrested and unceremoniously imprisoned. "If you want to speak up, you either go to jail, or you speak up while you're in exile." Her husband is in prison. She, for now, is in exile.
Juan Sebastian Chamorro's uncle was Pedro Joaquin Chamorro Cardenal. Chamorro's father (Cardenal's brother) was the founder, in 1980, of "El Nuevo Diario" which he hoped would provide competition to La Prensa. Newspapers clearly run in the Chamorro blood.
Chamorro and two of his cousins, including Holmann, publisher of La Prensa, were recently pictured in prison looking thinner and weaker. Nicaraguan human rights organizations say that several journalists are being held in conditions that are causing a significant deterioration in their health.
"Sometimes I can't believe that this is my reality," Renata Holmann told me. She hasn't spoken to her father in 13 months, but for Renata to return to Nicaragua is out of the question. She is one of the many family members of political prisoners who have spoken up against Ortega's regime and denounced its many human rights violations. But they can only speak from the relative safety of a foreign country.
"I have the opportunity to talk about the situation in Nicaragua now that I live in the United States," Renata said. "Anyone in Nicaragua who dares to speak against the government, or just tell the truth, is in danger."
As soon as Juan Sebastian Chamorro was arrested in June, his wife Victoria started to receive threats from the police. She was then accused of treason, before fleeing to the U.S. with her daughter. "There is a very direct pressure applied on relatives of prisoners who stay in Nicaragua rather than opt for exile," says Carlos Jornet of the Inter American Press Association's Committee on Freedom of the Press and Information. Ortega's cybercrimes law gives the government the legislative power to go after anyone they choose.
"The cybercrimes law is not only designed to silence or intimidate the press and journalists, but also the citizens," says Guillermo Medrano, the media analyst who left Nicaragua after the Violeta Barrios de Chamorro Foundation was shut down. Even in exile, many Nicaraguan journalists choose not to put their names to their articles. La Prensa made the editorial decision to remove all bylines.
Just as the journalists elect for anonymity, so do their sources. La Prensa's current editor in chief, Eduardo Enriquez told me that in "Nicaragua nobody talks about politics because everyone is afraid, so we are forced to work only with anonymous sources." Another award-winning journalist, Julio Lopez, says people "who talk to journalists are charged with spreading false information or are arrested for fomenting conspiracies. There is a total silencing of the public conversation in Nicaragua which makes it near impossible for journalists to do their work."
Still, people continue to find a way. One of these is by creating pseudonymous profiles on social media. I contacted Pinolera Vandalica, best known for her anti-Ortega posts on Facebook until threats forced her into exile. "Pinolero" is local slang for Nicaraguan, so her pseudonym translates loosely as "female Nicaraguan vandal." 
We first got in touch on WhatsApp, using a feature in which messages vanish after 24 hours. Sometimes she sent me voice notes which both of us deleted. "I had always published on social media using my own personal data," she told me. But now she lives with the constant fear of her family in Nicaragua being targeted if the authorities uncover her identity.
Pinolera Vandalica is the new breed of Nicaraguan citizen journalist, some of whom collaborate with the mainstream media in order to get their stories out. According to media analyst Guillermo Medrano, Nicaraguan journalists have now changed their reporting outlooks. "It's no longer about the scoop," he told me, "it's now about spreading information as widely as possible, to create as much visibility as possible about what is happening in Nicaragua."
The rise of citizen journalism and a media in exile that shares stories and sources, Medrano, says offers some hope for the future. As traditional newspapers such as La Prensa and El Nuevo Diario are forced out of print, "in the face of adversity came opportunity," he says. "New means of communication started to pop up almost immediately. And some are here to stay."
He cites Despacho 505 for instance, a digital news platform that was founded in Spain by the first Nicaraguan journalists who were forced into exile. Medrano says he knows of at least 32 digital platforms that have now been created to share news about Nicaragua.
After Daniel Ortega was elected president for a fourth consecutive term in November 2021, in an election that seven out of ten Nicaraguan regarded as illegitimate according to a CID-Gallup poll, journalists knew that the gig was up. Exile was viewed as the only way for the Nicaraguan press to continue to function, chased out of the country perhaps but not silenced.
True to its word in its last printed headline, La Prensa formed an entire newsroom in exile to continue to report on Nicaraguan issues. In July alone, at least 17 journalists were forced into exile and 12 were displaced inside the country, according to a recent report on freedom of press in Nicaragua by Voces del Sur, a network of Latin American organizations that advocate for the freedom of the press and access to information.
Nicaragua may have some of the slowest mobile internet connections in the world, ranking a lowly 106 out of 140 nations tested, but that hasn't stopped about half the population from using WhatsApp. The messaging app had nearly three million active users in Nicaragua in 2020. As Nicaraguans struggle to access reliable news online, WhatsApp has become a vital way to stay connected. La Prensa, like other prominent Nicaraguan news outlets in exile, has a WhatsApp Business account. Over 10,000 people, Enriquez, the paper's editor in chief says, subscribe to La Prensa's WhatsApp notifications. "It's a very useful way to receive information."
Within Nicaragua, people also turn to prominent social media critics of the Ortega regime such as Pinolera Vandalica to publish information. "People send me the news that they're afraid to publish themselves, on their own accounts," Pinolera Vandalica told me. She collaborates with several prominent Nicaraguan handles and media outlets to collect and aggregate anonymous reports about conditions inside Nicaragua, about what it's like to live in a country that has been silenced, cut off from the rest of the world and unable to accurately assess itself.
"I am innocent and strong," La Prensa reported its publisher Juan Lorenzo Holmann saying as he was sentenced to nine years in prison. "This is going to pass very soon." Despite Ortega's best attempts to destroy the Nicaraguan media and access to information, Nicaraguan journalists and citizen reporters continue to find ways to get information to the people.
The Big Idea
Shifting Borders
Borders are liminal, notional spaces made more unstable by unparalleled migration, geopolitical ambition and the use of technology to transcend and, conversely, reinforce borders. Perhaps the most urgent contemporary question is how we now imagine and conceptualize boundaries. And, as a result, how we think about community. In this special issue are stories of postcolonial maps, of dissidents tracked in places of refuge, of migrants whose bodies become the borderline, and of frontier management outsourced by rich countries to much poorer ones.
Read more