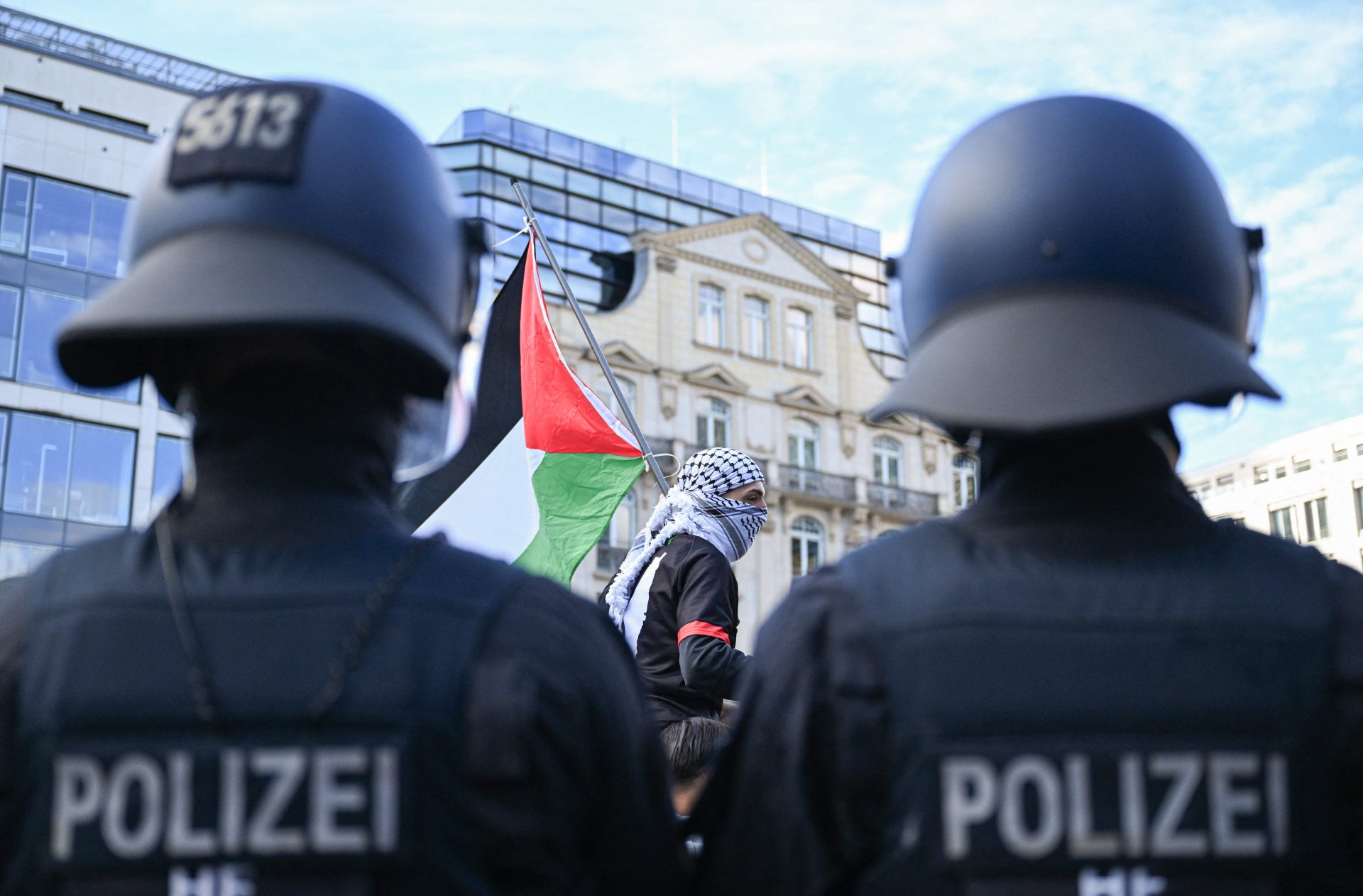 The crackdown on pro-Palestinian gatherings in Germany
A ban on protests is raising deep questions about who is considered part of the nation and what, exactly, Germany has learned from its history.
On October 27, a rainy Friday evening in Berlin, as Israel bombed Gaza with new intensity before the launch of its ground invasion, I arrived at Alexanderplatz for a rally that had already been canceled. "Get walking now," ordered one police officer in German. "You don't need to be here," shouted another in English. A father and daughter walked away from the police. He held her hand. She dragged a sign written in a shaky child's script. "Ich bin keine Nummer." I am not a number.
The police had called off the rally, "Berlin's Children for Gaza's Children," five hours before it began because of "the imminent danger that at the gathering there will be inflammatory, antisemitic exclamations; the glorification of violence; [and] statements conveying a willingness to use violence and thereby lead to intimidation and violence." Since October 7, when Hamas attacked Israel, this formulation of alarming possibilities has been used to preemptively ban about half of all planned public protests with presumed Palestinian sympathies.
"It was for dead kids," I heard one woman say to another, in a kind of disbelief that this could have been objectionable. The rally disbanded peacefully — but at that night's other canceled protest, a gathering of 100 people outside Berlin's Reichstag, police deployed pepper spray and forcibly detained 74 people.
The woman's shock registered a new reality that is coalescing in Germany. What happens when basic rights seem to conflict with Germany's vaunted culture of "coming to terms with the past" — often interpreted as a call for anti-antisemitism? Recent events have raised troubling questions about who is considered part of the nation and what, exactly, Germany has learned from its history.
Following the October 7 assault in which Hamas massacred 1,400 men, women, and children, German Chancellor Olaf Scholz expressed his condolences for the victims, condemned the attacks and proclaimed his solidarity with Israel. He reasserted the 2008 proclamation of his predecessor, Angela Merkel, that the protection of Israel is part of Germany's "Staatsraison," or part of the country's reason for existence. The German government has remained steadfast in its support, even as Israel's bombing campaign on Gaza has injured and killed high numbers of civilians — the latest death toll sits at 10,022 people, more than 4,000 of them children.
There has been little official sympathy for the plight of Gazans. But Germany is home to the largest Palestinian diaspora in Europe — an estimated 40,000 to 100,000 people — and people across the country have come together in solidarity with Palestine for both spontaneous and registered protests since the beginning of the conflict. In response, cities across Germany have tried to clamp down on these demonstrations, though the courts have overturned several of these attempts as illegal. In Berlin, bans have been issued against protests with titles such as "Peace in the Middle East"; "Jewish Berliners Against Violence in the Middle East," a rally organized by Jewish Voice for a Just Peace in the Middle East, a Jewish organization; and "Youth Against Racism," which was called after a high school teacher hit a student who had brought a Palestinian flag to school. Throughout, there have been shocking scenes of police brutalizing protestors.
Those who advocate for the bans point to incidents of people gathering on Sonnenallee, a central avenue in Berlin's Neukoelln district, in support of the Hamas attack on October 7. One especially notorious event involved about 50 men who responded to the call of the Samidoun Palestinian Prisoner Solidarity Network "to celebrate the victory of resistance" by sharing baklava on the street. Berlin's police treated it as a potentially criminal matter, noting on X, formerly known as Twitter, that they would "carry out the necessary measures." Newspapers reported that the Israeli ambassador, Ron Prosor, called the men who had gathered "barbarians."
Beyond these incidents, German politicians have seemingly competed among themselves to see who can promote anti-antisemitism the loudest — and who can be the harshest on the Muslim minority. Nancy Faeser, a government cabinet minister, urged that the government "use all legal means to deport Hamas supporters." The leader of Germany's center-right party, the Christian Democratic Union, Friedrich Merz declared, "Germany cannot accept any more refugees. We have enough antisemitic men in this country." Scholz, the chancellor, piled on: "Too many are coming," he said. "We must finally deport on a grand scale."
These are not wholly new tendencies in Germany. Last year, authorities in Berlin banned all public commemorations of the Nakba, the mass displacement of hundreds of thousands of Palestinians in 1948 after the founding of the state of Israel. Earlier this year, German police admitted in court that when they were enforcing the ban, they had simply targeted people who "looked Palestinian." However, Berlin schools' decision to forbid students from wearing the keffiyeh and other Palestinian symbols is an escalation that led even a member of Scholz's own party to question if it could possibly be legal.
Since reunification in 1990, Germany's national identity has been founded upon "coming to terms with the past." That is, taking collective responsibility for the Holocaust and taking steps to ensure that it cannot happen again. Central to this protection of Jews has been the enforcement of anti-antisemitism at home, and, internationally, the support of Israel: Germany's "Staatsraison."
This culture of remembrance, however, holds little room for non-ethnic Germans. Coming to terms with the past requires that everyone shares the same past. The Muslim minority, for instance — most of whom arrived after 1945 — have found themselves freighted with the accusation of antisemitism for failing to identify with German guilt for the Holocaust. This is not to say that there is no antisemitism within the Muslim minority, but when the center-left Vice Chancellor Robert Habeck insisted in a recent speech that Muslims must distance themselves from antisemitism — or, in some cases, face deportation — he reinscribed the idea of the Muslim minority overall as antisemitic until proven otherwise. Muslims, and particularly Palestinians, have to prove that they deserve to be part of Germany.
The German press has inflamed the situation. Der Spiegel has peddled base stereotypes about Germany's Muslims, and Bild has published a manifesto declaring that "we are experiencing a new dimension of hatred in our country — against our values, democracy, and against Germany." But it isn't just conservative publications pushing these narratives — the left-leaning Die Zeit recently published a piece that questioned whether Muslim immigrants could ever become "civilized." And the leftist newspaper Taz has published editorials that purport to connect Palestinians with hate and Nazism. When during a speech at the Frankfurt Book Fair, the Slovenian philosopher Slavoj Zizek pleaded for the ethical imperative to think about both Israelis and Palestinians, he was accused of defending Hamas' crimes.
Highly publicized antisemitic incidents — a Molotov cocktail thrown at a Berlin synagogue and Stars of David painted on homes — has further roiled Germany. Some Jews have said they are afraid to visit their temples. "Germany is a safe country for Jews," Josef Schuster, the president of the Central Council of Jews, recently affirmed, noting his approval of Germany's anti-Palestinian measures. "In my eyes, the security forces are doing everything to make sure that doesn't change. Even if the threat in Germany currently comes more from the Arabic side than from the extreme right."
However, other Jews in Germany have argued that Schuster misrepresents the real threat. A recent open letter from more than 100 Jewish artists and intellectuals in Germany — full disclosure: I am a signatory — cited the government's own statistics, which paint a different picture about the risk of pro-Palestinian protests: "the perceived threat of such assemblies grossly inverts the actual threat to Jewish life in Germany, where, according to the federal police, the 'vast majority' of anti-Semitic crimes — around 84 percent — are committed by the German far right."
For Palestinians, cultural institutions have largely shut their doors. An award ceremony for Palestinian writer Adania Shibli at the Frankfurt Book Fair was indefinitely postponed. In Berlin, Maxim Gorki Theater called off upcoming performances of its long-running and much celebrated "The Situation," which gave voice to the experiences of Arabs, Palestinians and Jewish Israelis. A letter about the decision described how "war demands a simple division into friend and enemy." Berlin's Haus für Poesie canceled an upcoming launch party for "The Arabic Europe," a collection of poetry edited by the Syrian-Palestinian poet Ghayath Almadhoun.
A Palestinian doctor and activist told me that the situation of Palestinians in Germany is one of "collective loneliness." He asked to be called Nazir — there is a risk of professional repercussions for showing support for Palestinians. "The feeling is not only that we are losing family," Nazir explained, "not only that a genocide is being done, not only that we have so much to fight with our own losses and pain, but we are not even allowed to mourn publicly. We are not allowed to speak up. We are not allowed to make demonstrations for the ones who are being killed in silence. And this is a whole different level of oppression, this state of oppression in Germany."
The center of Arabic-speaking life in Berlin is Neukoelln's Sonnenallee, sometimes known to Germans as the "Arab Street." The district has long been demonized — along with its neighboring Kreuzberg — by the German right. Recently, some have spoken of the district as a "little Gaza." It was in Kreuzberg where a group of men handed out pastries to celebrate the Hamas attack. And the neighborhood since has been the site of various gatherings to show support for the people of Gaza under bombardment — and several confrontations with police. On October 18, an officer in riot gear stamped out tea lights at a vigil for those killed in an explosion at the Al-Ahli Arab Hospital. Later that night, parts of the street were on fire — in what Bild called a riot.
Since October 7, police have arrived most nights in riot gear, patrolling in force. On October 23, in just the two blocks between the restaurants Risa Chicken and Konditorei Damascus, I counted more than two dozen officers in full suits of riot armor and eight police vans. At the corner of Pannierstrasse, I spotted a group of six police who had detained eight people. "They tried to cross the street when it was red," a man said to me, smiling in disbelief, pointing to two of the men in custody, who could be described as vaguely Middle Eastern, standing against the wall. "Can you believe it?" a woman with a gray hair covering exclaimed, nearly leaping with indignation. "How can you hold them for that?"
As a crowd gathered, a pair of teenagers walked past, one wearing a puffer jacket, the other in a Puma sweatshirt. As the signal turned green and they stepped onto the crosswalk, I heard one of them say to the other, "Artikel 8: Grundgesetz." Article 8 of the Basic Law.
I had just heard that phrase for the first time earlier that evening. A protester in Hermannplatz, the square that lies at the mouth of Sonnenallee, had been reading out that very section of the Grundgesetz, which is the German constitution. Article 8 says, "All Germans have the right — without having to register or receive permission — to assemble peacefully, without weapons."
The teenagers might have misread the situation. After all, the police were not detaining these men because they were protesting, but rather were arbitrarily detaining them for the minor infraction of jaywalking.
"Why is everyone speaking now about Article 8?" Clemens Arzt, a professor of constitutional and administrative law at the Berlin School of Economics and Law, repeated my question before answering. "Because every half-educated person knows that Article 8 protects the freedom of assembly."
Germany, he explained to me, recognizes assembly and speech as two distinct rights, as opposed to the First Amendment of the U.S. Constitution where they are intertwined. In Germany, Article 5 deals with freedom of speech and Article 8 with freedom of assembly. The practice of shutting down protests before they even begin really began with the pandemic, said Arzt, "when we preemptively implemented bans on gatherings at a mass scale."
I mentioned to Arzt how I have repeatedly seen police demand that protesters put away their Palestinian flags. Is this legal? Arzt said that the police are given broad latitude to make these decisions, but only in the case of "imminent danger" to public safety — something that October's demonstrations did not often entail. But he suggested that making these decisions on the spot can be so difficult for the police, that one reason for the bans might have been that it was simply easier for them to pull the plug completely despite questions about legality.
The second reason for the bans, he said, has to do with Germany's relationship with Israel. These protests are being broken up in the name of "Staatsraison." While recognizing Germany's important relationship with Israel, Arzt sees this current application as a problem. "It appears to me," he said, "that, partially, the basic idea of the protection of Israel — this Staatsraison — results in taking priority over gatherings that cannot, actually, from a sober legal perspective be disbanded or forbidden."
"If you meet 20 people or if you meet 10,000, the empowerment you feel after a big demonstration is a whole different level," the Palestinian doctor Nazir told me with a grimace. "And Germany knows exactly that. And that is why Germany is banning the protests."
"They fear the growing rise of solidarity happening in Berlin."
Nazir has been in Berlin for most of his adult life, where he has cared for the sick, paid his taxes and participated in Palestine Speaks, an antiracist advocacy group dedicated to Palestinian rights. Since October 7, he has lost 19 members of his extended family to Israeli bombs. He wakes up every day, he told me, hoping that his parents and sister in Gaza remain unharmed. "This is the question with which I wake up every day," he said, "and hope that answer is still 'yes, they are alive.'"
"It's one of the most schizophrenic situations I have found myself in," he said. "I am good enough to pay taxes and to work in a hospital, to do intensive care and to hold the hand of grieving people and to give hope and optimism to parents and their children that we are going to overcome their health crises." All of this, he said, "while you are dehumanized and while you are expecting every minute to get a note that your family does not exist."
When we spoke, Palestine Speaks had begun to register their protests with more generic names like "Global South United"; that particular demonstration ended up drawing around 11,000 participants, one of the largest pro-Palestinian rallies in German history. Still, even when the protests happen, the police seek to disrupt them, Nazir said. He told me about a protest the previous weekend at Oranienplatz called "Decolonize. Against Oppression Globally." There, he said the police had removed their speakers after the police translator misinterpreted a statement. Still, he said, it was a relief to feel the support of so many people during a time when the environment in Germany has become so deeply anti-Muslim.
"They are making house raids," Nazir said of the German police, an assertion echoed by other activists with whom I spoke, who noted that referring to the events of October 7 as "resistance" online could result in a visit from the police. He emphasized how Germany's treatment of Palestinians is only one part of the nation's rightward shift, and how the current wave of anti-Arab and anti-Palestinian discourse is a symptom of Germany's failure to learn from its past. "The most important question is not what's happening toward Palestinians alone."
"Germany needs Israel as a replacement nationality," he said, referring to the idea of German identification with Israel as a nationality that Germany can feel unrestrainedly proud of. He cautioned that Germany also needs Israel to be "rehabilitated in the international community." "Israel is the so-called proof that Germany learned a lesson from its history and that the denazification was a successful process."
"But let's be honest and point out the elephant in the room," said Nazir. "The second biggest party in Germany is the AfD."
The Alternative for Germany party, the far-right party notorious for its Islamophobia and xenophobia, has consistently received 20% of German support in polls, second only to the right-drifting Christian Democratic Union.
"It seems like everyone is really just trying to compete with the AfD at the moment," said Wieland Hoban, a noted composer and chairman of Jewish Voice for a Just Peace in the Middle East, an anti-Zionist Jewish organization. He described the situation in Germany as having turned starkly to the right.
"The biggest warriors against antisemitism," Hoban told me, "are conservatives and right-wingers who are doing that because they're using antisemitism just to live out their anti-migrant racism by saying 'OK, all these Muslims and Arabs are antisemites so let's deport them all in order to fight antisemitism.'"
German society's hypocrisy is exposed, suggested Hoban, in its tolerance of antisemitism among those who are already recognized as Germans. Hoban cited Hubert Aiwanger, a far-right politician and former schoolteacher in Bavaria, who was found to have distributed antisemitic and pro-Nazi pamphlets in his youth and only became more popular because of it, which he spun as a victory over "cancel culture."
Hoban, disclosing the many instances of "police thuggery" he has witnessed while on the streets in recent weeks, argues that the presence of Palestinians is an inconvenient truth for German memory culture. "It's just kind of obvious that any human, depending on their situation, can be a victim or a perpetrator," said Hoban. "But it's unbearable for some Germans, this idea that the Jews could have been their victims. But then in another context," he said, referring to Jews, "we're perpetrators."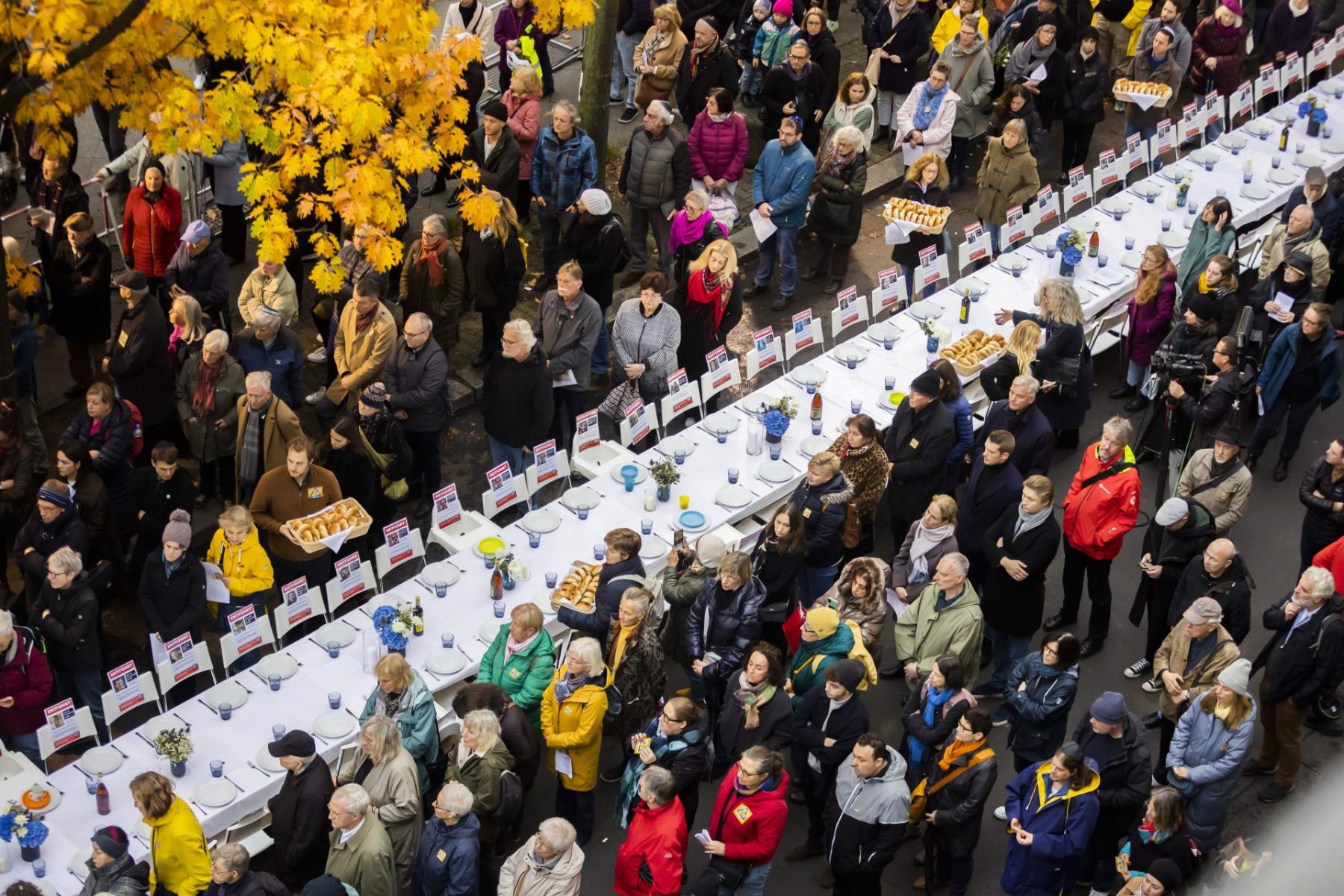 Esra Ozyurek, a professor of sociology at the University of Cambridge, understands the difficulty people have in dealing with the mutability of roles when it comes to the highly emotive topic of memory culture, with "coming to terms with the past." She described how the issue of memory politics often devolves into a competition, "a little bit like supporting teams in a soccer match."
"I was at a talk," she told me, "and then a young woman came to me and said, 'I read your work, but I'm on team Israel.' I said, 'Wow, I'm not on any team.'"
Rather than thinking tribally, the broader ethical question is, she emphasized, "how we can live in a plural society, how we can deal with difference."
Germany, she said, is hardly alone in its marginalization and repression of its minorities — even if its pretext for doing so is unique. This is typical of "big nationalist projects," she said. "It is always their fear that the minorities find comfort in each other, and then they unite. So this big nationalist project is always about dividing the minorities and making them enemies of each other. This is not the first time this is happening. It is just so sad that is happening in the name of fighting a form of racism."
Ozyurek described how German society sees Muslims as the carriers of German antisemitism— a view that draws its support from German scholarship that claims antisemitism was exported to the Muslim world first by 19th-century missionaries and then by the Nazis in the 20th century. Meanwhile, Germany, by accepting its responsibility for the Holocaust, has become a modern, tolerant democratic nation. "It's a very Christian narrative," she said. "You start with your guilt and then you come to terms with it. You accept it, and then you're liberated."
Germans expect the Turkish and Arab minority to relate to the history of the Holocaust by identifying with the German majority and thus work through the guilt of what is called "the perpetrator society." Like Germans, they are supposed to find ancestors to atone for — like the Grand Mufti of Jerusalem, a Nazi collaborator — in order to be accepted as full members of German society.
But, of course, the Muslim minority does not follow the German script. "Everyone relates to the story from where they are standing," said Ozyurek. "They relate to it as minorities."
Palestinians are not only a minority in Germany, but many of them came to Germany stateless as refugees. In the eyes of mainstream Germany, however, these conditions are disregarded as "self-victimization" — which places Palestinians in competition with Jews for the status of victim. "What is interesting," Ozyurek said, referencing how Germans for many years believed themselves to be the real victim of World War II, "is that the qualities that are attributed to them are also qualities Germans have gotten over."
"It's just a Catch-22 situation," said Ozyurek. "If you don't have the Nazi ancestors, then how are you going to apologize for their crimes?" She added, "if they cannot join the national conversation, how can they feel they belong?"
The Big Idea
Shifting Borders
Borders are liminal, notional spaces made more unstable by unparalleled migration, geopolitical ambition and the use of technology to transcend and, conversely, reinforce borders. Perhaps the most urgent contemporary question is how we now imagine and conceptualize boundaries. And, as a result, how we think about community. In this special issue are stories of postcolonial maps, of dissidents tracked in places of refuge, of migrants whose bodies become the borderline, and of frontier management outsourced by rich countries to much poorer ones.
Read more