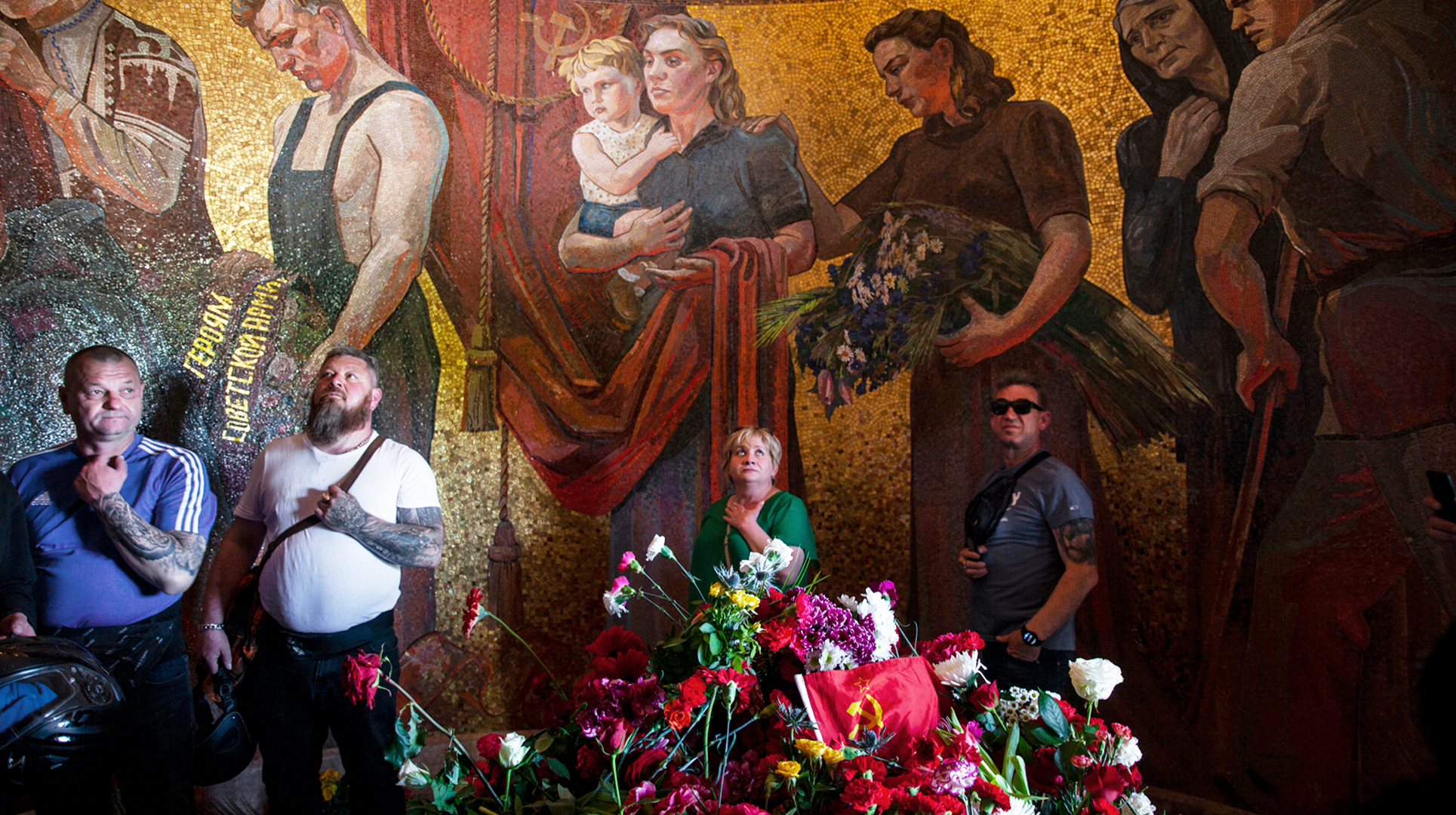 Pro-Russian rallies sputter, but still rattle a nervous Germany
Fringe groups in Germany spreading Kremlin narratives are failing to catch on, but they underscore how the country's extremism is changing as ideological divisions blur
About half an hour before the Ukrainian Ambassador to Germany was scheduled to lay a wreath at the Soviet War Memorial in Berlin's central Tiergarten to commemorate some 8 million Ukrainians who died in World War II under the Nazis, on May 8, the anniversary of Nazi Germany's capitulation, Marlis Kaltenbacher arrived by bicycle.
A self-described historian of German fascism, the septuagenarian might be best known for having spotted a dilapidated 19th century Tudor-style castle while driving through the former East German state of Mecklenburg-Vorpommern in the 1990s. Inspired by the castle's name — Marxhagen — she decided to buy it. She moved in, decorated the place with Marxist paraphernalia and tried and failed for a quarter of a century to turn it into a Marxist think tank (one German TV report dubbed her the "Communist in the Castle" and noted that she spent more time battling building contractors than capitalism). In 2018, she sold it to a private investor.
Kaltenbacher claims to own no radio and no television and boasts that while she has seen no images of the current war in Ukraine, she has nonetheless come to the exact same conclusions as Vladimir Putin has — namely, that an attack on Ukraine was a necessary act of self-defense against the encroachments of the West.
Riding through the Tiergarten, she had to pedal slowly. Decked out in a torso-sized sandwich board quoting Hemingway praising the Red Army and clutching a bouquet of red carnations, she wobbled a little, as she came to a halt at the police barrier.
Informed that she would have to remove the placard as well as the orange-and-black St. George ribbon pinned to her chest before she would be let through, Kaltenbacher became animated. What about her right to free speech? What about the supposedly free West? "That's not our construction site," replied the amiable policeman — using a German idiom that means he's just not the right guy to talk to about that.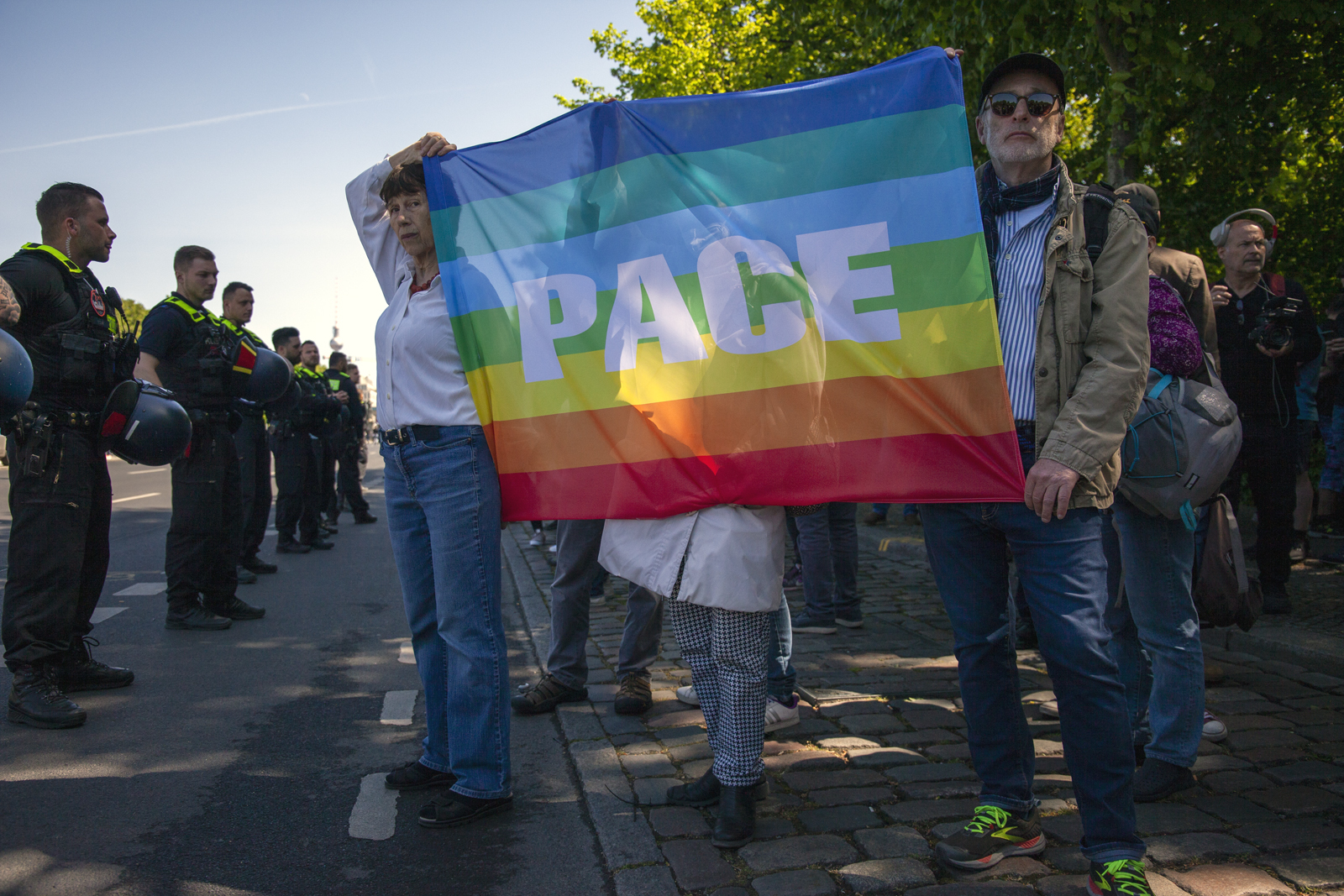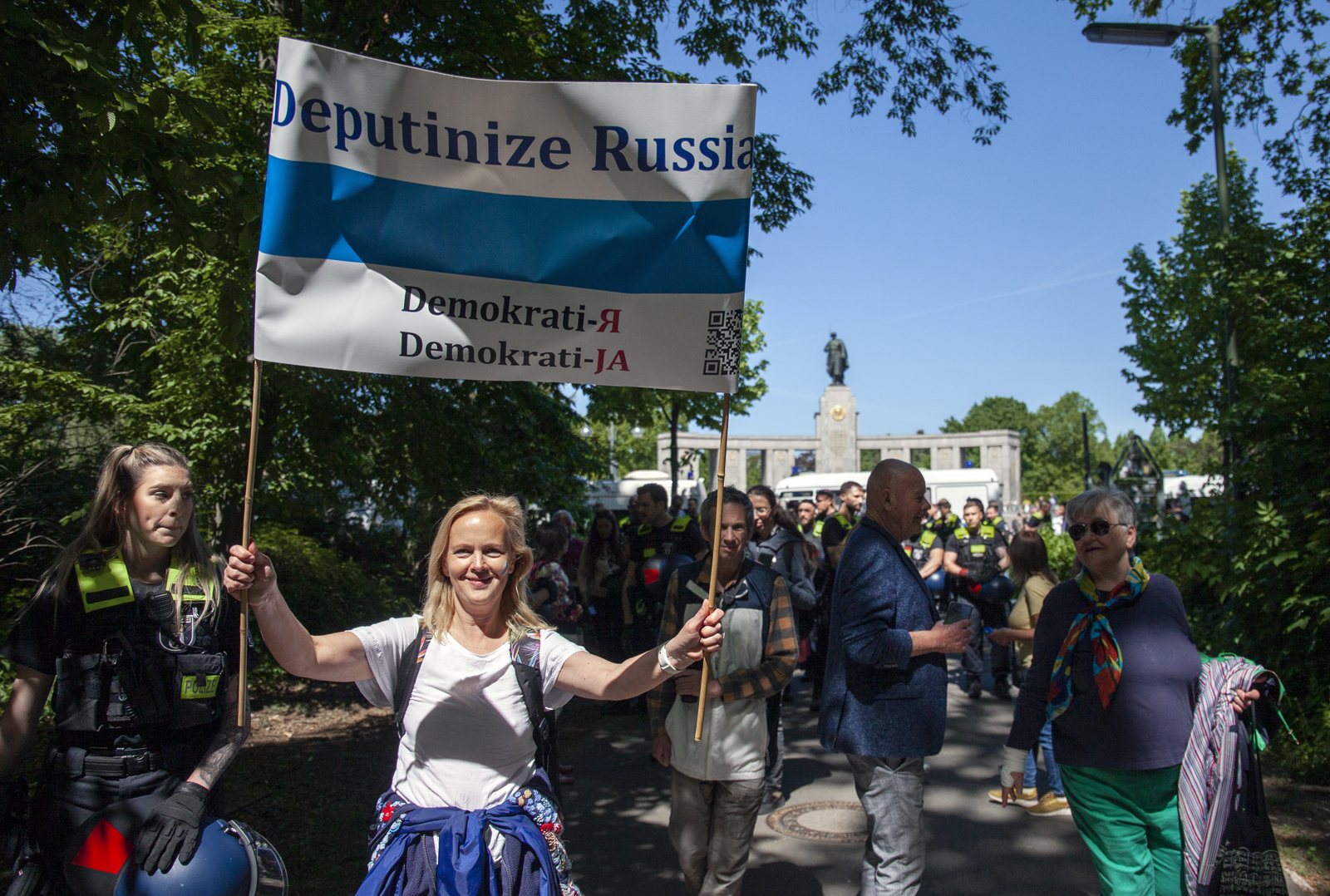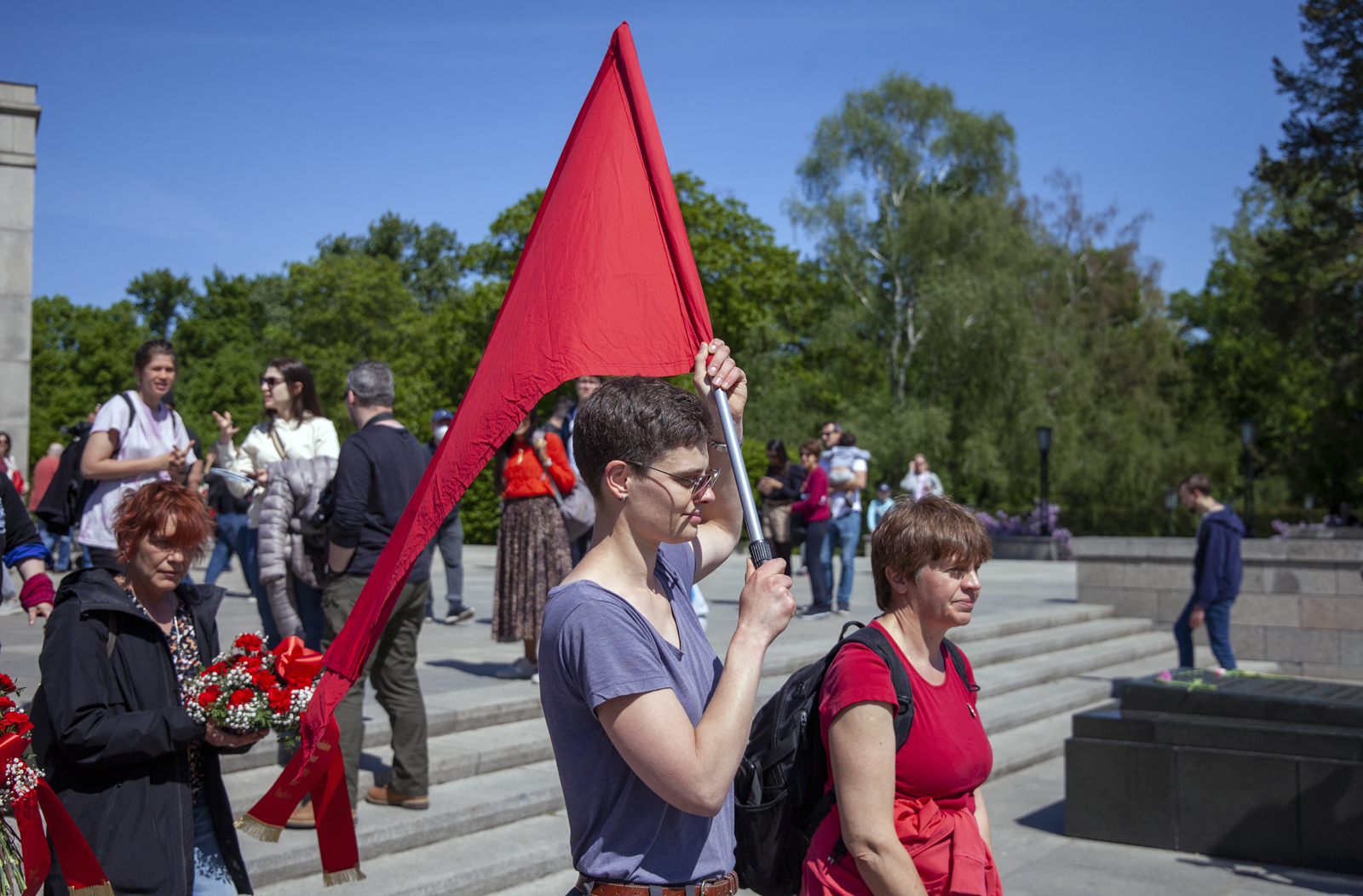 In Germany, Kaltenbacher is part of a minority fringe. But with the second phase of Russia's war on Ukraine, some of those people have found themselves front and center, splashed across the pages of German newspapers, and giving interviews on TV. These fringe groups' activities — and German officialdom's ham-handed responses — have garnered international ire, shed light on shifting domestic faultlines and raised questions about Russian disinformation activities in the country.
Most Germans do not share the pro-Russian views espoused by Kaltenbacher and the elderly crowd of far-left peaceniks and die-hard communists into which, having shed her bicycle, sandwich board, and ribbon, but still clutching her carnations, she soon disappeared.
In fact, a poll taken by the ZDF Politbarometer, a long-running television program, showed that Germany's recent announcement that it would provide Ukraine with heavy weapons had been met with a robust 56% approval.
But German Chancellor Olaf Scholz has been tepid in his support of Ukraine (the Ukrainian ambassador, in a superb use of idiom, dubbed him a "thin-skinned liver sausage" after Scholz rejected an invitation from Zelensky to come to Kyiv), and consequently has seen approval of his handling of the Ukraine crisis fall from 72% to 49%, with 43% of respondents saying he was doing a bad job.
Meanwhile, the more hawkish, outspokenly anti-Moscow Green Party foreign minister Annalena Baerbock won 70% approval of her handling of the war.
There is, however, one way in which the crowd at the Soviet War Memorial was representative of a trend in Germany. Namely, that the extremist landscape is changing as traditional ideological divisions blur. "There's a lot of mishmash going on at the moment," said Jan Rathje, a senior researcher at the Center for Monitoring, Analysis and Strategy.
The pandemic saw a diverse group of anti-establishment conspiracy ideologues (a group that goes by the name "Querdenker" in Germany) adapt the anti-vaccination movement; they also starting marching side-by-side with neo-Nazis, among others. When the war in Ukraine began, Rathje said, "the 'Querdenker' more or less embraced pro-Russian disinformation."
These conspiracy narratives have spread. In one study conducted by Rathje's group, in Germany "nearly one-fifth of respondents tend to agree with conspiracy ideological statements about the Russian war of aggression."
"Extremism is changing — not disappearing," agreed Martin Emmer, a political science professor at Berlin's Free University, who noted that just because extremists no longer cleave to traditionally left- or right-wing ideologies, that does not mean they are not still capable of disruption and even violence. "We know that influencers, particularly from Russia at the moment, take every chance to destabilize western society."
He added, however, that Covid disinformation and Russian propaganda have not really taken hold here. "It worked better in countries like France and even the U.S.," he said. "In the election last year, you saw more or less a decline in extremism, and growth in the centrist parties. German civil society is quite resilient compared to other countries. The support for democracy and political norms is quite high."
Thus the tenor of the German crowd gathered in the Tiergarten, from which the cry of "Nazi" emanated now and then in the Ukrainian ambassador's direction, was an outlier. Of the more than 3,500 demonstrations related to Russia's war on Ukraine that took place throughout Germany from the end of February to late April, the vast majority were in support of Ukraine, according to Mediendienst Integration, which collated information from various German states' Offices of Criminal Investigation.
Many of Germany's three dozen or so pro-Russian demonstrations were "Autokorsos," or car rallies. Ostensibly organized by private individuals, the first took place on April 3, the day photos of the Bucha massacre went around the world. Some 400 cars strong, it drove from one end of Berlin to the other, past the main train station, a central processing point for Ukrainian war refugees arriving in Berlin.
Despite the organizers having registered their demonstration with the police, the car rally took the city by surprise. It was, as the newspaper "Die Zeit" put it, a wake-up call of sorts: "the first sign that Russia's attack on Ukraine would have an impact on how we live together here in Germany."
Indeed, the made-for-TV images that emerged — seas of car-hood-sized Russian flags, Soviet flags, bellicose pro-Russian chants, honking — were troubling. For some, they were terrifying: a notice that made the rounds in Ukrainian refugee chats warned that the drivers would get out of their cars at night and look for people on the streets wearing Ukrainian symbols.
Car rally participants praised Putin, said they had no problem with him bombing apartment blocks and maternity wards, complained about discrimination against Russian-speakers here in Germany, and denied the images from Bucha were real. It raised the question of just what was going on, and how this could happen.
"For me, it looks like a provocation," said Russian-born German author Wladimir Kaminer, in a television interview shortly afterwards. "A private person registers this demonstration, then just happens to really quickly have 900 friends, all of whom just happen to have two meter by two meter Russian flags on hand, and they drive — exactly on this day, when we see the horrible photos of civilians killed in Bucha go around the world — through the streets of Berlin?"
In the days that followed, politicians and the press condemned the Berlin car rally. Stefan Evers, Berlin's general secretary for a center-right political party, called the images disgusting. "These fascist nutcases can keep driving straight to Moscow, and stay there," he tweeted. Berlin politician Stephan Standfuss told the Tagesspiegel newspaper that intelligence services would need to look into the extent to which the car rallies "were being directed from Moscow."
But the boisterous, flag-waving pro-Russian rallies continued to take place in German cities over the next weeks. These were fueled, in part, by made-up stories about violence against Russian speakers that, with the help of the Russian embassy, spread like wildfire among Russian-speaking communities.
Germany has 3.5 million Russian-speaking citizens; of these, about 2.4 million people are ethnic Germans, whose forefathers emigrated to Russia at the invitation of Catherine the Great. Under Stalin, these ethnic Germans were persecuted. Since the 1970s, Germany has offered this group the option to return as German citizens.
But Germany has been slow to recognize that it is, de facto, a land of immigrants, said Free University's Martin Emmer, resulting in feelings of isolation and exclusion. Propaganda exploits these feelings. "What Putin does in his speeches is basically provide a framework for people to be friends with Russia — 'Russia fights fascism.' It's amazing how flexible our brains can be."
In addition, many Russian-speaking Germans continue to get their news and entertainment from Russian state television. Nostalgic shows and wartime dramas showing the Soviet Union freeing the world of Nazis shape people's perceptions, says Free University researcher Anna Litvinenko. "It's interesting how even people who escaped the Soviet Union and moved to Germany are also nostalgic," she said. "It's this instrumentalization of memory."
As May 9, the date of Soviet victory over Nazi Germany, approached, the Tagesspiegel newspaper wrote that 150 riders in a large pro-Putin Russian motorcycle group called the Night Wolves were expected to take part in a Red Army memorial march. Telegram channels were reportedly mobilizing pro-Putin Russians across Germany to get in their cars that morning and head to Berlin's Treptower Park war memorial.
The city of Berlin decided to act. Just before the weekend, Berlin's head of police announced a two-day ban not only of Russian flags and military trappings (including the orange-and-black St. George ribbon, a Russian military symbol), but the Ukrainian flag, as well.
The move was immediately denounced. "You cannot draw an equivalence between the flag of the victims, and the flag of the Russian aggressor," said Stefan Evers, the politician, in a phone call on Monday, after images of the Berlin police confiscating a 80-foot-long Ukrainian flag in Tiergarten went around the world. "The political signal it sends is disastrous."
Ukraine's Foreign Minister, Dmytro Kuleba, weighed in: "Berlin made a mistake by prohibiting Ukrainian symbols," he wrote, on Twitter. "Taking a Ukrainian flag away from peaceful protestors is an attack on everyone who now defends Europe and Germany from Russian aggression with this flag in hands."
On May 9, Putin's speech came and went. Towards midday, at the foot of Brandenburg Gate, where the Berlin Wall once stood, a group of mostly Russian speakers gathered with black and white photos of their grandparents for a spooky "Immortal Regiment"-style parade.
Later, at Treptower Park, a giant war memorial built by the Soviets in 1945, the Night Wolves hadn't arrived; nor was there any news of a giant car rally from all over Germany headed this way. Inside the vast memorial, many of the German peaceniks and communists (including Kaltenbacher, the former castle owner) who had attended the Ukrainian ambassador's wreath laying the day before were here again, along with Reichbuergers (a disparate group of monarchists and antisemitic far-rightists who do not believe in the existence of the modern Germany state), and representatives of the official German Communist Party.
At one end of the vast, shallow bowl-shaped landscape stands the memorial's main centerpiece — an enormous statue of a Soviet soldier stepping on a giant swastika, on top of a pedestal on top of a hill. At the foot of this hill, the crowd included a Swiss mathematician who said the French and Germans were to blame; a completely bald, very muscular German who said he was here to support Russia fighting Nazis in Ukraine; and a German community theater actress whose social media includes a video of herself demonstrating the use of a Hitler salute to practice Covid-distancing.
Most Ukrainians had stayed away from Treptower Park — where, ultimately, only a handful of Night Wolves and no massive car rally materialized. But Daria and Bohdan, who did not want to give their last names, decided to come. In her mid-20s and studying in Berlin, Daria said she was there to pay tribute to her grandmother, and the suffering the Second World War, which wreaked havoc on her grandmother's childhood, had brought on her family. "A lot of Ukrainian families have this story," she said."It's important to remember."
Her boyfriend put it differently. He stood in the hot sunshine, reflecting off the giant white walkway, next to one of the memorial's many bas relief blocks featuring gilt quotations from Joseph Stalin. "I think that Russia cannot celebrate victory over Nazis," said Bohdan, "because it is a country of Nazis today, and they are destroying our country, right now, like the army of Hitler.
The Big Idea
Shifting Borders
Borders are liminal, notional spaces made more unstable by unparalleled migration, geopolitical ambition and the use of technology to transcend and, conversely, reinforce borders. Perhaps the most urgent contemporary question is how we now imagine and conceptualize boundaries. And, as a result, how we think about community. In this special issue are stories of postcolonial maps, of dissidents tracked in places of refuge, of migrants whose bodies become the borderline, and of frontier management outsourced by rich countries to much poorer ones.
Read more